Hi Ho, Hi Ho, it's Off to McCrossen's we Go!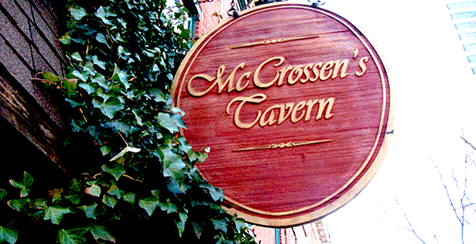 Once upon a time, my friends and I were in the Art Museum area for a change of pace, walking along North 20th Street to be exact, when we stumbled upon a quaint little tavern. As we approached the building I felt like I was transported back to 1843 and was a character in A Christmas Carol. Or like I was Snow White walking through the forest and happened upon the dwarves cottage. Both of these thoughts excited me, and as we made our way up the steps I was quickly snapped out of my daydream as I noticed a sign that read "McCrossen's Tavern", and a plethora of Saint Patty's Day decorations.
But the inside of the Tavern was just as endearing as the outside of it was. It was a very small place, but the vibe that it gave off made me fall in love with it. It had a very old feel to it (it was built in 1852) with a fireplace on one end (where I imagined myself sitting in a robe and having a beer with Jacob Marley or Ebenezer Scrooge, depending on his mood). There was also a very interesting bar set up. It was as though the tavern was split into two halves with tables on either end, and was separated in the middle by a bar with open windows so that patrons could see who was sitting on either side. Very cool set up.
I only hoped the specials would excite me as much as the way the bar looked. I read my menu by candlelight and liked the selection… but a word of advice before you go ??"the specials were not written on the menu so be sure to ask what they are! I did, and this is what I discovered: Happy Hour is Monday through Friday from 5 to 7 and during this time it is $1 off drafts and $0.50 off of mixed drinks and bottles, half price for mussels, and $3 for the featured draft of the day (every day this draft is different). They must not have revealed these specials because they're kind of awesome. Oops, I let the secret out. And oh, Thursday is rib night! Put that in your calendar.
So I of course ordered a $3 draft which was Springhouse Pale Ale that night, and I thoroughly enjoyed it. And I had to get the mussels which were only $6! You got to choose a red or white sauce (and they come with bread). I got the white sauce and they were pretty delicious. I kept asking for more bread just so I could dip it into the sauce. Then I ordered the "Five Alarm Chili Cheese Fries" off the menu, per the waitress's recommendation. I was expecting them to be super spicy, but to my surprise they weren't really too spicy at all. They did have a little kick to them and were quite good, but I would rename them "Two Alarm Chili Cheese Fries". Don't let their original name fool you.
All in all, McCrossen's was a fun time. A fun place to spend Saint Patty's day, perhaps. As I walked out of McCrossen's and down the front steps with a smile on my face, I happened to notice a tiny little parking lot across the street reserved for patrons of McCrossen's only. How nice of them! Though, if you do go to McCrossen's I wouldn't drive there ??" with their cheap specials I wouldn't advise operating a vehicle! God bless us, everyone!
Recent Articles

Feedback
How are we doing? Tell us what you like or don't like and how we can improve. We would love to hear your thoughts!