Smith's: Good for All Types of Game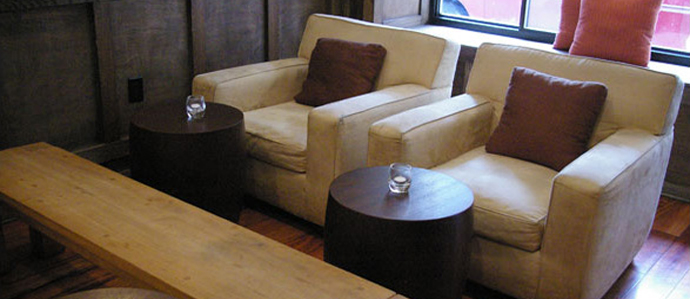 Smith's has an over abundance of flatscreen televisions and a large space. Not only that, but their happy hour specials are amazing as well. I would suggest coming here for happy hour and then sticking around to watch a game.
From 5-7pm, Smith's boasts $1 off all drafts including Yards, Kenzinger, Guiness, Stella, and Flying Fish (among many others). House wines are also $5 during happy hour. Most of their appetizers are half price during this time. Specials included half price guacamole, boneless wings, and quesadillas. Pizzas were also only 10 bucks.
I ordered a Yard's pale ale, the guacamole and the wings. You get your selection of sauce for the wings, and there was quite a variety to choose from. I chose the hot BBQ sauce upon the waitress's recommendation, and it was fantastic. It wasn't really too hot, but perfect. The guacamole was really good and had a kick to it. Washing all of it down with some good, cheap beer was the best part.
Smith's is a pretty authentic Irish pub. My waitress had a sweet Irish accent and was hilarious. Although Smith's was a mob scene, she was very attentive. When you get into the bar, grab the first table you see. This is one of the most crowded bars I've ever seen for a happy hour. A lot was going on and the atmosphere could be distracting if you're trying to have a quiet, casual conversation with someone. The place was definitely cool though - brick walls, wood floors, wood tables, and wood bars (with a great liquor selection). I didn't feel like I was in Philly, that's for sure. There were 3 different rooms, each with its own bar. I know there was music, but everyone was having such a great time that I couldn't hear it!
For under $20 I got 2 appetizers, 2 beers, a full tummy, a good time, and I got to watch the game. Overall Smith's was a lovely experience, and I'll definitely be coming back here.
---
Related Articles:
Recent Articles

Feedback
How are we doing? Tell us what you like or don't like and how we can improve. We would love to hear your thoughts!