Historically Awesome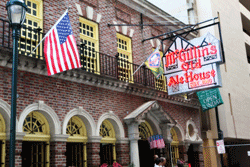 It was a frigid December Sunday and I desperately sought shelter. Luckily for me, there was McGillins Olde Ale House at 1310 Drury Street. I walked down the alley which was extremely reminiscent of "Harry Potter's" Diagon alley. Excited to get out of the cold I swung open the double doors and stepped into an animate, homey dining hall. Large wooden tables filled the room on one side while a glorious bar stood on the other. My friends and I grabbed a table by an adorable lit fireplace. The Eagles were up 20-0 and the mood in the room reflected so. There is not a bad seat in the house when it comes to watching a game. The décor was a perfect embodiment of modern meets classic with various HD televisions hung proudly on the walls of the 136 year old tavern.
A lovely waitress greeted us quickly and explained what exactly McGillins had to offer. Like the seating you can't really go wrong. With 5 buck pitchers, rare microbrews, and their own 1860 I.P.A ale, McGillins is sure to have what you're thirsty for. Now all I had to worry about was choosing what to eat. Chili nachos were on my mind but I wanted them in my mouth so I arranged for the waitress to bring us one. Concerned on how far an order of chili nachos would go between three hungry college men, I selfishly cleared room for the nachos right in front of me. It didn't take long for the waitress to arrive or for me to realize that the portion she brought us was enough for three more of us. My concern now shifted from nacho portions to the table being able to support the weight of the delicious treat.
I thought it couldn't get any better until the waitress showed me a list of their signature holiday drinks. Pumpkin martini's, White Christmas sangria, and Drury Sleigh Rides all sounded wonderful,but I eventually went with Snowshoes, a hot chocolate with a shot of butterscotch liquor topped with whip cream. I fell in love.
You won't find another bar in town with as much history as McGillin's Olde Ale House. Mr. McGillin and his cousin designed the bar in 1860. If that's not staying power then I don't know what is. I took a moment to sit back and take in all that was around me. Liquor licenses from decades past proudly showed off McGillins history as Philadelphia's oldest tavern. McGillins was in the holiday spirit displaying signs of Christmas everywhere. I felt like I was home and going by the glowing faces of other patrons I wasn't alone. Anyone who steps into McGillins has no choice but to surrender into a comfortable, welcoming, bliss. It's hard to find a place where atmosphere makes strangers feel like friends but you can find exactly that at 1310 Drury Street. Leave your problems at the door because McGillins is only about good times.
Recent Articles

Feedback
How are we doing? Tell us what you like or don't like and how we can improve. We would love to hear your thoughts!