New Holland Brewing: Dragon's Milk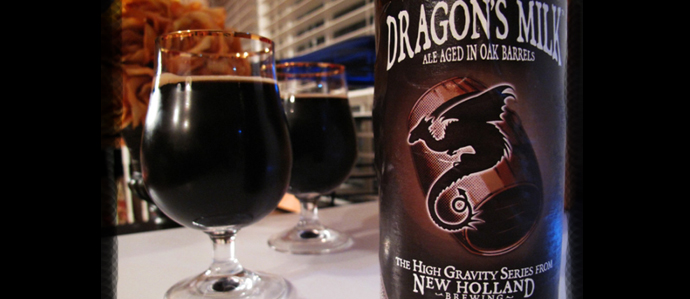 Barrel aged beers come in numerous shapes, sizes and tastes. Some are aged in whiskey or bourbon barrels to impart boozy warmth to the brew. Others are aged in various wine barrels to offer dry or sweet characteristics to the brew. New Holland Brewing Company from Holland, MI ages Dragon's Milk, an American stout, in oak barrels to lend the wood's dry and sweet tastes to the beer.
Dragon's Milk, a member of New Holland's high-gravity series, comes in a dark, 12oz bottle available in 4 packs. Poured straight from the bottle into a snifter glass the beer has a dark coffee color with a thin white head. From the first whiff, the oak barrel aging process is apparent with a strong woody oak scent supported by sweet notes of vanilla. Wood is a big part of this beer's taste, dominating the palate with its stern, dry characteristics. The oak barrel gives this beer a sweet vanilla taste that, accompanied by a lightly roasted flavor, gives the impression of a sweet coffee drink. As you sip through the entire beer the oak flavor stands strong barely giving ground to other flavors. For a strong beer with strong flavors, this brew was still relatively easy to drink if not for an abundance of sweetness.
Dragon's Milk is a nice brew out of the realm of oak aged beers. Although not my favorite, this brew is still worth trying when it is encountered. If you enjoy a dry finish and don't mind a good amount of sweet vanilla taste, this beer is for you. In the past I've had this beer poured from a cask, which created an entirely different experience. New Holland is a popular brewery from the great brewing state of Michigan. Look for their beers at any craft beer outlet.
---
Related Articles:
Recent Articles

Feedback
How are we doing? Tell us what you like or don't like and how we can improve. We would love to hear your thoughts!