Shake, Stir, Pour Coming in July: An Interview with Author Katie Loeb
Fresh homegrown cocktails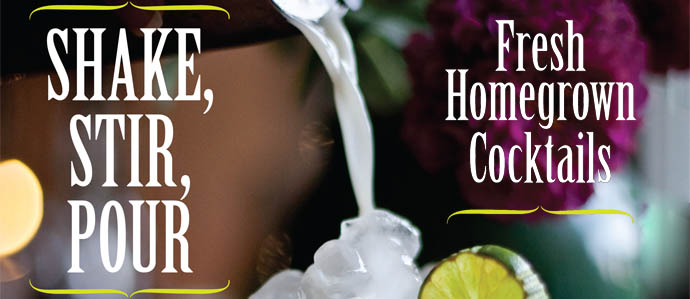 Katie Loeb has developed a reputation for mixing great cocktails during her years behind the bar, and Philadelphia's booze crowd happily shows up to place drink orders wherever she lands behind the stick. Currently the "spiritual advisor" and head bartender at Queen Village's Tapestry, she's put in time at Oyster House, Chick's Social and Amada, among others.

In addition to wrangling spirits, Loeb has a way with words, and has been a freelance writer for many years. This summer, her first book will be published. Shake, Stir, Pour: Fresh Homegrown Cocktails presents 50 original recipes for drinks, bitters and shrubs made with farm-fresh ingredients. The spiral-bound volume is illustrated with helpful (and beautiful) photos and broken into sections like "Taking Stock," "Homemade Syrups" and "Home Infusions." A forward from Iron Chef Jose Garces sets the jovial mood.

Loeb is of the opinion that she and her fellow 'tenders aren't specially anointed geniuses, and that anyone who takes the time to learn (and practice) cocktail craft can make a mean mixed drink. Shake, Stir, Pour is there to guide you along the way. We reached out to Katie via email to ask about the book-writing process.

– How did you come up with the idea for the book?

Actually, I was approached by ProLiterary (the literary division of Profile PR, who represent many of the top tier restaurants in Philadelphia). Quarry Books had floated the idea of a market-fresh cocktail book, and asked if ProLiterary knew any bartenders that specialized in that sort of mixology. Since they were familiar with my work — as I've bartended for many of their clients —, they immediately said, "We've got just your girl!" Introductions were made, I sent Quarry writing samples and a video of me making Thai basil syrup, and they were sufficiently impressed to offer me a deal.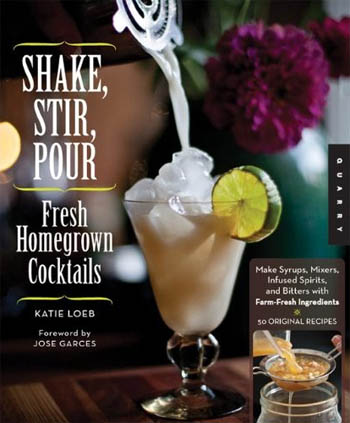 – How long did Stir, Shake, Pour take to put together?

I started the actual writing in July 2011, and turned in the last of the text right around Thanksgiving, so around five months. There were several photo shoots along the way, including one at Green Meadow Farm out in Gap, PA. Then there were back-and-forth edits from around December–March, as well as securing the text for the foreword from my former boss, Jose Garces. Now I'm just waiting to actually get a hard copy in my hand.

– Who helped you on this mission? Who took the photos for the book?

Steve Legato had worked with Quarry before, and since he's local, he was assigned to be my photographer. I was thrilled, because he makes me look like a rock star! All the photos are so beautiful, I can hardly stand it. There are a few that are really cool, like a drop of bitters suspended in mid-air above a drink, just about to hit the surface. We got gorgeous shots of fresh herbs and flowers at the farm, as well outdoor shots of finished cocktails that are just lovely.

The editing team and art department at Quarry have also done a fantastic job of making me sound literate and arranging the book in a visually stunning fashion. It's pretty cool sending off a dry, static Microsoft Word document and getting back something that has had life breathed into it with fonts and sidebars and color and photos.

– What makes this book different from other cocktail books?

This book is geared to the home bartender. My bartending peers all know how to do this stuff already. My premise is that boiling water, adding sugar and flavorings, buzzing it in the blender and straining it is hardly the difficult part of my job. In fact, anyone that is a pretty basic home cook can handle making their own bar mixers, syrups and bar garnishes. It shouldn't be any more intimidating than making a cup of tea or a milkshake.

There are cocktail recipes for each ingredient once you've made it, as well as non-alcoholic suggestions for using them. Quarry specializes in single subject, photo heavy, technique heavy books, so there are a lot of step by step procedural photos of the various techniques that I think will take the intimidation factor out of the process for the home based mixologist. It isn't that hard. It's just not something most folks have thought out before.

– Did you continue bartending while writing the book? Was that tough?

Yes. I was still working full time at Oyster House throughout the writing process, as well as helping open Tapestry during some of the editing. Meeting some deadlines meant not getting a whole lot of sleep certain weeks. It was tough, but it was worth it. I'm really proud of the end result.

– What's the most interesting/intriguing recipe in the book? One with a backstory? Your favorite to drink?

You know that asking a bartender to name their favorite drink is like asking someone to name their favorite child. It's impossible. However, I will say that I'm happy to have created a homemade orgeat (almond syrup) recipe that can be made overnight with only one soaking and straining. Usually orgeat recipes involve days of soaking almonds and squeezing them through cheesecloth again and again to get the oils out to make orgeat. I figured out a way to do it in many fewer steps with no loss in flavor.

There's backstory to many of the recipes in the book that I generally explain in the introduction to each recipe. Some drinks were created for events or competitions, some bar ingredient recipes were a twist on something already familiar, for example, a pink grapefruit-lemongrass cordial for gimlets.

And my favorite to drink depends entirely on the time of day, the season, the temperature, my mood, etc. I like all the drinks I make, since they're tailored to my palate! That's kind of the point of making your own bar mixers. You make what YOU like!
Recent Articles

Feedback
How are we doing? Tell us what you like or don't like and how we can improve. We would love to hear your thoughts!