NATIONAL Mechanics Bar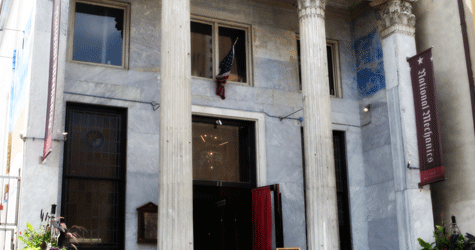 National Mechanics Bar & Restaurant yields its name from the building's original designation in 1837 as National Mechanics Bank. Paying an homage to all things mechanical, the decor features homemade lighting fixtures, stainless steel sculptures, and antique glassware, providing a clash of old and new world atmosphere. Even the sinks in the restrooms are a hand-crafted twist of pipes that may have you quirking a brow.
"The Mechanics" provide a full selection of hard liquor as well as over 30 drafts and bottles, rotated regularly. The bar seeks to provide an odd yet welcoming vibe, so familiarity is the word when it comes to the beer selection. Guinness, Yuengling and Blue Moon grace the ranks next to some more unique choices. Flying Dog's Woody Creek White and Legacy's Hoptimus Prime were two of the stand-outs.
The Woody Creek is a Belgian style wit beer, and as such boasts the recognizable tastes of coriander and orange with a spicy, lingering finish. Hoptimus is a double IPA that screams with spicy hops, a moderate bitterness, and a rounded, fizzy mouthfeel.
The food runs along the lines of standard pub food with a kick. A menu of specials is changed regularly, featuring alternatives to their traditional offerings. Perhaps one of the more amusing (and dare I say awesome) items can be found under their "Nostalgics" section ??" a bag of Fritos topped with chili and Monterey jack cheese. Those looking for more typical fare should try the National Burger or their crab cake sandwich.
Overall, this is the sort of bar that you bring your friends to for a rousing evening of shenanigans. It feels more open than your average pub, and the dim lighting paired with the kooky decorum gives it a warm and almost hypnotic feel. With beer prices ranging from $2.50 and up (around $5 for a non-advertised-during-a-football-game beer), and reasonable mixed drink prices, this is a good place to go for a few drinks when you don't want to break the bank.
National Mechanics runs a Tuesday night karaoke, where you can hear people attempt to croon Flock of Seagulls songs, and the occasional drunk theatre major ruin the overall mood by singing the entire Les Misérables catalogue. Wednesday nights feature Pub Quiz with Irish John, doling out a $40 first prize and $20 second prize. If you're looking to win some free drinking time, this is the night for you.
Recent Articles

Feedback
How are we doing? Tell us what you like or don't like and how we can improve. We would love to hear your thoughts!