James Bond Swaps Martinis for Heinekens - POLL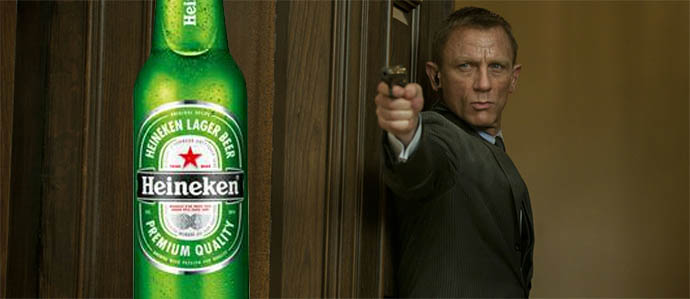 In Skyfall, the forthcoming 007 flick due in theaters this November, instead of sipping a martini, James Bond will swig a Heineken. Not everyone is pleased by this development, which netted the movie's producers a cool $45 million for the placement, including actor George Lazenby, who played the British spy in 1969's On Her Majesty's Secret Service, according to TMZ.

The news of the swap was actually first announced back in March, but we got so distracted by sister brand Newcastle's "It's not a chalice, it's a glass" campaign that we missed the Bond beer bomb. There's no question as to the reason for the brew inclusion in the movie — it was widely recognized as a matter of funding.

"This movie costs a lot of money to make, it costs as nearly as much again if not more to promote, so we go where we can," current Bond actor Daniel Craig told Moviefone.

We can easily picture Craig's character throwing down a few brews (Roger Moore, not so much). Thanks to the craft brewing renaissance, beer today is in a much cooler strata than it has been in a long time. While Heineken certainly doesn't qualify as craft or independent, we'd rather see the world's most well-known spook drinking out of one of the green, Holland-made bottles than hear him say, "Ciroc martini, please. Shaken, not stirred."

What do you think about the Bond brew development? Should the filmmakers have stayed true to author Ian Fleming's libation of choice? Or has it become a boy-meets-beer kind of world. Let us know in the poll below, or add a comment with your thoughts.
Heineken for Bond: Love it or Hate it?
Hate it. Martini is Bond's drink; don't mess with tradition.
0%
Love it. (Ok, don't mind it.) Beer is on the upswing.
0%
Recent Articles

Feedback
How are we doing? Tell us what you like or don't like and how we can improve. We would love to hear your thoughts!