Irreverent Fermenting: Weyerbacher Blasphemy Ale
A barrel-aged quadrupel that packs a sweet punch.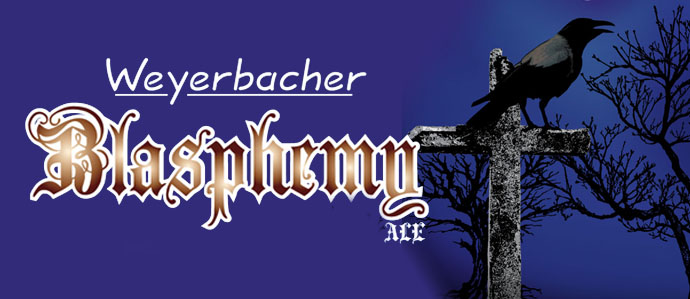 Weyerbacher Brewing Company of Easton, PA has a penchant for brewing strong, intensely flavored ales. Blasphemy is an aged version of the company's award-winning QUAD, a punch-packing quadrupel. Originally introduced in 2007, Blasphemy was retired for several years, until being finally re-released this past May. This bourbon-barrel-matured brew returned with a completely new label design, and Weyerbacher has announced they're undergoing a complete rebranding, so expect a new logo and image for the brewery sometime soon.

Blasphemy is one of a series of sinful beers – Weyerbacher Heresy and Insanity are others – that are all highly alcoholic and aged in oak casks. It's presented in a 750 ml cork and caged bottle, as this container allows bottle conditioning to a higher carbonation level than regular 12 oz. bottles.

Upon pouring, the beverage has a dark color with a small, off-white head. Its aroma presents a strong vanilla character backed by sweet booze and malt notes. A sweet flavor persists throughout the entire glass, one that is slightly too syrupy for my own taste but perhaps appreciated by others. The taste of vanilla is present in each sip, balanced by warm bourbon notes, leaving your palate coated with a dessert-like flavor.

While this is not my favorite offering from Weyerbacher, at only $9 for a 22 oz. bottle, it's a tremendous value, and – despite the sweet taste – very drinkable for its 11.8% ABV rating. This is a perfect beer to share with your fellow craft alehead.
---

Recent Articles:

Labor Day Treat: Watermelon Beer Popsicles
Back-to-School Bar Guide
Rhuby: Another Gem from Art in the Age
Recent Articles

Feedback
How are we doing? Tell us what you like or don't like and how we can improve. We would love to hear your thoughts!