Philly Beer Week: Dunkel Dare at Frankford Hall With Marc Summers, June 5-7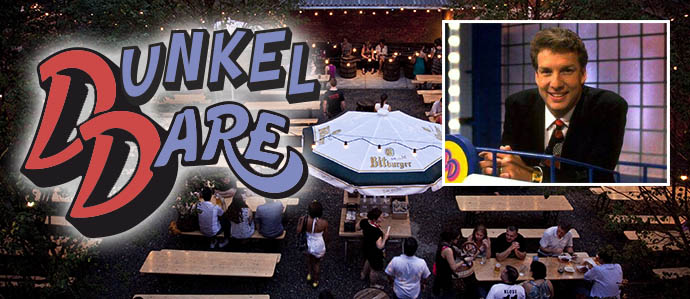 Remember Nickelodeon's splat-happy game show Double Dare? Many a kid in the '80s and '90s yearned for a chance to show Marc Summers their obstacle-course skills in this game show packed with messy physical challenges. Well, thanks to Frankford Hall and the Philly Beer Week, you can relive that crazy fun, abetted by plenty of local brew.

Marc Summers himself will host Dunkel Dare, during which four teams from regional craft breweries will battle it out on a Double Dare-esque set recreation in the beer garden, complete with red and yellow checkered background and the all-important towels next to each contestant podium. At the end of the three-day event, the last brewery standing will win a permanent spot on the Frankford Hall draft list.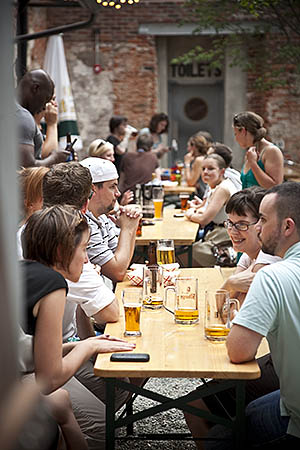 From 7–9 PM each night from June 5–7, head to Fishtown to catch the show, entirely free of cover charge. On Tuesday, Tim Ohst and Corey Reid from Sly Fox will go head-to-head with Andrew Rutherford and Mitch Albach from Yards, and on Wednesday, Bill Covaleski and Greg Lehman from Victory will be up against Mat Falco and Dan Shaw, representing Great Lakes. All contestants will be appropriately dressed in signature jumpsuits.

Just like on the TV show, each evening begins with starting challenges, and the winning team gets control of the round. Tthere will be a live video feed, so you're sure to catch all the action as you enjoy pours from the Teutonic-themed tap list. Expect to experience hilarity as you watch the brewers do some of the following:
Toss wet sponges into partner's helmet-bucket (atop his head)
Throw ping pong balls and get them to stick on fly paper
Execute an egg toss where one teammate must catch the egg, crack it on his head and drop it in a bowl
Pick up jelly beans with mechanical pitchers and fill up a glass (halfway)
Fill a cup sticking out of one teammates mouth with seltzers water
After the starting challenges, the round will start with a session of trivia, as Marc Summers fires off questions on beer and pop culture. A second round will consist of a taste-off, during which the brewers must identify mystery beers as either German or American in origin.

The winning brewery from each night will face off in the championship round on Thursday, June 7. Along the way, teams can score even more points by winning the physical challenges. What rigmarole will these beer gurus undergo? Look for these antics, taken direct from the original show:
Candelabra — blow out 20 candles in 20 seconds using a seltzer bottle while blindfolded
Spray the ducks — knock rubber duckies off of the candelabra using a seltzer bottle and catch three of them in a basket
Sock match — find the matching pair of socks in a basket
Giant Nose — reach up into giant nostrils and find the hidden flag
Whipped cream sundae frisbee toss — fill an upside-down Frisbee with whipped cream, chocolate syrup, sprinkles and a cherry and toss it to partner who must catch it before it hits the ground
Back-to-back ball carry — place two rubber balls stacked on top of each other between partners' back. Walk across the stage holding the balls and drop only the lower ball into a basket
Ring toss — toss a ring across the stage to your partner who is wearing a helmet with deer antlers.
Orange transfer — hold an orange under the chin and transfer it to teammate without using your hands
Blindfolded egg catch — toss an egg across the stage to partner, who is blindfolded and holding a pair of cymbals to catch the egg
Funnel fill — fill a mug with beer by filling a funnel on one side of a table and running to the other side of the table where the empty mug is stationed (on the show this was done with rice)
It's guaranteed to be a beer-filled blast. We'll be helping with the video, so we'll see you there!
Event Date: 06/05,06/06,06/07
Event Time: 7-9 PM
Location: Frankford Hall
Price: FREE, PAYG
Type: Beer,Beer Week

Tags:
Beer
,
Beer Week
Recent Articles

Feedback
How are we doing? Tell us what you like or don't like and how we can improve. We would love to hear your thoughts!