Alfa - A Most Excellent Adventure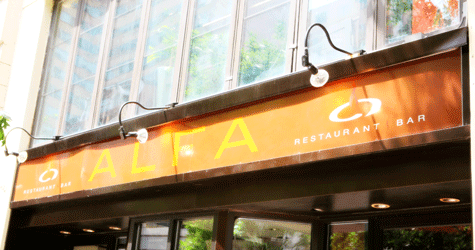 As a great quote from Bill and Ted's Excellent Adventure said, "Our Journey through time has taken a most excellent turn." After opening the Walnut Room, and admiring its great success, long time friends Joe Beckham and Giancarlo DiPasquale took a most excellent turn, when a year later they opened Alfa Restaurant Bar and Lounge. This upscale pub is located on the street level companion to the second level Walnut Room.
When entering, the mood is set by a dark, modern, and relaxing ambiance, which turns out to be a happy hour get-away to remember. With lush couches in its lounge area and intimate candlelit tables, Alfa has quickly become the ideal safe haven after a long day at the office. Though the intimate setting is accompanied by great waiter service, once the place becomes action packed, waiting time can become an issue. Needless to say this contemporary spot is great to meet with good friends or someone special, for retro drink specials and the city's best tater tots.
Happy hour at Alfa runs 7-days a week with its trendy 70s and 80s inspired theme, and drinks conveniently priced at $5. Explore the wide selection of drinks based on the Ghostbusters, Care Bears, My Little Pony and Mr. Miyagi, which were among the fad selections. For more macho drinkers there's a Joe Montana inspired draft, a 16oz of Victory Sunrise Weisse. The craftiest drink had to be the Like a Virgin, inspired by Madonna's 80s hit song, and just in case your wondering it's not really a virgin.
Another must have drink for any financial professional has got to be Alfa's dry martini, appropriately named Black Monday. Black Monday was known for being one the largest one-day percentage decline in stock market history on October 19, 1987. Don't forget to top off the night with 80s icon, Molly Ringwald, which consists of Champagne, Chambord with a sugar rim. Drinks like these make it a night to remember if you're a 70s or 80s fan and admirer of well-devised themed happy hours. Alfa has certainly hit 1.21 Jiggawatts!!!!
Recent Articles

Feedback
How are we doing? Tell us what you like or don't like and how we can improve. We would love to hear your thoughts!