Beer Review: Hoptimus Prime from Ruckus Brewing Co.
A good, crisp DIPA that packs a clean, hoppy punch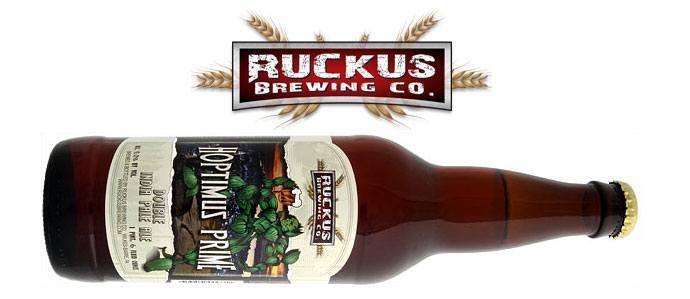 Founded in 2009, Ruckus Brewing Company has a unique background story. Owned and operated by Ruckus Marketing of New York City, the brewery is actually located in Wilkes-Barre, PA, and brewing duties are handled by former Legacy Brewing Company brewmaster Mark Hummel. Legacy was a client of Ruckus Marketing, and when the brewery announced it would close, in 2010, Ruckus stepped in to take over.

The company and products underwent a complete rebranding, but some of Hummel's old recipes have made their way into the new picture. Hoptimus Prime is an example of such a cross-over product. The brew is an American Double IPA, the flavorful, heavy-hitting favorite of many domestic craft brewers. It includes five different hop varieties and utilizes a two-week-long dry hopping process.

Available in a 22-oz. "bomber," Hoptimus Prime pours a golden amber color with a small white head. As with many beers of this style, this DIPA offers up-front, fruity and piney hop notes in the nose. The hops are present in the first sip as well, providing a very crisp bite that isn't offensive or too aggressively bitter. As you continue through the bottle the brew's malt backbone balances out the strong hop flavors that take control up front. Unlike a lot of DIPAs, this beer is more about balance than hop overload. Hoptimus Prime is not cloying and leaves only a slight citrus taste that pleasantly lingers in your mouth after each sip.

Ruckus is a fairly new company on the craft-brewing scene. Hoptimus Prime is a promising introductory label from this new company and a very solid IPA. The formulation of the beer should please hopsheads and beer geeks, and the branding – a riff on Optimus Prime (the huge and powerful leader of the Autobot Transformers) – makes it fun to buy easy to remember. Hopefully, as Ruckus continues to expand their offerings, future brews will achieve the same happy synergy between taste and marketing.
Recent Articles

Feedback
How are we doing? Tell us what you like or don't like and how we can improve. We would love to hear your thoughts!