Bar 210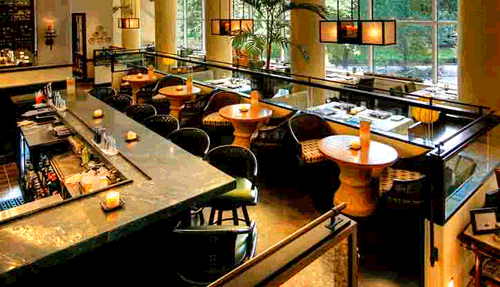 Bar 210 has found itself a lovely home at Lacroix, the Rittenhouse Hotel's own restaurant. From the moment I passed through the hotel's doors to when I found my seat at the elegant bar, I was overwhelmed by the level of class presented to me. I would expect nothing less from The Rittenhouse.
The bar is set up just before the main seating at Lacroix, raised and overlooking Rittenhouse Square. Both bar and bar tables seat a total of around 20 people, leaving enough space for you to not feel too crowded (even with a full crowd).
I regard the Happy Hour featured by Bar 210 to be one of the hidden gems of the city. Each day a few drink specials are selected at half-off for happy hour, bringing your total cost down to around $6. 210 also features bottled beer, ranging from $3-5, but with the specials being as unique as they are, I would urge newcomers to venture into bold territory before settling into their Lager.
All of the cocktails are unique recipes to Bar 210, and are changed seasonally. The price lingers at $12, but select cocktails are half-price during happy hour. I dove head-first into a Ciroc Martini, as per the advice of the head bartender. It was a delicious blend of Ciroc, white grape juice and champagne, served with three skewered frozen grapes.
Only a few sips in, I was surprised to be handed a small plate of calamari served with a ponzu. I was informed (with a look of awe on my face, I'm sure) that each person who attends happy hour is served a specially prepared bar snack, courtesy of the house, that is changed daily. What a simply fantastic spin on bar peanuts! I am pleased to report that the calamari lives up to the Italian side of my family's standards.
While snacking on my calamari and enjoying what was probably the best hard grape juice I've ever experienced, I had the opportunity to sample a few other small plates. From the Brochettes menu, I sampled the Tempura Maine Halibut as well as the Pork Belly. I felt a little biased toward the halibut, given my early childhood near the coast, but found both to be pleasant. Smaller portions than my dad would probably appreciate, but in this place you pay for the quality.
Lastly I sampled the BBQ pork dumplings, which were served with a creamy ponzu. These were simple and tasty. The creamy ponzu accented the sweetness of the pork and made for a thoroughly satisfying snack.
As a "Happy Hour Nightcap" I decided to check out the bourbon menu. I was offered a glass of Blanton's which I had yet to experience. I took a sip of the vanilla-minty-apple goodness from my tumbler, and sank into what can only be described as a luxury-induced state of serenity.
Bar 210 features classy, affordable happy hours with a knowledgeable and friendly staff. The drink specials were excellent both in price and quality, and the specially prepared bar snacks make it more than worth a visit.
Check out Sundays and Mondays where you can purchase any wine by the bottle at 50% off. Sunday through Thursdays at Lacroix there is a pre fixe menu starting at 5:30pm for $35. If you have a free early evening and someone special to take out, this is a great place to do it without breaking the bank.
Leave the jeans at home though, Fonzie. This is a classy place.
Recent Articles

Feedback
How are we doing? Tell us what you like or don't like and how we can improve. We would love to hear your thoughts!