Shake Shack Serving Beer, Wine, Burgers & Dogs in Rittenhouse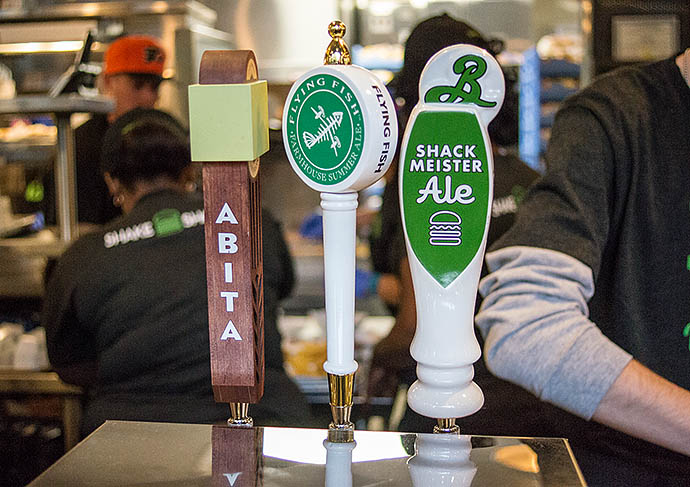 At the corner of 20th and Sansom Streets in Rittenhouse, bar patrons often wait an hour and a half or more for a seat at Jose Garces' Village Whiskey, and a chance to enjoy great drinks while noshing on a famous burger. As of yesterday, that intersection became home to a new kind of line: the one outside of Shake Shack. Danny Meyer's NYC-based upscale roadside stand has made its way to Philadelphia, bringing us opportunity to enjoy the cult-status ShackBurgers and the house ShackMeister Ale.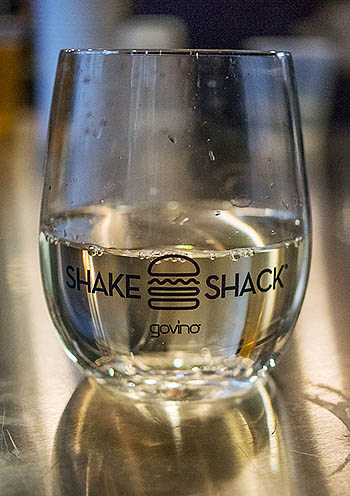 The American Pale Ale is made by Brooklyn Brewery, and is a drinkable, amber sip, just slightly sweet and a touch bitter, as well as rather malty. Pint-sized pours of go for just $5, a price in keeping with a casual, quick-serve operation. A second tap will pour a rotating local craft brew for $5.75, currently Farmhouse Summer Ale from NJ's Flying Fish. There are also three bottled beer options on the opening menu — including Yards PPA, Victory Prima Pils and Yuengling Lager — and Jack's Cider, for the gluten-averse.

The wine list features a red and a white from Frog's Leap, a relatively new and community-oriented Napa Valley vineyard, as well as a couple of others, available by the glass or half-carafe ($7–$10 and $28–$40; check the chalkboard for the day's varietals). The glasses themselves are unique — branded, stemless tulips made by Govino, which are plastic, but could pass for glass right up until you lift them to your lips.

The limited drink menu is really just in place to complement the food, and with daily hours of 11 AM–11 PM, expect this to become a popular post-bar stop (at least for the early crowd). Burgers are available in double or single patty form, and come in pre-set combos (the SmokeShack adds Niman Ranch bacon and chopped cherry peppers to the ubiquitous ShackSauce topping), or as make your own creations. For the veg-heads, there's the 'Shroom Burger, which features a deep-fried, cheese-stuffed portobello ($3.55–$8.80). Hot dogs are split and cooked crisp on a flat-top griddle for around $4 each (depending on the topping), and the french fries are crinkle-cut and served with or without cheese.

Though lines at Shake Shack famously wrap around the block, they move quickly, and once inside you can opt to step into the "C-Line" – cold food only. This includes the drinks, and, for that perfect after-party snack, frozen custard. The custard comes as just-thick-enough (i.e. they won't get stuck in your straw) shakes, in more than six different flavors for $5 each, including a daily-changing option (one version — coffee & donuts — features the wares of Federal Donuts in the blend). Ice cream floats come in root beer (Abita Brewing, fresh from the tap), purple cow or creamsicle. "Concretes" are custard spun with mix-ins like Termini Bros. cannoli shells or La Colombe coffee. Unfortunately there are no booze add-ons available, so if you want an "adult shake" you'll have to take yours to go and doctor it up yourself.

If you're staying, you can opt for a stool along the windowed wall beside the open kitchen, or grab a seat at a picnic-style slab table, made of wood reclaimed from defunct bowling alleys. The bricks along the back wall come from old Pennsylvania steel mills. Sustainability is a theme intrinsic to the chain, which has locations not only in New York City but also Florida, D.C., Connecticut, Dubai and Kuwait. Community fundraising is also a tenet, and 5% from all sales of the Center City Pretzel concrete will go to the Mural Arts Program.

Open 11 AM–11 PM, Monday–Friday; 2000 Sansom St.; 215-809-1742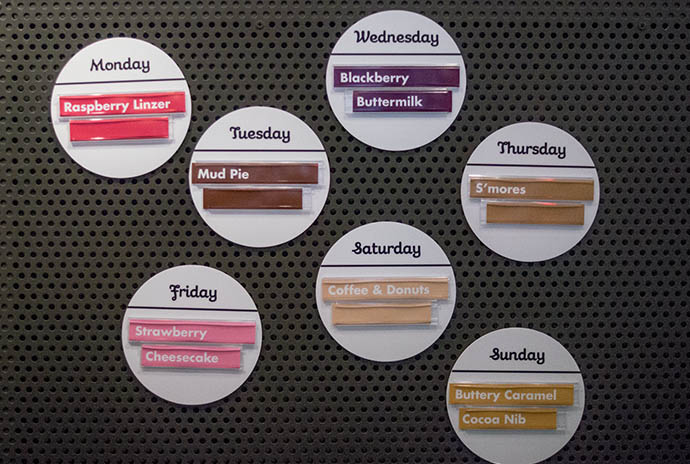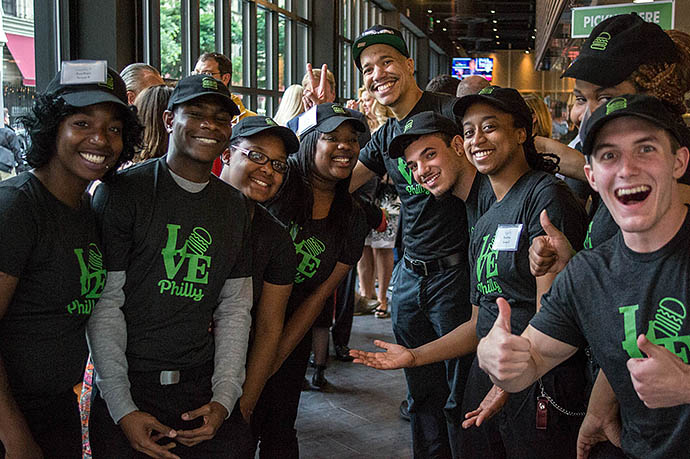 Photos by Danya Henninger
Recent Articles

Feedback
How are we doing? Tell us what you like or don't like and how we can improve. We would love to hear your thoughts!