(Tattooed Mom's) Know Best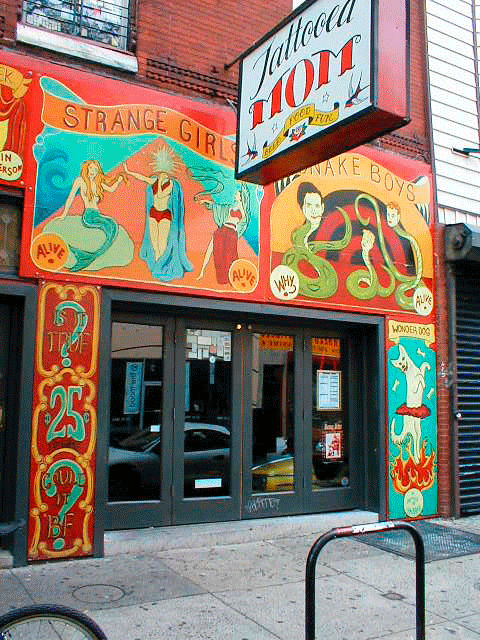 We found ourselves walking down South Street looking for something different; something colorful; something… tattooed, and we found just the place. Tattooed Mom's, located between 5th and 6th St. on South Street, is a haven for individuality and eccentricity. With every day specials on Pabst and food, and an unbeatable weekend special of $1.00 Pabst from 7pm-11pm, Tattooed Mom's has certainly won herself a blue ribbon in beer, food and fun.
We stroll into the bar and immediately are taken back by its décor. Dimly lit lights cast over a room of bright walls and retro seating. Psychedelic sculptures, clocks and dolls that could have been pulled out of the mind of Tim Burton scale the walls. At first glance, Tattooed Mom's simply seems to define itself with mismatched decoration. However, the clashing array of miscellaneous décor is what gives Tattooed Mom's its homogeny; like it's miscellaneously themed.
Taking our seats on a couch close to the back of the bar, we are greeted by a server and promptly order two Pabst. Much like the interior decoration, the people, music and conversation all testify to Tattooed Mom's diverse culture. The bar explodes in a sing along to "Happy Birthday" as our server brings out a birthday cake for a small party to the table to the right of us. Smiling faces and laughter resonates through the entire place. Truly, it was a beautiful thing. Incessantly observing its cryptic yet compelling atmosphere, we order another round of Pabst.
We thought we have seen it all until we ventured upstairs into another world of hallucinatory artwork and box-car love seats. Once again we found ourselves in a vision buffet. The upstairs resembled a graffiti alleyway equipped with pool tables, retro furnishings and a full bar. The walls exemplify a collage of political, geographical, religious and pop-cultural ambiance. We walk back down the stairs and out the door but not before ordering another round of Pabst.
The great drink and food specials every night are one reason to come to Tattooed Mom's, but it is her service, people and unique environment that will keep us coming back. Offering top-notch service and comfortable seating is a luxury atop the exciting and engaging atmosphere. This bar is highly recommended for anyone who enjoys inexpensive drinks and food??"which happens to be everyone. Tattooed Mom's is indeed a treasure that everybody has to experience.
Recent Articles

Feedback
How are we doing? Tell us what you like or don't like and how we can improve. We would love to hear your thoughts!