Wigle Whiskey: Pennsylvania's Rebellious New Spirit
A family endeavor, from mill to bottle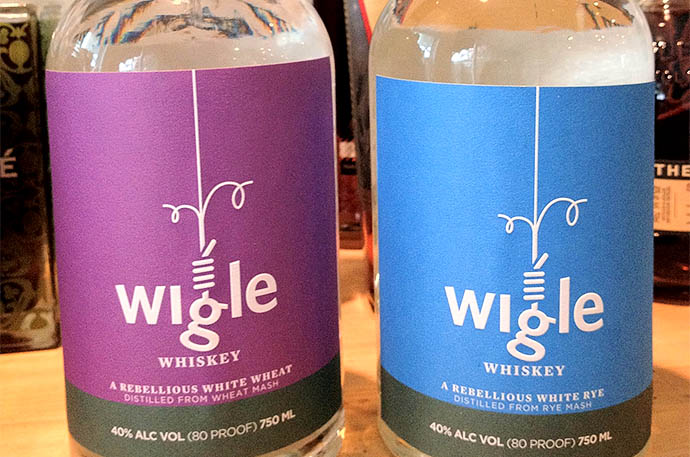 Pennsylvania's whiskey-making scene has become increasingly white in the past year — Philadelphia Distilling Co. dropped its 100 percent corn XXX Shine, Bristol-based Dad's Hat released a 100 proof white rye. And in March 2012, a startup way across the state joined its clear-hooch cohorts in reviving the relevance of unaged spirits: Pittsburgh's Wigle Whiskey, a fledgling family-run operation with a colorful backstory to counter its colorless booze.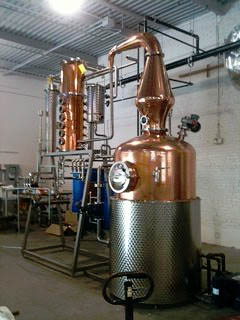 The western part of the Commonwealth, in many ways, is the holy land of American whiskey. It's where agriculturally gifted European immigrants established distilling as a domestic specialty, creating the in-demand style known as "Monongahela rye." Whiskey production here enjoyed fetterless progress until the final decade of the 18th century, when then-Secretary of the Treasury Alexander Hamilton took a number of measures to eliminate federal debt — among them instituting an excise tax on scratch-made spirits.

Reactionary unrest to this way-unpopular decision, of course, led to the infamous Whiskey Rebellion, a blow-up that kicked off stateside distilling's inexorable shift south, to Kentucky and Tennessee. Named for Philip Wigle, a farmer who became a figurehead of the Rebellion, Wigle Whiskey aims to re-establish spiritcraft in Allegheny County, once the jewel of the richest rye-making region in the nation.

"Wigle, like all of his neighbors, was using his rye grains to make whiskey because it was the most profitable thing he could with what he was growing," says Wigle co-founder Meredith Grelli of her distillery's namesake. (Wigle, a German immigrant, likely pronounced his name Teutonically, with a V sound standing in for the W, but Grelli and Co. pronounce it "Wiggle.")

On Christmas Day in Philadelphia in 1794, Wigle was convicted of treason and sentenced to the gallows for his role in the Rebellion, a charge George Washington would later reverse because POTUS 1.0 feared a martyr-sparked line-drawing clash within the state. Accordingly, Wigle's white rye and white wheat bottles feature a frayed noose to denote the pardon. "It's a hopeful noose, as these things go," says Grelli.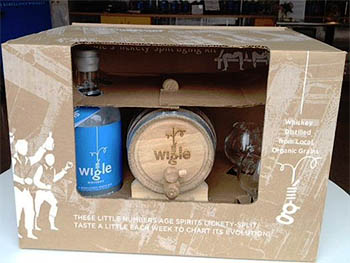 With experience in urban redevelopment, brand management and beekeeping, the on-paper Grelli doesn't immediately inspire thoughts of mash tuns and low wines, but neither do any of Wigle's other principles. Brother Eric has worked in a number of microbreweries on the west coast and abroad. Father Mark was trial lawyer for almost 40 years before switching career paths to distilling. The hands making the hooch may be unorthodox, but the hooch itself is as old-school as it gets. Operating out of a space in the Steel City's Strip District, Wigle mills grain, distills and bottles on-site, using local and organic raw product. "We know very few distilleries in the country that do it all this way," says Grelli.

Their rye, an 80-proof take on the all-but-extinct Monongahela style, possesses a balanced, bready spice, a studied alternative to many of the oversize, capital-R ryes championed by two-fisted boozehounds and bartenders. (It produces an interestingly crisp Manhattan or Sazerac.) Wigle's white wheat, meanwhile, is even more distinct, ripe, approachable notes of fruit and earth characterizing the all-too-uncommon style. "[Unaged is] how Wigle and Washington would have enjoyed their whiskey, and drinking these gives you a much fuller understanding of what whiskey's made of," says Grelli.

That's not to say we won't see barreled Wigle products down the line. The nascent operation is currently reserving half of its modest output for a line of brown liquor. For now, though, you can purchase Wigle's white rye and white wheat through the PLCB's online store for $31.99 a bottle.
Top photo by Drew Lazor; bottom photos via Wigle Whiskey on Facebook
Recent Articles

Feedback
How are we doing? Tell us what you like or don't like and how we can improve. We would love to hear your thoughts!