Speak Easy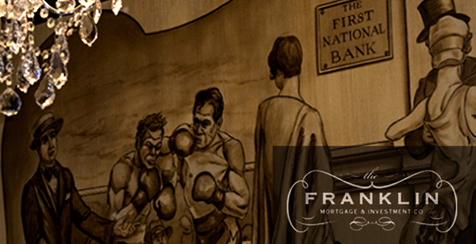 Are you a whore to Bourbon and Rye Whiskey as I am? Den of iniquity is what comes to mind upon entering the dimly lit Franklin Mortgage & Investment Co. that lacks a sign but does offer a well-clad door man to escort you safely down the steps into their pleasingly modern speakeasy. Sink into the burgundy tufted leather banquette and sip the night away or pull up a barstool and devour the knowledge the mixologists bequeath upon you.
The Franklin is managed and partly owned by Mike Welsh. Clad with red suspenders he's not tough to spot. Chris Doggett a software designer is also a co owner. Original design ideas came from the main men at New Yorks Death & Co..
They pride themselves on offering only the finest spirits available; therefore not a drop of Vodka or spirit with high fructose corn syrup is in sight. The array of options does keep one mesmerized, 6 pages of captivation in fact, featuring a bevy of specialty cocktails, beer and wine. From the array of cocktails, bitters, sweet vermouth and the fact that they hand chip Kold-Draft culinary grade ice for every order, The Franklin has trumped Philadelphia's cocktail scene and looks to have a strong hold on it.
They certainly have the look and they definitely have the cocktails down but most off the menu cocktails are only $11, and even their beer begins at $5. Not as damaging as other Philadelphia cocktail focused institution.
During Prohibition, the original Franklin Mortgage & Investment Co. was known for being the center for the largest alcohol ring in the country. We are beyond delighted to see your illustrious rebirth. Keep your eyes peeled and your wits about you because during one of your visits you may see the spirit of the original "Boss" Max "Boo Boo" Hoff sipping water and shooting tin foil pellets at guests while sitting next to the devil himself.
Recent Articles

Feedback
How are we doing? Tell us what you like or don't like and how we can improve. We would love to hear your thoughts!