Where to Celebrate Bastille Day in Philadelphia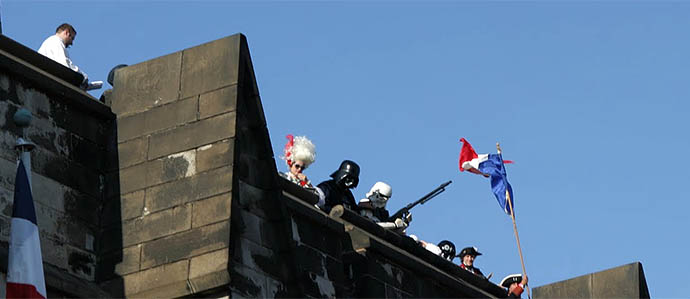 "Liberté, egalité, fraternité." Freedom, equality, brotherhood. This was the battle cry of the French Revolution, which started with the storming of The Bastille. Celebrate another day of independence with a long weekend of merriment and decadence.
Thursday, July 10
Fairmount French Fling Bar Crawl
6:30 PM
Kronenbourg 1664 will be storming the Fairmount region to celebrate their 350th birthday. All participating venues will be offering Kronenbourg beer specials and discounted "Fairmount Fare" for the crawl. Crawlers will receive a neighborhood map and a free French Beret.
Friday, July 11
French Trivia Night
7 PM – 2 AM
London Grill (2301 Fairmount Ave.; 215-978-4545)
The London Grill will be hosting a French-themed trivia party. Winners take home prizes, losers take home French knowledge.
Saturday, July 12
Bastille Day Block Party
10 AM – French menu all day at London Grill
2 PM – Face Painting and crafts for kids
4:30 PM – Terry Berch McNally will join The Bearded Ladies for the "Storming of the Bastille" performance, which will feature appearances by Napoleon, Joan of Arc, Benjamin Franklin impersonators and a life-size French Baguette. American and French revolutionary music will provide the soundtrack for the spectacle. Berch McNally will continue her 20-year tradition, crying "Let them eat Tastykake!" and throwing handfuls of the confections from the walls of Eastern State Penitentiary before she is ceremoniously "beheaded" to the delight of the crowd. Costumes are strongly encouraged. After the ceremonial decapitation, there is no shortage of after parties.
London Grill (2301 Fairmount Ave.; 215-978-4545)
6:30 PM – Midnight
There will be French libations, street food and dancing in the streets with the West Philadelphia Orchestra.
Paris Wine Bar (2301 Fairmount Ave.; 215-978-4545)
7 PM – 10 PM
At Paris Wine Bar, the intimate 50-seat venue next door, live music from Josh Lawrence will offer a quieter alternative to the block party celebration.
Jack's Firehouse (2130 Fairmount Ave.; 215-232-9000)
Kronenbourg specials all day Saturday
Bridgid's (726 N 24th St.; 215-232-3232)
Serving $3 Kronenbourg all day Saturday.
Rembrandt's (741 N 23rd St.; 215-763-2228)
Featuring French specialties for all of Bastille Day weekend, including cocktails like La Guillotine and St. Germaine Mojito. Kronenbourg will obviously be on draft.
Urban Saloon (2120 Fairmount Ave.; 215-232-5359)
Serving up Kronenbourg specials all day Saturday.
Belgian Cafe (601 N. 21st St., 215-235-3500)
The French are known for their wines, but the Belgian Cafe will have some of their best brews this weekend. Kronenbourg will be on tap and they will have bottles of Thiriez Extra and Etienne Dupont Cidre Brut.
Sunday, July 13
Bistrot La Minette (623 S 6th St.; 215-925-8000)
11 AM – 9 PM
Indulge in true French fashion with a four-course feast for $40 on Sunday.
London Grill (2301 Fairmount Ave.; 215-978-4545)
10 AM – 2:30 PM
The Bastille Day brunch will include a make your own Bloody 'Marie' Bar.
Paris Wine Bar (2301 Fairmount Ave.; 215-978-4545)
1 PM – 4 PM
Marie Antoinette's Bourdoir Pastry Pop-up will be an afternoon of sheer indulgence. Le Virtu pastry chef Angela Ranalli is making a spread of madeleines, macarons, cakes and tarts. Pink champagne and St. Germain, Crème Yvette, Chambord and Lillet cocktails will wash it all down. Cost is $35 adults, and $20 kids.
Monday, July 14 (Bastille Day)
Bistrot La Minette (623 S 6th St.; 215-925-8000)
5:30 PM – 10:30 PM
The French feasting continues on Bastille Day with a special four-course prix fixe menu.
London Grill (2301 Fairmount Ave.; 215-978-4545)
French menu specials will be available all day and night.
Le Cheri (251 S. 18th St.; 215-546-7700)
6:30 PM – 9:30 PM
The Alliance Française de Philadelphie is throwing a Bastille Day fundraiser with Chef Pierre Calmels serving up a magnifique French buffet. There will be dancing, a silent auction, and they are raffling off two round-trip tickets to Paris.
Tags:
Bar Crawl
,
Beer
,
brunch
,
Cocktails
,
Dinner
,
Festival
,
Food
,
Fundraiser
,
Holiday
,
Outdoor Seating
,
Parties
,
Silent Auction
,
Spirits
,
Wine
Recent Articles

Feedback
How are we doing? Tell us what you like or don't like and how we can improve. We would love to hear your thoughts!