London 2012 Summer Olympics Food & Drink Specials in Philadelphia
Raise a glass for Team USA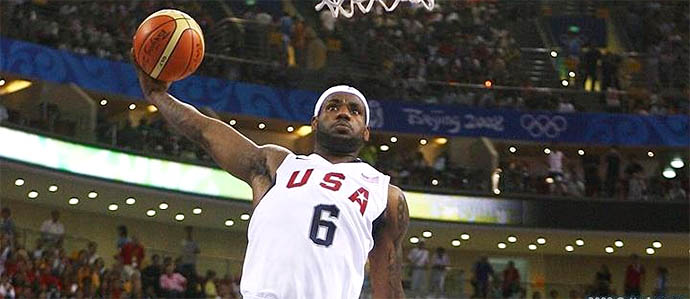 The London 2012 Summer Olympics begin on Friday, July 27, and after the torch is lit, the real show begins. For two weeks, the world's best amateur athletes (and in a few cases pros — ahem, USA baskeball) will compete for the glory of taking home the gold. You can take part in the fun with food and drink specials all over the city. Check back often as we update this post with new info as it comes in.
Bierstube: When games are showing at this Old City German-themed pub, a quad of 8-oz. pours is your for $20. Whichever countries happen to be competing will be represented in the tasting selection, so you can hold your own mini competition (206 Market St.; 215-922-2958).

Cavanaugh's Rittenhouse: The popular sports bar will be offering $4 Stoudts American Pale during all Olympic events, $4 Stoudts Gold, and $5 Freedom Bombs to anyone dressed in USA gear.

Devil's Den: Find medal-winners of a different type at this South Philly tavern. Each night for the duration of the games, bartenders will tap a different World Beer Cup medal winner. Look for brews from Allagash, Schneider, Nogne-O, Weyerbacher, Yard's, Troegs and more (1148 S. 11th St.; 215-339-0855).

The Egg Pub: At the corner tavern in Fishtown, during all games you can order a beer and a burger for the price of a burger alone. Not exactly British-themed, but a good deal, nonetheless (200 E. Girard Ave.; 267-761-9343).

Frankford Hall: Catch the action on the big projection screen at this Fishtown beer garden along with Sunday–Thursday specials that include $4 half-liter or $8 liter drafts and $5 sausages. There's also a contest — guess the total number of US medals, broken down by category, and win a free dinner for four at any Stephen Starr restaurant (1210 Frankford Ave.; 215-634-3338).

London Grill: This Fairmount pub is getting into the United Kingdom spirit for the event in their namesake city. During the games, find $6 20-oz drafts Wells Bombardier and 16-oz drafts of Youngs of London, as well as $5 Youngs Double Chocolate Cans. Every time you watch a game and drink a pint you'll be entered to win a Wells & Youngs prize package (2301 Fairmount Ave.;215-978-4545).

M Restaurant: The bistro inside the Morris House Hotel is serving an Olympics-themed cocktail list, including The Broad Jump (Proseco and Canton ginger liquor), The Hammer Throw (vodka, gin, rum, triple sec, amaretto, pineapple juice, OJ, cranberry juice, grenadine), The Torch (White Sambuca on fire with three coffee beans) and many more (231 S 8th St.; 215-625-6666).
McGillin's Olde Ale House: Cheer on the home team at this hundreds-year-old pub with $3 Stoudt's Gold when an American wins a gold, $4 Pimm's Cups and the new Olympic Cocktail ($5) — strawberry daiquiri, pina colada and rum, rimmed with blue sugar and topped with blueberries (1310 Drury St.; 215-735-5562).

Meritage Wine Bar & Restaurant: In honor of the Olympics, this Lombard Street eatery is throwing a primetime happy hour from 7–8 PM daily. Look for $5 sangria, $3 local canned beer and $5 snacks (%00 S. 20th St.; 215-985-1922).

Totaro's: If you happen to be on the Main Line and want to get in on the Olympic deals, stop over at this classic Italian, where a half dozen English faves are on special. Look for Pimm's & soda ($5), Guinness ($5), gin gimlets ($6.50) and others (729 E. Hector St., Conshohocken; 610-828-9341).

Triumph Brewing Co.: During the games on weekdays, look for 50% off all drinks at this Old City brewpub, as well as a Monday–Thursday late night happy hour featuring $3 beer, $4 house wine and $5 well drinks (117 Chestnut St.; 215-625-0855).
Winnie's LeBus: The Manayunk cafe will run Olympic-themed spirits menu will run throughout the Games (4266 Main St.; 215-487-2663).
Tags:
Sports
Recent Articles

Feedback
How are we doing? Tell us what you like or don't like and how we can improve. We would love to hear your thoughts!