Prohibition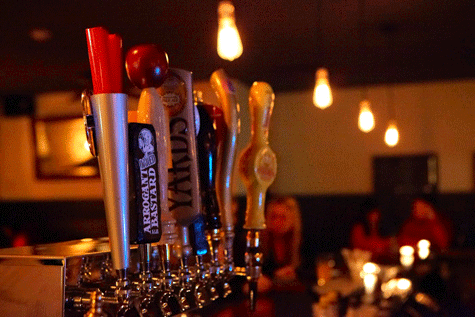 A speakeasy bar with exposed brick sets the scene at Spring Garden's Prohibition Taproom. It's music ambiance is filled by the likes of Tom Waits, Ozzy Osbourne, and the Rolling Stones, piping through the system. With an extensive beer list, the staff accommodates the Prohibition Taproom, ready with beer recommendations. You won't find any mafia or mobsters in this Taproom, which houses nine beers on draft, including the Philadelphia Brewing Company's Newbold IPA. The beer list includes over fifty different brews, ranging from the economical Pabst Blue Ribbon, to the fancy Chimay Grand Blue.
For those feeling adventurous, ordering half-pint draughts for a fraction of the pint-sized cost is standard. This is a wonderful (and potentially dangerous) way to work your way through the draught menu, explore, and find something new. (Half-pints are available only for draughts).
As for its mixed drinks the Golden Repeal looked like one of the more interesting cocktails, mixing vanilla vodka, amaretto, ginger ale, cinnamon and sugar. All in all, it's safe to order its bar standards: A Jack and Coke, Long Island, or perhaps even the elusive Marnie Collister. Yet where T.G.I. Chilibee's has found their niche, Prohibition says it without telling you their primary focus is on the beer.
Bar food at Prohibition offers a variety of small and large plates on a simple one-page menu. Wine or Ale Mussels, hummus plates, a Pub Burger, and fish and chips are just a few of the items offered on their dinner menu.
Prohibition Taproom runs specials from Monday thru Friday. During happy hour, which runs from 5-7pm, they offer $1 off of full pint draughts and well drinks, and $2 Lionshead and PBR. Its late night happy hour offers the same special, Monday thru Thursday, from 10pm-12am
If you stop in, be sure to try the Arcadia Whitsun, from Arcadia Brewing Company in Michigan. The Whitsun is a wheat beer, boasting hints of coriander, orange, and toasted nuts. It pairs nicely with their Spicy Apricot Wings, bringing out the sweetness of the fruit, whilst maintaining the spicy, lingering finish. If you enjoy beer and want to delve deeper into the fine art of tasting, Prohibition Taproom is guaranteed to offer something for both the seasoned veteran as well as the rookie.
Recent Articles

Feedback
How are we doing? Tell us what you like or don't like and how we can improve. We would love to hear your thoughts!