Knick Knack Paddy Whack Give a Dog a Beer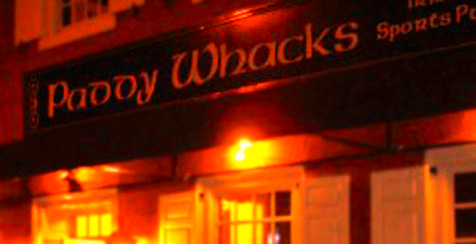 We liked Paddy Whacks so much, we went there twice this week. The Phillies were on tonight and we were thirsty. Staring up at Paddy Whacks' colonial-esk tavern on 2nd and South, we were quickly lured in by the sounds of cheers and clanking cups. If you like dingy, dirty bars with rickety seating and sub-par service, then take your low-class ass somewhere else because when you walk into Paddy Whacks you now have found one of the best Irish pubs around.
The upbeat sounds of music and conversation carry us through the bar. Surprised and very pleased to find five dollar pitchers of beer, we promptly ordered two rounds and after tirelessly flirting with the bartender, found our seats at a table in the back of the room. Picking up a menu, our craving eyes surveyed Paddy Whack's array of delicious chow. We couldn't decide whether to get the Paddy Chips or the Philly Cheese steak rolls and making such a decision needed a peer review. Luckily, Paddy's GM, Ryan, brilliantly suggested the steak rolls and swiftly delivered them to our table. Naturally, we were just as impressed with the menu and service as we were with the five dollar pitchers. Conversation was put on pause due to our indulgence; however, when it returned we decided to explore the other two floors of the so far incredible Irish pub.
Have you ever driven a BMW then hopped out and into a Rolls Royce? Neither have we but we can imagine that it's kind of like walking up from the first floor to the second of Paddy Whacks. The mere size of the second floor is jaw dropping. Flat screens, live DJ, full bar and booth seating occupy the room exquisitely. The Phills were up and our glasses were empty.

We inhabited a large table that overlooked the infamous South Street. The pitchers came sliding on the table like an assembly line but, to kick it up a notch, the waitress suggested a bubblegum shot, which at first seemed revolting but was not that bad. In fact, we think Bazooka Joe would've been proud.

The night continued in a similar fashion of fun. Knowing we would be coming back to Paddy Whacks, we asked someone if there were upcoming events. On Fridays and Saturdays you can dance the night away to your favorite songs complements of a live DJ. But it does not stop there. Weekdays, too, are no slouch; offering World Poker Tuesdays and some great local bands. And sports fans, want the ultimate sports pub experience? Paddy Whacks is waiting for you.

The night was late. We said good-bye to the staff as we made our way towards the exit. We were hooked on Paddy Whacks and nobody would keep us away. In retrospect, saying "good-bye" was not an appropriate farewell. Instead, we should have said "see you later" because we'll probably go a third time this week, and considering Paddy Whacks offers good times, great drinks, and awesome memories, it's more than a likely possibility.

Recent Articles

Feedback
How are we doing? Tell us what you like or don't like and how we can improve. We would love to hear your thoughts!