Cider Review: Anthem Hops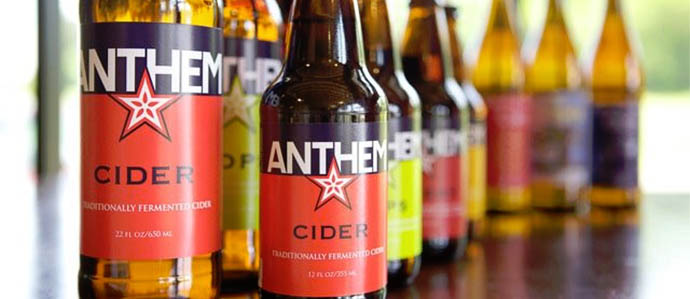 In the world of craft drinks, cider is making a determined stride into the market, eking out a niche next to microbrewed beer and artisanal liquors. Out of Salem, OR comes Anthem Cider, a branch of Wandering Angus Cider that uses up-to-date, local Oregon and Washington apple varieties (as opposed to the heirloom types used in traditional French and English ciders).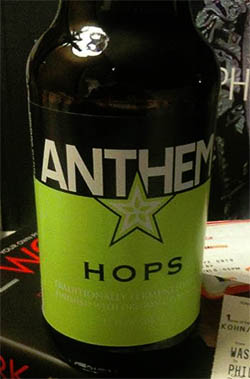 The most unique offering in the lineup is Anthem Hops, a cider that is dry hopped with Pacific Northwest Cascade hops — the type most commonly found in American IPAs. The result is a gluten-free product very reminiscent of beer that can be enjoyed by those who suffer from celiac disease.

Poured from a 12-oz. bottle, Hops is golden clear like apple juice with bubbly signs of carbonation, though there is no foamy head such as that found in bottled beer. Notes of apples, wood and earth play against a surprising, distinct scent of Cascade hops. This is not your average cider, to say the least!

Up front, Hops cider tastes sweet and fresh but not sugary or sticky. The distinct taste of hops brings up the back end of the flavor profile, creating a nice, crisp finish. At 5.5% ABV, Hops is on the stronger end of the cider spectrum, but it never has a strong taste or scent of alcohol.

Anthem Hops is a truly unique beverage and a very interesting twist on the standard cider. Anthem offers a variety of cider flavors alongside this most intriguing one, such as pear and cherry, all crafted from whole apples and fresh fruit juices. Hops is a great find for those who suffer from gluten intolerance and miss the taste of a well hopped brew.
Photos via Wandering Angus Cider on Facebook
Recent Articles

Feedback
How are we doing? Tell us what you like or don't like and how we can improve. We would love to hear your thoughts!