Beaujolais & Burgers: A Successful Pairing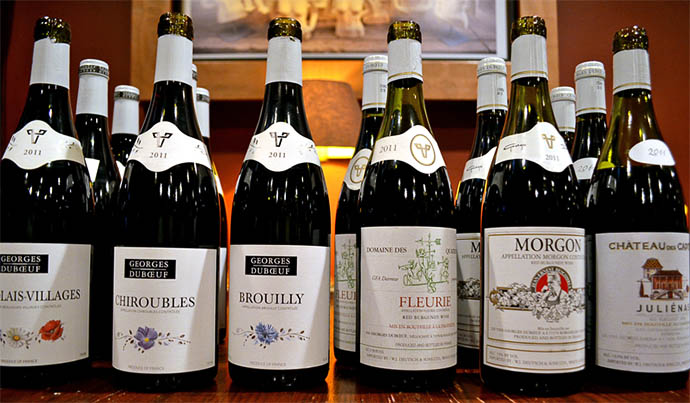 Almost everyone loves burgers, but what about burgers and wine? Chilled red wine at that! This is not a pairing you would ordinarily think of; however, the two make for a surprisingly winning combination. We recently attended a tasting of Georges Duboeuf Beaujolais series of reds from the eastern region of France: Beaujolais-Villages, Chiroubles, Brouilly, Fleurie, Morgon and Juliénas Chateuu des Capitans. The wines were paired with some of Philly's best burgers from the likes of 500 Degrees, Rouge, Alfa and Spiga.

At the presentation, wine expert Mark Oldham extolled the virtues of this graceful and charming style of wine: Beaujolais is not a snobby wine; the bottles are very affordable; the taste is charming and approachable; and it makes for a great selection on a first date, as this style of wine is very easy drinking. He also noted it's perfect for the current season, late summer to early fall.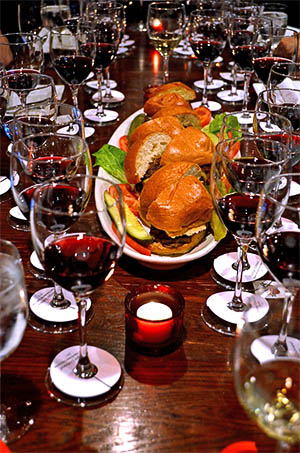 The Duboeuf Beaujolais are made with 100% Gamay grapes, a very old cultivar that shows tasting notes of red fruits, including currants, raspberries, cherries and strawberries. The wines exhibit a tender mouthfeel, deep flavor, and tend to have soft tannins, so they're very refreshing when served chilled. Oldham referred to them as something of a white wine masquerading as a red wine, considering how well they work with cheeses and other traditional white wine pairings.

The price points for these wines range from $10–$19. However price does not define the quality of a wine — think about some of the better Chilean or Argentinian wines available for less than $20. If you're looking for a $10, $15 or $20 bottle of wine that tastes more expensive that it costs, you'll be making a safe bet with a Beaujolais. Plus, you'll probably make white wine drinkers just as happy as those who always go for red.

Tasting the different styles of Beaujolais while sampling the burgers made for a very balanced meal — none of them overwhelmed any of the food, instead complementing the meaty flavors of the burgers rather well. We left a convert — next summer we'll definitely swap some chilled Beaujolais in for beer when we grill up burgers.

Here are the varietals we tasted:

Beaujolais-Villages: 12.5% Alcohol. Serve chilled. Pair with hors d'oeuvres, sauteed chicken, pasta and vegetables, cheeses.

Chiroubles: 13% Alcohol. Serve slightly cool at 57°F. Pair with assorted charcuterie, roasted chicken, pasta salad, cheeses.

Brouilly: 12.7% Alcohol. Serve cool at 54°F. Pair with grilled or roasted chicken, roast duck, roasted red meats, fine cheeses.

Fleurie: 13% Alcohol. Serve cool at 54°F. Pair with grilled sausages, chicken and lamb chops.

Morgon: 12.9% Alcohol. Serve slightly cool at 57°F. Pair with rack of lamb, venison, roasted turkey.

Juliénas Chateuu des Capitans: 12.9% Alcohol. Serve cool at 54°F. Pair with red meats and distinctive cheeses.
Photos by Swabreen Bakr
Recent Articles

Feedback
How are we doing? Tell us what you like or don't like and how we can improve. We would love to hear your thoughts!