5 for 5 Happy Hour or: How I Learned to Stop Worrying, and Love Living Across the Street from Tria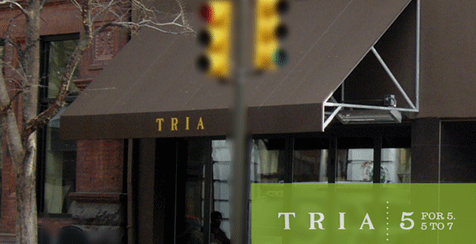 My entire world changed recently when Tria rolled out their new 5 for 5 Happy Hour. This 5 for 5 deal is way better than the Arby's special I used to associate that catchy marketing term with. We're talking 2 wines, 2 beers, and a cheese, each offered at $5. Plus, unlike the Sunday School special where you could only order one of each at the discounted price, you can order the same thing as many times as you want between 5 and 7pm (Monday-Thursday) and it's still $5. Trust me, I have done extensive research on this.
Now, some readers may be thinking $5? That's not cheap! I can get a whole pitcher of PBR at McGillin's for $5! and they would be correct. But let me assure you, while I have nothing against large quantities of PBR, the savings are in the quality here at Tria. An example from one of my recent visits is De Dolle Oerbier, a delicious dark ale from Belgium that has a 98/100 on Ratebeer.com, normally goes for around $8 locally...and $5 at Tria's 5 for 5 on a December afternoon.
Beyond your savings, you also get the same Tria service and expertise you have come to expect. The employees at Tria are not simply servers or hosts; these are educated people with a passion for what they're serving up. More than a few times I have asked questions when trying to decide between a couple of choices, and the answers I receive have always been accurate...even though I usually end up ordering both choices anyway.
Bottom line is this: Tria's 5 for 5 presents a fantastic opportunity for you (and me) to experience high-quality beer, wine, and/or cheese at a price that won't break the bank while simultaneously allowing you (and me) to learn more about some fairly obscure stuff compared to the bar you usually head to after work.
*Tria's 5 for 5 deal is currently only being offered at their Washington Sq. West location*
Recent Articles

Feedback
How are we doing? Tell us what you like or don't like and how we can improve. We would love to hear your thoughts!