Try a New Beer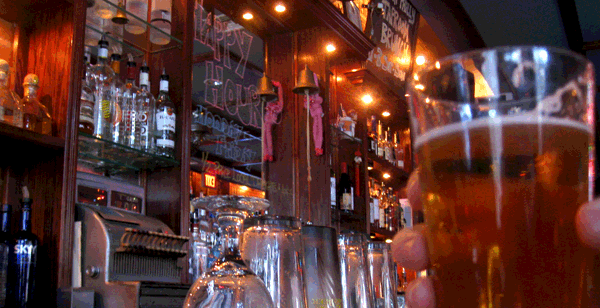 The great thing about South Philly is that there are a lot of bars where you can get a cheap beer. The bad thing is about South Philly is that most of those cheap beers are almost always Coors, Bud, or Miller--that's what makes the South Philly Tap Room stand out. Not only can you get a moderately priced beer, (or cheap beer during happy hour) but the beers are from breweries from both around the world and local.
Located at the corner of Hicks Street and Mifflin St., the Tap Room is somewhat removed from the trendy bars lining Passyunk Ave. Lucky for me its only two blocks from my house, and I decided to make the best of it by showing up during Happy Hour. The Tap Room's Happy Hour runs from 4 p.m. to 6 p.m. every weekday, and all local drafts and appetizers are half off.
There is a television directly in front of you as you walk in, but more importantly, there are fourteen beers on tap. Each beer has a name that appears new to me, with names ranging from Japan's "Hitachino Nest White Ale," to Colorado's "Lefthand Milk Stout," to a hometown brew; Manayunk's "Manayunk Monk From the Yunk." One of the drafts is even on a hand pump, Pennsylvania's own "Sly Fox Chester County Bitter."
Customers unfamiliar with these beers may get a little scared from all the choice, but next to each beer there is a label as to what type each beer is, whether it is a Ginger Ale, Imperial IPA, or Belgian Brown Ale. Plus, you're never out of line asking to try a sample before you buy.
The scary great part is that the server tells me that even if I get used to the beer selection, every time a keg kicks, a new beer is brought into the rotation. The result is coming in week after week and seeing a completely new beer selection each time. The only beer that remains a constant is the local draft, "Kenzinger." This is a relief because not only does it lend some stability to the menu, but when I am really feeling like a cheapskate or making Happy Hour extra happy, the thrifty "Kenzinger" runs for only $1.50 ($3 normally).
Now this might be a little weird, but the restrooms are actually one of the things I really like about this place. Not only do they keep them clean, but the walls and ceiling of the bathroom are lined with chalk board with a crayola palette of colored chalk at your disposal. Instead of having to erase permanent graffiti, the Tap Room figured it would be easier to just let everyone go wild. So everyone becomes a graffiti artist and has fun if they want. I know I did. Plus when people are encouraged to use their bathroom graffiti creatively there seems to be much less World War II hate symbols and male genitalia on the wall. Go figure.
The servers are fast and know exactly which tap to go to when you order one of the numerous changing beers. The prices of beer range from $3 for "Kenzinger" to around $7 for some of the imports depending on where they come from. The bar is also fully stocked, and nobody will look down on you for not ordering something from the keg. But this is a bar known for its selection of brews, and is well known among Philly's beer aficionados.
Cheap beer, good beer, imported beer, and a chalkboard make this place a must-visit when you are looking for a little more than just a "Bud."
Recent Articles

Feedback
How are we doing? Tell us what you like or don't like and how we can improve. We would love to hear your thoughts!