Growlers: A Bar, Kitchen and Living Room for Bella Vista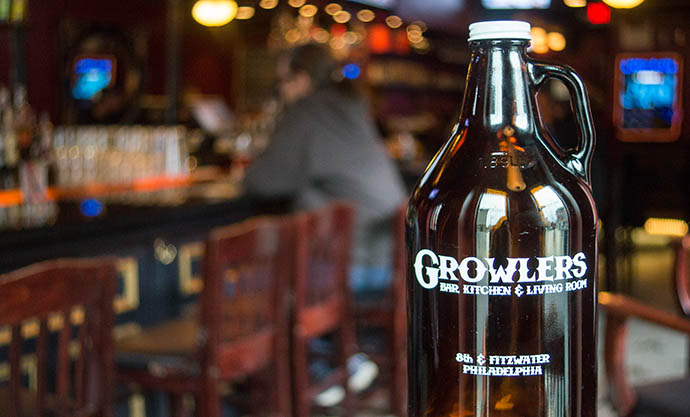 Growlers is the latest pub to come to Bella Vista and though it's the new kid in the neighborhood, it has already gained quite a popular rep. Opening its doors on the first weekend of October, the "bar, kitchen and living room" has welcomed a constant flow of people, and not just on Friday and Saturday nights.

Located on the corner of Eighth and Fitzwater, there are few other hangout spots of its kind in the surrounding neighborhood. And there are just a handful of places in the entire city where you can go to fill up a growler.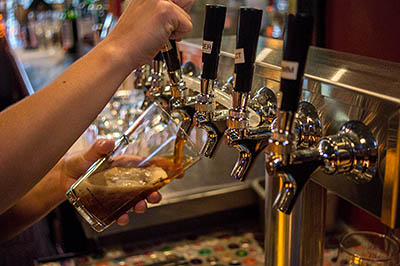 Its name tells you one reason Growlers quickly built a fan base, but 64-oz. jugs are just one of several options, alongside standard pint-sized glasses and a bottles and can list that offers close to 50 individual brews. On tap is a rotating selection of 12 draft varieties and one additional hand pump option, all of which are available for a tableside drink or as a growler to go. Current full-flavored highlights include the Racer 5 IPA and the Duck-Rabbit Schwarzbier, a German dark lager style whose name translates to "black beer".

As for the wine selection, there are six each of reds and whites and a few bubbly choices, too. A specialty cocktail list is on its way, and two full-service bars are available to order your drink of choice.

Growlers was born from a collaboration between two already well-established restaurateurs in the city. Partners Jason Evenchik (Vintage, Time, Bar) and Jay Willard, a man with a long history of experience at Starr Restaurant establishments in his back pocket (including The Dandelion, El Vez and Parc), took over the former Vesuvio to launch their newest venture.

They've equipped the kitchen with chef Jerry Donahue, previously from Spamps in Conshohocken and the Blue Bell Country Club, who has composed a menu of classic pub-inspired fare packed with innovative twists. You'll find items like truffled hand cut fries served with pecorino, shallots and herbs, and a fish and chips platter, composed of classically battered cod but elevated with a spicy kimchee tartar sauce.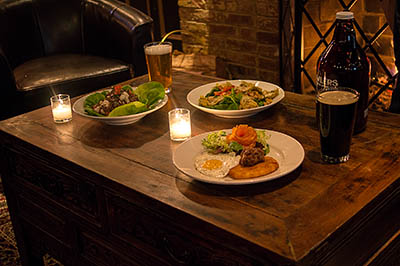 Though Growlers promises both a lively crowd and solid drink and food offerings, the space itself isn't fully perfect yet. With wood-mounted TVs airing the latest sporting games and a downstairs dart room equipped with a fireplace, the rooms have a lodge-like feel. Despite this, Growlers has some more work to do before it can be considered truly cozy.

The front bar can get crowded (already!), and on a typical night must be navigated in order to snag a drink from the second, back room bar. Beside the back bar is the dining room, which is just now getting its full complement of tables. When we visited, the stools were also not yet in for the back bar, which created an awkward situation between standing patrons and running waiters and waitresses carrying food. However, those are due to arrive this week. The downstairs dart room is the least crowded — though that may be because the area's yet to be discovered. A fireplace brings hope that it could eventually become a fun and cozy game room in which to relax with a beer.

However, candles, leather sofas and chairs and real fire in the fireplace do give a "living room" feel, and if you're lucky enough to grab one of those seats, Growlers likely won't disappoint. Stop by and share a growler with friends, and make sure to take advantage of the late night kitchen, open till 1 AM

736 S. 8th St.; 267-519-3242
Photos by Danya Henninger
Recent Articles

Feedback
How are we doing? Tell us what you like or don't like and how we can improve. We would love to hear your thoughts!