Bocce & Beer: Philly Major League Bocce Wants You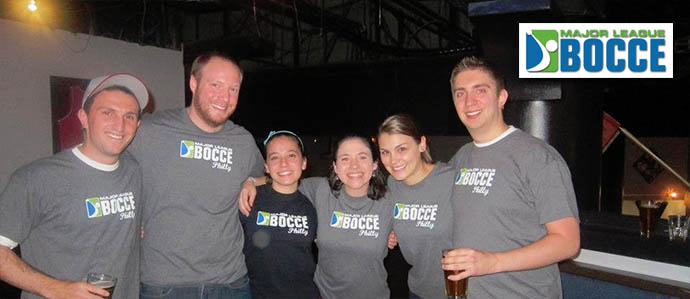 Bocce has been played in Italy for thousands of years, its a combination of skill, sport and conversation making it a winner from Roman times to the present. Now Major League Bocce is here in Philadelphia, and you can join up to partake in the challenge and fun.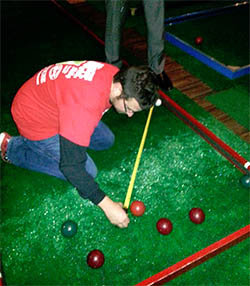 Philly Major League Bocce offers weekly games played between multi-person teams. The game is not difficult; just about any age and gender person who can palm a ball can have fun playing. Plus, unlike most other sports, you stand on the same side of the court as your opponents, so socializing is the norm — what better way to distract someone than by making them laugh?

During the Winter 2013 session, games are played indoors at Field House, located at 12th and Filbert just across from Reading Terminal Market. Games are played on a specially designed court, and take place every 45 minutes between 6:15–9:15 PM. The court is within arm's reach of the bar, and during each session, Field House offers discounted beer from Dogfish Head, official sponsor, plus specials on food.

You sign up for the eight-week division (January 22–Mark 12) by paying $45 per person, which includes:
five weeks of regular play
three weeks of playoffs
a team t-shirt
discounted beer and food at the bar
weekly prizes and giveaways
free end of season party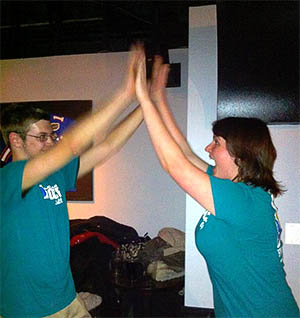 At the end of the season, a champion team is crowned, and gets to name a charity of their choice to receive a sizeable donation.

You can register either by 1) creating a whole new team (you need at least five people to complete the roster); 2) join an existing team (you'll need the team password from your captain); or 3) register without a team and you'll be placed by the organizers. Registration page is here.

Major League Bocce has been in Philadelphia for five seasons, since the fall of 2011, after being started in Washington, D.C. in 2004 by a few enthusiastic friends. Now there are leagues all up and down the East Coast. Chat with friends and meet new people, develop hand-eye coordination and drink discounted Dogfish Head beer? Win-win-win.
Recent Articles

Feedback
How are we doing? Tell us what you like or don't like and how we can improve. We would love to hear your thoughts!