March is filled with the luck of the Irish at Kildare's Irish Pub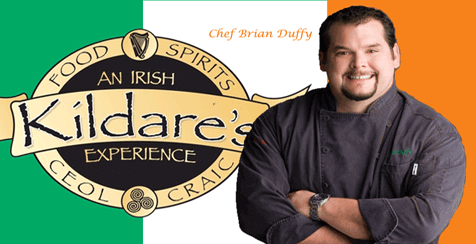 Every year, people of all heritages find an occasion to knock back the booze, get rowdy, and wear green on St. Patrick's Day. Based on the Catholic feast day of St. Patrick, St. Paddy's Day is tied to the color green because St. Patrick is said by legend to have used shamrock leaves, the lovely upgrades from three-leafed clovers, to explain the Holy Trinity. Now the day, which is a national holiday in Ireland, marks inebriated festivities, and an excuse to turn anything green, from beer to the Chicago River.
The holiday is celebrated with a little more attention to heritage at Kildare's Irish Pubs across Philadelphia, with an Everything Irish Month featuring Irish bands, dancers, and cuisine.
Executive head chef Brian Duffy has been focusing on Irish cuisine for the last few years, and says he wants people to know that it isn't all boiled and bland. As a result, Kildare's features Irish dishes that are better seasoned than traditional boiled ham and cabbage, such as mustard-encrusted pork ribeye, and what Duffy calls a spicier, slightly Americanized version of corned beef and cabbage, which he says is their most popular dish.
When asked why celebrating Irish heritage is so important, Duffy says, "Because that's the way I was raised. St. Patrick's Day wasn't just that day, it was the whole month. We always had a joke in our house that everyone's a little Irish on St. Patrick's Day."
Irish bands will be featured every Thursday such as Crocodile What?, Candiflyp, and the recently featured Bare Knuckle Boxers, along with traditional Irish dancers
Recent Articles

Feedback
How are we doing? Tell us what you like or don't like and how we can improve. We would love to hear your thoughts!