Philadelphia's 10 Hottest Bars of 2012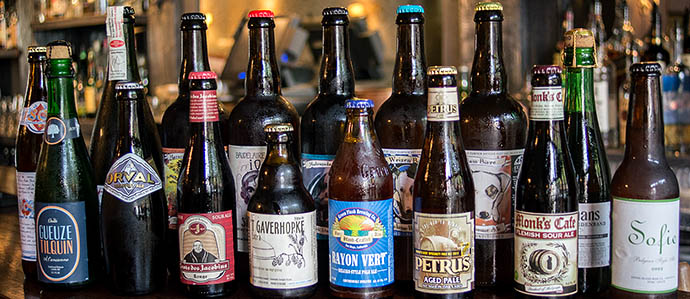 It was a great year for educated drinking in Philadelphia. Bar openings came fast and furious in neighborhoods all over the city, and both beer fiends and cocktail hounds got several great new options to try. Here are our picks for the 10 hottest bar-centric openings of 2012 (in alphabetical order). Have you been to all of them yet?

Alla Spina: The craft beer movement started as largely an American phenomenon, but now European breweries are picking up on the trend. At this graffiti-covered Vetri Family spot on North Broad you'll find a wide variety of Italian crafts on tap and in bottles, along with several local suds like the exclusive house ales brewed by Victory. If you're looking for a cocktail instead, try the Negroni — it flows from a tap, too (1410 Mt. Vernon St.; 215-6000-0017).

Bierstube: Belgian beer ace Michael Naessens (of Eulogy fame) turned his expertise toward Germany, and has successfully stocked this Market Street tavern with hundreds of the best from beer's birthplace. Along with the imports you'll find local crafts brewed in Teutonic style, and all of them pair perfectly with the fresh, housemade pretzel bites (206 Market St.; 215-922-2958).

The Cambridge: Husband-and-wife team Chris Fetfatzes and Heather Annechiarico (of Hawthornes) poured their combined beer knowledge into an impressive 24-tap draft list at this redo of the former Tritone on South Street. Beer geeks will also love the bottle list, which features nothing but sours, and the specialty cocktails are worth sipping as well (1508 South St.; 267-455-0647).

Emmanuelle: With a mixtress duo of Katie Loeb and Phoebe Esmon at the helm, this cocktail bar on the outskirts of The Piazza (the door is around back on Hancock Street) couldn't help but have an impressive drink list. The adult vibe is a welcome addition to Northern Liberties (1052 N. Hancock St.; 215-791-8090).

Growlers: The corner of Eighth and Fitzwater in Bella Vista finally has a bar worthy of the location's potential. Jason Evenchik (Time, Vintage, Bar) and former Dandelion manager Jay Willard teamed up to create a welcoming gastropub with solid beer and cocktail lists, a warming fireplace, an inexpensive but creative food menu and — yes — growlers (736 S. 8th St.; 267-519-3242).

Hop Sing Laundromat: There was so much hype over this Chinatown cocktail house from the mysteriously named Lee that it would be easy to dismiss as oversold. Until you go in, that is, and actually partake of the simple but extremely well-thought-out cocktails, all made with fresh fruit juices and the most expensive well liquor in the country (1029 Race St.; no phone).

The Industry: Three words: Ghost of Mary. If you haven't tried the perfectly clear version of the Bloody Mary here, you're missing out. The second spot from Dave Garry and Heather Gleason of Good Dog Bar, this Pennsport drinkery is an oasis of great drinks and well-curated drafts in a sea of South Philly rowhomes (1401 E. Moyamensing Ave.; 215-271-9500).

Lloyd: Out on the eastern edge of Fishtown, Former New York bartenders Scott and Taylor Coudriet have created a Center City-worthy cocktail bar, complete with housemade syrups and a great selection of brown spirits. Beer and wine lists have not been overlooked, nor has a menu of creative comfort food snacks (529 E. Girard Ave.).

Morgan's Pier: That dream of sipping on craft beer with the sun shining down while you're gazing at the horizon and enjoying a cool breeze? It finally came true this year with the opening of this two-bar, multi-area deck on the Delaware River, a collaboration between Union Trust partners R5 and Four Corners Management (221 N. Columbus Blvd.; 215-279-7134).

1 Tippling Pl: Choose from a sofa, an easy chair or a rocking chair in the eclectic "living room" interior of this new cocktail lounge. First-time proprietor Anne Frey snagged former Ranstead Room manager David Tang to create the drink list, and he came through with an impressive selection. Nibble on a tiny menu of party snacks as you sip and watch the Rittenhouse traffic flow by (2006 Chestnut St.; 215-665-0456).

Recent Articles

Feedback
How are we doing? Tell us what you like or don't like and how we can improve. We would love to hear your thoughts!