Hop Sing Laundromat: A Cocktail Tour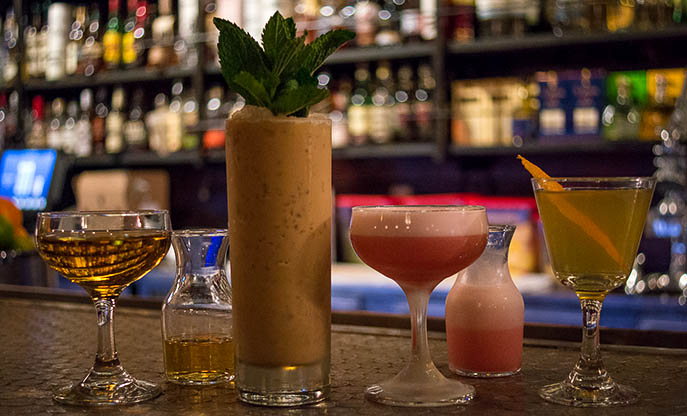 If you haven't yet been to Hop Sing Laundromat, or even if you have, let us tempt you with a tour of some of the best cocktails on the menu at the Chinatown bar. Made with "the most expensive well liquor in the country," these drinks are strong and relatively simple, but made with serious care. No bitters are used in signature cocktails; instead proprietor Lee turns to just-made fruit juices, flavorful spirits and unique liqueurs to create his drinks.

Lee is into simplicity, as proven by his pricing scheme: every single drink, from a shot of whiskey (the well bourbon is Elijah Craig 12 year) to a carefully constructed Clover Club, is just $12. That's a price increase of $2 over the opening cost of $10 per glass, but it's still a steal when you consider what you get in return. Check out a selection of sips below.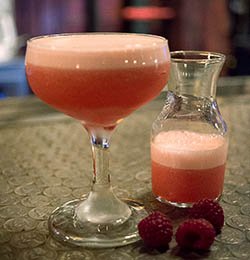 Clover Club

Arguably Philadelphia's signature cocktail (it was named after the 1880s Bellevue hotel social club of the same name), this drink is usually made with raspberry syrup. Not so at Hop Sing, where a handful of fresh raspberries join both Ambler and Plymouth gins, Velvet Falernum, fresh lime juice and an egg white to make a frothy, fresh-tasting sip that's tough to put down. Bonus points because nothing is wasted; any extra liquid is delivered along with your glass in a sidecar.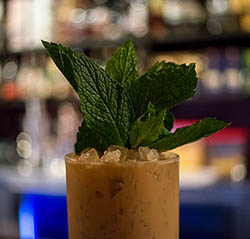 The Boston Healer

Though you can find other traditional drinks done right on the "Classics" part of the drink list, more exciting are signature creations. Each drink name here has a story behind it. This one is an ode to a famous Boston man who was a skilled doctor, but was refused a proper medical degree because of his race (he was black). The swizzle-like cocktail brings together the unlikely combo of fresh-brewed coffee with a huge bouquet of fresh mint. The drink gets its kick from Johnny Drum Private Stock bourbon, Bärenjäger honey liqueur and Licor 43, and cream blends everything together for a drink you'll want to slurp down all at once.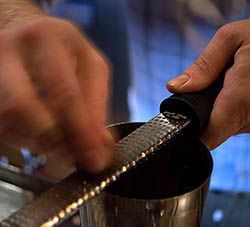 O Mary, Don't You Weep

In this new addition to the drink list, El Dorado six year white rum is mixed with D'Aristi Kalani coconut liqueur and cream After being shaken and poured into a coupe glass, fresh nutmeg and cinnamon are grated over the top. If you've had bad teenage experiences downing bottles of Malibu rum, this take on coconut will win you back to the tropical side with an elegant, not-at-all-syrupy flavor. Your adult side will also welcome the fact that the drink is a tribute to civil rights educator leader Mary McLeod Bethune.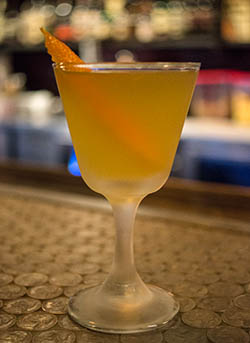 Railroad Judah

If you like Scotch, you may know about Laphroaig 10 year. It's one of the smokiest, strongest Scottish spirits available, and can have an off-putting aftertaste. In this new cocktail, which is an ode to Transcontinental Railroad visionary Theodore Dehone Judah, Laphroaig is shaken with both Chartreuse, which add complexity but also tone down the finish. A flamed orange peel adds the final touch.

Lee actually adjusted this drink as we tasted, adding yellow Chartreuse in addition to the green, for a slightly sweeter flavor. "I'm a terrible guy to work with," he says, "Every time my bartenders make a drink, I try to find something wrong with it, something that can be improved upon."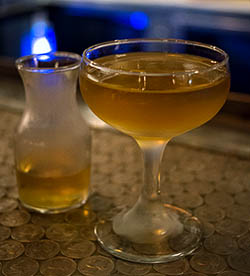 Pay Me My Money Down

Lee doesn't drink, as a habit — perhaps a glass wine here or there — but perhaps that helps preserve his refined palate. In this drink, he mixes two types of rum to get the balance he wants. Don Q Gran Anejo provides plush caramel notes, and Smith and Cross Jamaica rum adds depth and punch. With yellow Chartreuse and V.S.O.P. cognac for a touch of sweetness, this cocktail is a boozy bomb with over 2½ ounces of pure liquor, yet drinking it is frighteningly easy. The name refers to a tune sung by slaves working in the Georgia Sea Islands, who certainly never had it so good.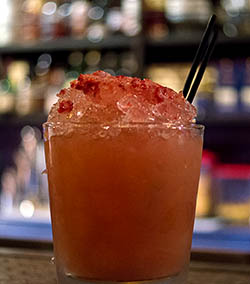 Crazy Horse

This drink is a vivacious as its namesake, a Native American war hero who fought for his people against the expanding U.S. in South Dakota. Mellow-tasting Double Cross vodka is mixed with Lillet Rosé, Solerno blood orange liqueur (from Sicily) and fresh muddled raspberries, then poured atop a mound of crushed ice. It's like a snow cone for the over-21 crowd.

Head over to 1029 Race Street to sample these libations. Be advised you'll need to ring a doorbell and then wait in the penny-lined anteroom before you enter. Just don't wear sneakers or caps or try to snap photos, and you're sure to enjoy yourself.

Photos by Danya Henninger
Recent Articles

Feedback
How are we doing? Tell us what you like or don't like and how we can improve. We would love to hear your thoughts!