Stone Vertical Epic at City Tap House: A Belgian Beer Journey With a Charitable Finish [PHOTOS]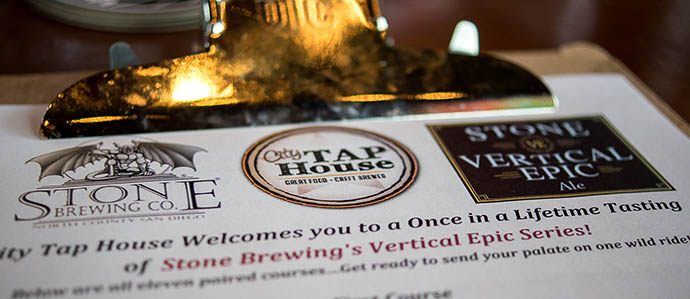 Back in 2001, as the American craft beer scene was undergoing its first modern explosion, Stone Brewing CEO and co-founder Greg Koch had a novel idea: his Escondido brewery would create one beer each year for the next 12 years, aging each vintage in preparation for a vertical tasting like none other before it. The Stone Vertical Epic project began on January 1, 2001, and the first in the series was released one year, one month and one day later as 02.02.02.

Visionary as Koch was, only around 300 cases of the 02.02.02 were brewed (less than 15 barrels), as Stone was much smaller back then. As the U.S. craft beer movement picked up steam, each subsequent year saw a larger release, and the potential of the multi-year tasting became apparent. The effort finally culminated this past December with much fanfare and the release of 12.12.12. We had the opportunity to try samples of almost every beer in the series at a dinner at West Philadelphia's City Tap House. (The 02.02.02 and 05.05.05 were missing.)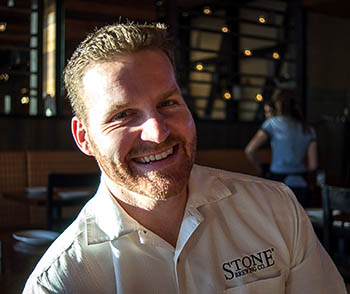 Stone representative Lee Marren led the assembled beer fans through the tasting, noting that kegs of each vintage had been kept cold and away from light since its release, the better to stand up to the wearing effects of time. Though the beers were designed to be aged, he warned that there are "no money back guarantees," and some of the beers might have aged better than others.

Thus prepared for whatever came next, guests readied to sample the six-ounce pours of the suds along with special food pairings designed by sous chef Pete O'Donnell. Diners sailed through the courses with pleasure. At the end of the meal, City Tap House beverage director Andy Farrell decided to hold an impromptu chairty auction for the few left over growlers of the Vertical Epic vintages. After starting bidding at $25 each, he eventually raised a total of $1,835, which was donated to the Ronald McDonald House around the corner. Happy drinkers made for generous giving.

Why was everyone so happy by the end of the meal? The fact that none of the beers was lower than 8% ABV might have had something to do with it, but the pairings were well-considered and the food was tasty. Here's how it all went down.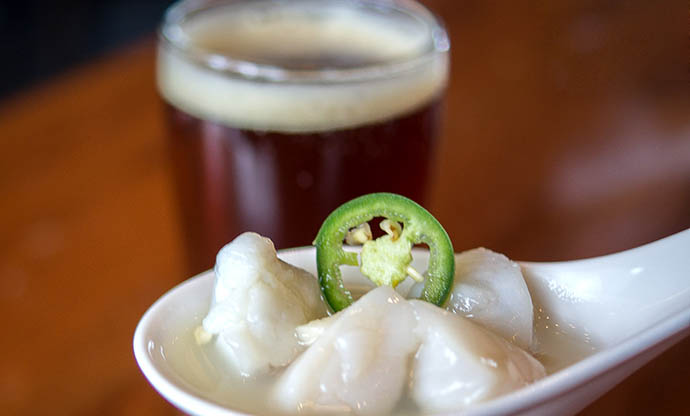 First Course: Lukcy Basartd + Scallop and Shrimp Ceviche
In place of the starting Epic vintage, Marren and Farrell served this 8.5% ABV limited release, an anniversary blend of several the brewery's Arrogant Bastard ales, including two aged varieties. The deep malt and strong citrus hoppy notes were a great accompaniment to the snappy seafood, which itself was spiced up with a slice of fresh jalapeno.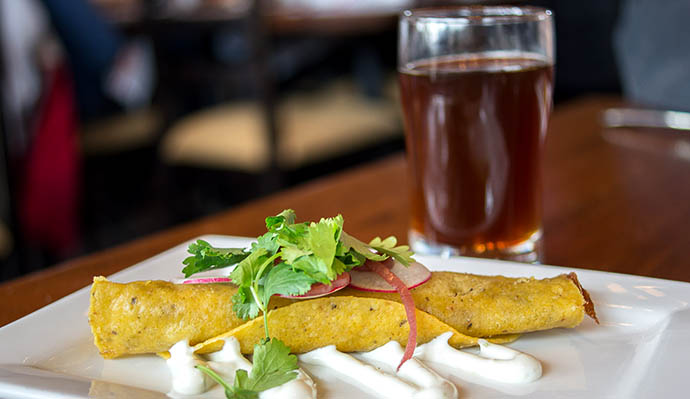 Second Course: 03.03.03 + Beef Taquitas
A wheat beer is usually rather light on the palate, but after 10 years of aging, this dark-and-pale hybrid Belgian witbier offered a strong cigar nose. The flavor dissipated quickly and the head was non-existent, but the brew was bold enough to overpower the crunchy beef tortilla.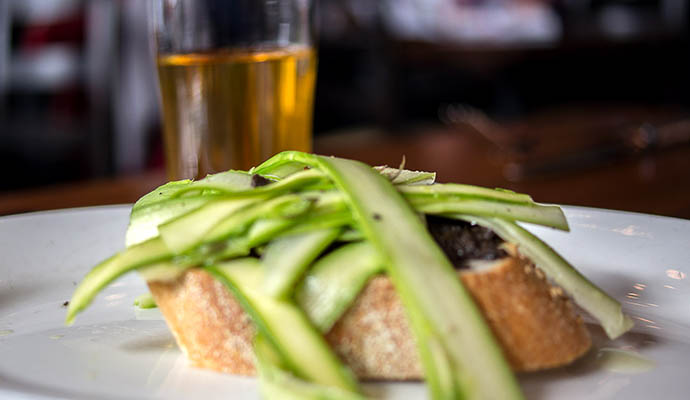 Third Course: 04.04.04 + Mushroom Duxelle Toast
Much more vibrant than its predecessor, this beer brewed with Kaffir lime effused bubble gum notes. It's fruity banana esters were a good foil for the earthy wild mushrooms and pungent asparagus in the pairing.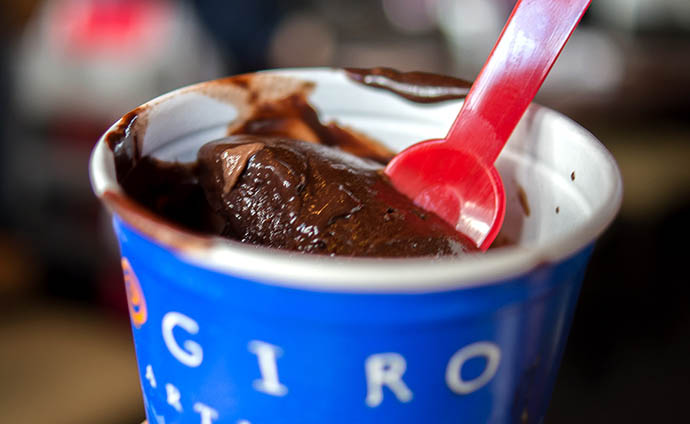 Fourth Course: 05.05.05-Inspired Gelato
Lacking a keg of this vintage, City Tap House invited neighbor gelateria Capogiro to create a palate cleanser inspired by the beer, which was a dark, chocolatey affair. The iced treat was extremely rich, with spiced Mexican chocolate for a not-too-sweet finish.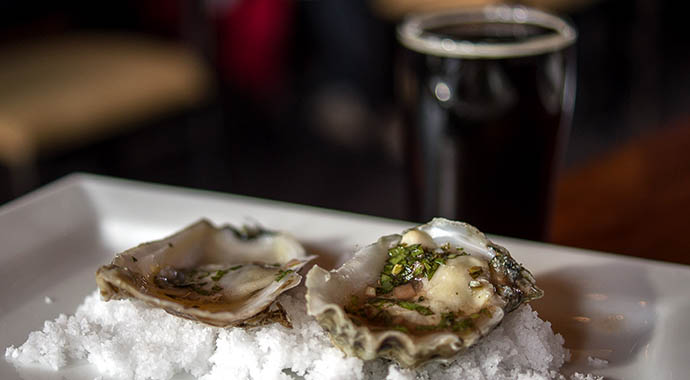 Fifth Course: 06.06.06 + Oysters on the Half Shell
This was our favorite pairing of the entire event. Six years appears to be a sweet spot for aging beer, if the resulting brew from 2006's vintage can be used as a guide. Trappist yeasts were used to create a strong dark ale with a funky character that was enhanced with age. A sweet, almost chocolatey Beau Soleil oyster was a sublime match, and the Kumamoto oyster went down just as easily.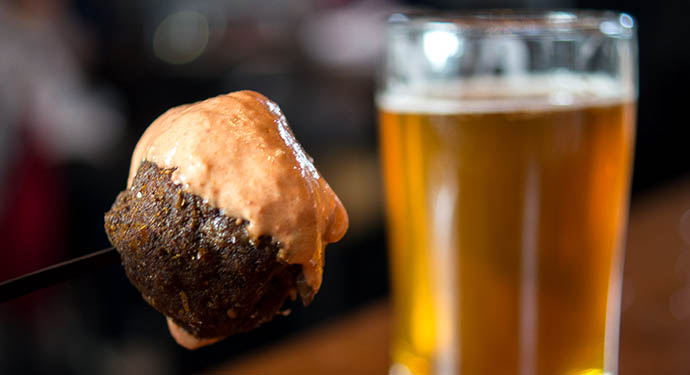 Sixth Course: 07.07.07 + Mediterranean Lamb Meatball
Full of ginger and citrus notes, this strong pale ale was fruity and refreshing, even after its extra years in the cellar. Good thing, because the harissa aioli that accompanied the spicy lamb meatball was nearly overwhelming (though pleasant) in flavor.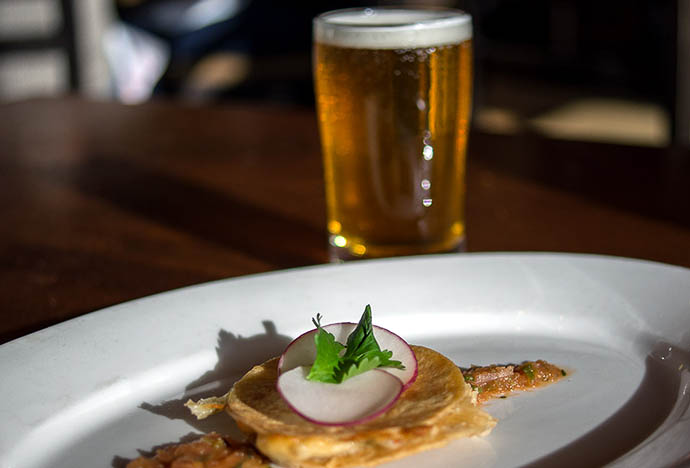 Seventh Course: 08.08.08 + Onion Quesadilla
This Belgian IPA lived up to its billing, and was the most hoppy of any of the Epic beers we tasted. "People didn't think this one would hold up well, because of the hops," Marren noted, but people were wrong. Plenty of spice and perky flavor made a good pairing for the slightly sweet onion agrodolce melted with cheese between tortillas.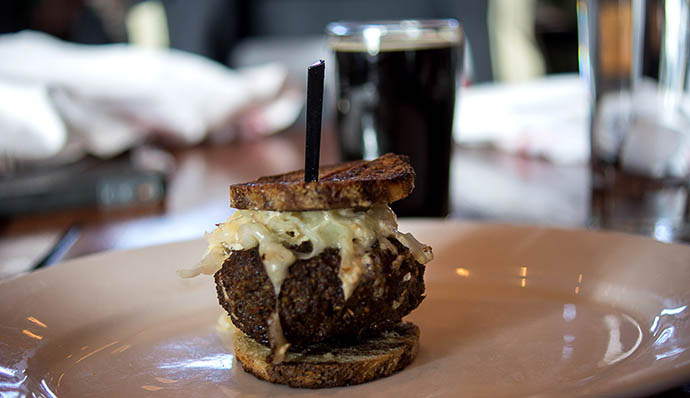 Eighth Course: 09.09.09 + Pastrami Slider
Like a boozy stout, this vintage was black and had toasty notes underlaid by vanilla. The subtleties were nearly lost behind the strong spice of the miniature pastrami burger, served on rye toasts, but the beer provided a welcome clean finish nonetheless.

[Mea culpa: this photo is missing. Blame a great beer buzz.]

Ninth Course: 10.10.10 + Grilled Squid
This golden tripel drank nearly like a wine, and it's no wonder: the beer was mixed with fresh Sauvignon Blanc, Muscat and Gewurztraminer grape juices along with dried chamomile. The liquid did pair well with the marinated squid, which was served with a pomegranate gastrique.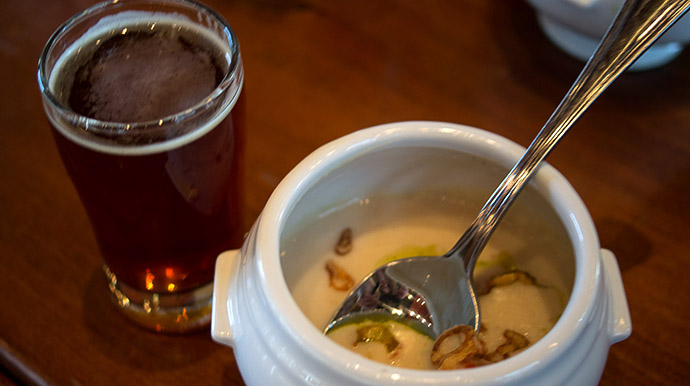 Tenth Course: 11.11.11 + White Bean Cassoulet
Real green chiles didn't have time to mellow in this brew, a strong pale ale that also included cinnamon and clove. The spiciness was welcome, however, and did well with a the very rich and creamy bean soup.





Eleventh Course: 12.12.12 + Manchego Cheese Crostini
"Tastes like Christmas," read our personal tasting notes from this vintage, which we're ultra impressed were still legible after the epic repast that came before it. Huge clove and cinnamon notes were complemented by a very dry finish that washed down the cheese and toast with style.
Photos by Danya Henninger
Recent Articles

Feedback
How are we doing? Tell us what you like or don't like and how we can improve. We would love to hear your thoughts!