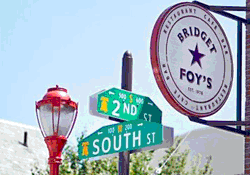 Address
200 South St
(South & 2nd St)
(215) 922-1813
www.bridgetfoys.com/
Neighborhood
Queen Village
About
From their website:
Bridget Foy's restaurant has been a Philadelphia staple since 1978. Located on exciting South St., Bridget Foy's offers great food and service for, lunch, and dinner 7 days a week. And don't forget our special late-night, weekend brunch and kids menus.
Events
12/14 - Stumble With Santa Through the South Street Headhouse District
Time: 6 PM - midnight
The bar crawl on Sat., Dec. 14, will surely have you feeling jolly through the new year.
Monday
All Day (5:00 pm - 10:00 pm): $12 for bowl of mussels with a Belgian ale or house wine
Happy Hour (5:00 pm - 7:00 pm): $3 Yuengling, Kenzinger, fried pickles, deviled eggs; $4 Blood Orange Bellini, Sangria Rodriguez, Strawberry Blonde Sangria, house wine, mushroom risotto cakes, roast artichoke hummus; $5 well mixed drinks, cheese steak croquettes; $15 pitchers
Tuesday
Happy Hour (5:00 pm - 7:00 pm): $3 Yuengling, Kenzinger, fried pickles, deviled eggs; $4 Blood Orange Bellini, Sangria Rodriguez, Strawberry Blonde Sangria, house wine, mushroom risotto cakes, roast artichoke hummus; $5 well mixed drinks, cheese steak croquettes; $15 pitchers
Wednesday
Happy Hour (5:00 pm - 7:00 pm): $3 Yuengling, Kenzinger, fried pickles, deviled eggs; $4 Blood Orange Bellini, Sangria Rodriguez, Strawberry Blonde Sangria, house wine, mushroom risotto cakes, roast artichoke hummus; $5 well mixed drinks, cheese steak croquettes; $15 pitchers
Thursday
All Day (5:00 pm - 10:00 pm): $10 beer & burger special
Happy Hour (5:00 pm - 7:00 pm): $3 Yuengling, Kenzinger, fried pickles, deviled eggs; $4 Blood Orange Bellini, Sangria Rodriguez, Strawberry Blonde Sangria, house wine, mushroom risotto cakes, roast artichoke hummus; $5 well mixed drinks, cheese steak croquettes; $15 pitchers
Friday
Happy Hour (5:00 pm - 7:00 pm): $3 Yuengling, Kenzinger, fried pickles, deviled eggs; $4 Blood Orange Bellini, Sangria Rodriguez, Strawberry Blonde Sangria, house wine, mushroom risotto cakes, roast artichoke hummus; $5 well mixed drinks, cheese steak croquettes; $15 pitchers