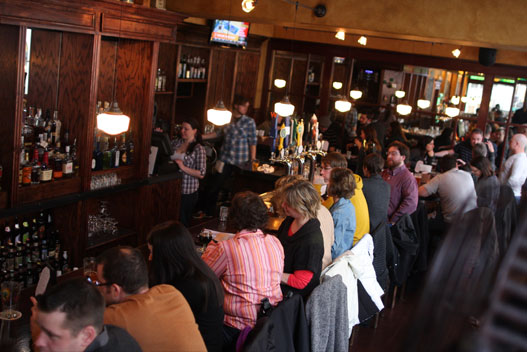 Address
1345 Locust Street
(Broad & Locust)
215-546-4090
www.perchpub.com
Neighborhood
Center City
About
Drinkpoint.com
Perch Pub - a name reflecting an elevated place for resting or sitting in a prominent location. Patrons 'roost' above Broad and Locust Streets (the Avenue of the Arts) and enjoy a large selection of crafted local micro-brewed beers on tap, a full bar and an American-inspired menu of comfort food. Amenities include a Pool Table, Dart Board, Juke Box and Hi-Def TVs.
Events
05/31 - Meet the Brewer with Half Acre Brewing Co. at Perch Pub
Time: 7-10 PM
A killer draft lineup including limited batch brews and a few special kegs from the tasting room. Rog from Half Acre will be on hand.
06/01 - Goose Island Tap Takeover at Perch Pub
Time: 5-8 PM
A fantastic lineup including BCBS & Coffee BCBS. Wade from Goose Island will be on hand with plenty of glassware and giveaways.
06/03 - Tap & Apps Voodoo Brewery at Perch Pub
Time: 7-10 PM
Matt Allen brewer of Voodoo's unique beers will be joining Perch for the night. A great tap list from Voodoo will inspire a special menu of appetizers.
06/04 - Avery Brewing Company at Perch Pub
Time: 7-10 PM
Colorado craft brewing royalty Adam Avery will be on hand to showcase a lineup of staples and rarities from this truly original brewery.
06/05 - The Fall of Rome w/ Elysian Brewing at Perch Pub
Time: 7-10 PM
Hedonism, pageantry, libations - the Romans knew how to throw a party and so do we. Join us and Michael from Elysian Brewing. Indulge all of your senses with an exquisite lineup of beers. Roman movies and prizes for those decadent enough to come in togas.
06/06 - Beer Geek Quizzo with Stoudts at Perch Pub
Time: 9 PM-midnight
Quizmaster Kevin Romer will be testing your beer geek knowledge. Stoudts has promised some special beer week only beers this year.
06/07 - Brewer's Lunch w/ Round Guys at Perch Pub
Time: noon-2 AM

06/09 - Hangover Cure Brunch w/ Troegs at Perch Pub
Time: 11:30 AM-3:30 PM
A hearty brunch featuring Dreamweaver mimosas, Hopback Bloody Marys, and whatever else the bartending staff comes up with.
Monday
Happy Hour (5:00 pm - 7:00 pm):
A Brew with a View: All Craft Drafts 1/2 Price, $5 Sycamore Lane Cabernet & Chardonnay, $5 Vodka-Infused Martinis, Classic Gin & Tonics and Well Drinks. $2.50-$5.50 Pub Snacks
Drinkpoint.com
Tuesday
Happy Hour (5:00 pm - 7:00 pm):
A Brew with a View: All Craft Drafts 1/2 Price, $5 Sycamore Lane Cabernet & Chardonnay, $5 Vodka-Infused Martinis, Classic Gin & Tonics and Well Drinks. $2.50-$5.50 Pub Snacks
Drinkpoint.com
Wednesday
Lunch (12:00 pm - 2:00 pm):
Hump Day Special: All Craft Drafts 1/2 Price, $5 Cabernet & Chardonnay, $5 Vodka-Infused Martinis and Classic Gin & Tonics, $2.50-$5.50 Pub Snacks
Drinkpoint.com
Happy Hour (5:00 pm - 7:00 pm):
A Brew with a View: All Craft Drafts 1/2 Price, $5 Sycamore Lane Cabernet & Chardonnay, $5 Vodka-Infused Martinis and Classic Gin & Tonics, $2.50-$5.50 Pub Snacks
Drinkpoint.com
Thursday
Happy Hour (5:00 pm - 7:00 pm):
A Brew with a View: All Craft Drafts 1/2 Price, $5 Sycamore Lane Cabernet & Chardonnay, $5 Vodka-Infused Martinis, Classic Gin & Tonics and Well Drinks. $2.50-$5.50 Pub Snacks
Drinkpoint.com
Friday
Happy Hour (5:00 pm - 7:00 pm):
A Brew with a View: All Craft Drafts 1/2 Price, $5 Sycamore Lane Cabernet & Chardonnay, $5 Vodka-Infused Martinis, Classic Gin & Tonics and Well Drinks. $2.50-$5.50 Pub Snacks
Drinkpoint.com
Saturday
Brunch (11:30 am - 3:30 pm):
$5 brunch cocktails including Bloody Marys, Mimosas, and Pear Bellinis
Drinkpoint.com
Sunday
Brunch (11:30 am - 3:30 pm):
$5 brunch cocktails including Bloody Marys, Mimosas, and Pear Bellinis
Drinkpoint.com
Happy Hour (8:00 pm - 10:00 pm):
A Brew with a View: All Craft Drafts 1/2 Price, $5 Sycamore Lane Cabernet & Chardonnay, $5 Vodka-Infused Martinis, Classic Gin & Tonics and Well Drinks. $2.50-$5.50 Pub Snacks
Drinkpoint.com
Gameday
Gameday (12:00 am - 12:00 am):
$15 Bucket of Domestic Bottles, $3 Bourbon Shots & $5 Jager Shots
Drinkpoint.com
Beers on Tap
14 Drafts - See the list HERE
Beer in Bottles & Cans
Over 100 Bottles - See the list HERE
Speciality drinks available
$5 Perch Pub Specialty Shots
$8 Specialty Cocktails
Articles that mention this
05/17/2013
Hangover Cure Brunch w/ Troegs at Perch Pub
05/17/2013
Brewer's Lunch w/ Round Guys at Perch Pub
05/17/2013
Beer Geek Quizzo with Stoudts at Perch Pub
05/17/2013
The Fall of Rome w/ Elysian Brewing at Perch Pub
05/17/2013
Avery Brewing Company at Perch Pub
05/17/2013
Tap & Apps Voodoo Brewery at Perch Pub
05/17/2013
Goose Island Tap Takeover at Perch Pub
05/17/2013
Meet the Brewer with Half Acre Brewing Co. at Perch Pub
05/15/2013
Neshaminy Creek and Old Forge Kick the Keg Battle at Perch Pub, May 16
04/18/2013
Perch Pub Celebrate's Earth Day
03/25/2013
Perch Pub Night of the Barrel With Old Forge Brewing, March 28
03/11/2013
Perch Pub Celebrates Spring's Arrival With Victory Pint Night, March 14
02/25/2013
Perch Pub Hopslam Happy Hour, February 28
02/05/2013
Where to Celebrate Valentine's Day in Philadelphia
01/29/2013
Super Bowl XLVII Food & Drink Specials in Philadelphia
01/28/2013
Perch Pub Super Bowl XLVII Party, February 3
02/04/2013
Perch Pub Valentine's Day: Love Bites and Beer Flights
01/24/2013
Groundhog Day at Perch Pub: The Brew Forecast - Goose Island & Ommegang
12/23/2012
New Year's Eve Events for Craft Beer Lovers in Philadelphia
12/17/2012
Perch Pub New Year's Eve Beer Dinner and Open Bar Party
12/03/2012
Perch Pub's Second Annual 12 Beers of Christmas, December 11-22
12/03/2012
Perch Pub Mad Elf Ugly Sweater Party, December 19
11/21/2012
Perch Pub Long Trail Brown Bag Rollout
11/03/2012
Where to Watch: Election Night Parties and Drink Specials in Philadelphia
11/05/2012
Perch Pub Hosts Stillwater's Brian Strumke and Sixpoint's Jersey Dan, Nov. 18
10/29/2012
Perch Pub Hosts DuClaw Brewing Owner for Philly Launch Party, November 8
08/16/2012
Perch Pub Pouring Rare Beers From The Bruery, August 23
07/11/2012
Free Samples and $5 Cocktails at Perch
06/12/2012
12 Picks for Center City Sips
05/31/2012
Beer Week Leftovers Happy Hour
05/31/2012
Cooking With Beer - Class and Dinner
05/31/2012
Meet the Importer - St. Killian
05/30/2012
An Evening with Uinta
05/30/2012
Perch Pub's 1st Annual Session Beerfest
05/30/2012
Brooklyn Tap Takeover
05/29/2012
Rare Brews and One-Offs
05/01/2012
Uber Philly Happy Hour at Perch Pub, May 9
05/01/2012
Troegs Tap Takeover at Perch Pub, May 15
05/01/2012
American Craft Beer Week, May 14-20
03/18/2012
Drinker's Choice 2012 Winner, Best New Bar: Perch Pub
03/13/2012
Where, When & How to Celebrate St. Patrick's Day in Philadelphia, 2012
02/29/2012
Leap Day Drinking Events in Philadelphia, February 29, 2012
02/28/2012
Slideluck Potshow Philadelphia II Afterparty
02/20/2012
Mardi Gras at Perch Pub
02/16/2012
22 Bars With Pool Tables in Philadelphia
01/31/2012
Where to Watch the Super Bowl in Philadelphia: Bars with Drink Specials
01/27/2012
Perch Pub Launches Brunch with $5 Cocktails, Omelets & More
02/01/2012
A Tasting of Beers from the Newest Brewery in the Philadelphia Area
01/19/2012
Battle of the Homebrew Shops
12/28/2011
Bars in Philadelphia Open on New Year's Day
12/20/2011
Perch Pub Raises Over $550 for Salvation Army
12/15/2011
Craft Beer Events for New Year's Eve in Philadelphia
12/23/2012
Where to Celebrate New Year's Eve in Philadelphia
12/07/2011
Weekend Picks, 12/8-12/11
12/06/2011
Perch Pub Celebrates the Season with 12 Beers of Christmas
12/02/2011
Ballast Point Blast
12/02/2011
12 Beers of Christmas
11/25/2011
Mad Elf Ale Tapping & Elf The Movie
11/18/2011
Eagles Game Day Bar Specials
11/01/2011
Perch Pub Adds a Pair of Specialty Taps
11/09/2011
Jack Rum Giveaways at Perch Pub
09/29/2011
Friday: Jack Rum at Perch Pub
10/24/2011
The Big Lebowski at Perch Pub, Oct 25
10/26/2011
Battle for Pumpkin (Beer) Supremacy at Perch Pub, Oct 28
08/22/2012
Best Philadelphia Brunch Drink Specials
09/13/2012
Philadelphia Football Gameday Drink Specials