Good Dog Bar: 2013 Drinker's Choice Award Winner, Best Bar Food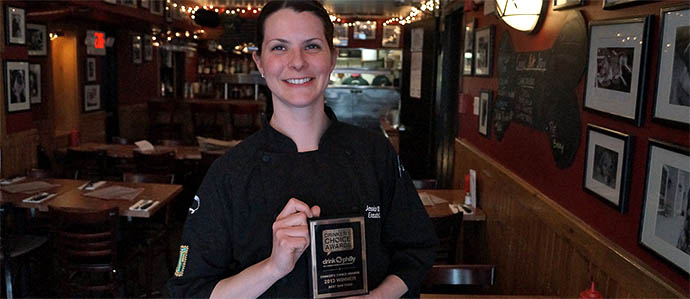 In a city filled with great gastropubs, Dave Garry and Heather Gleason's Good Dog Bar stands out for the fact that it doesn't try to stand out. Centrally situated on 15th just above Locust, the crowd ranges from conference-goers and tourists looking for a good lunch to business people catching a happy hour to sports fans watching games to food industry workers, who swing by for a late night snack post-closing.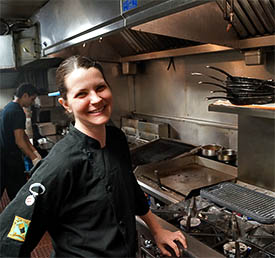 The vibe is relaxed and the beer list is great without being pretentious. There are three floors to relax in. But one of the keys to success here has been the food, which, like the beer list, is stellar but refuses to be fetishized. Sure, chef Jessica O'Donnell's Roquefort-stuffed burger has been called out by the Philadelphia Inquirer's Craig LaBan and other burger fanatics, but her roster of eats goes much deeper.

She makes an amazing mac 'n' cheese, for example, made with Gruyère, aged Gouda and aged cheddar and sprinkled with corn flakes for a crunchy top (don't miss the blueberry cornbread on the side). Instead of boring chicken fingers, the chicken strips come cordon bleu style — wrapped in Black Forest ham and Swiss. Instead of a cheesesteak, she puts out truffled cheesesteak empanadas, and quesadillas are made with shredded duck.

It's all food that goes perfectly with your drink, but stands on its own in terms of both quality and taste. No wonder the drinking public of Philadelphia voted for Good Dog Bar as the winner of the 2013 Drinker's Choice Awards for Best Bar Food. Congratulations!
Recent Articles

Feedback
How are we doing? Tell us what you like or don't like and how we can improve. We would love to hear your thoughts!