Where to Watch Super Bowl XLVIII in Philadelphia
by
Drink Philly
on Jan 28, 2014 in
Roundups
for
2nd Street Brew House
,
Abbaye
,
Adobe Cafe - South Philly
,
Bainbridge Street Barrel House
,
Brauhaus Schmitz
,
BRU Craft & Wurst
,
Cavanaugh's Rittenhouse
,
City Tap House
,
Cuba Libre
,
Devil's Alley
,
Field House
,
Franklin's
,
Gojjo Bar
,
Jon's Bar and Grille
,
Kennett
,
Kildare's Irish Pub
,
Lemon Hill
,
M Restaurant at The Morris House
,
McGillin's Olde Ale House
,
North Bowl
,
Perch Pub
,
Sto's Bar
,
Taproom on 19th
,
Varga Bar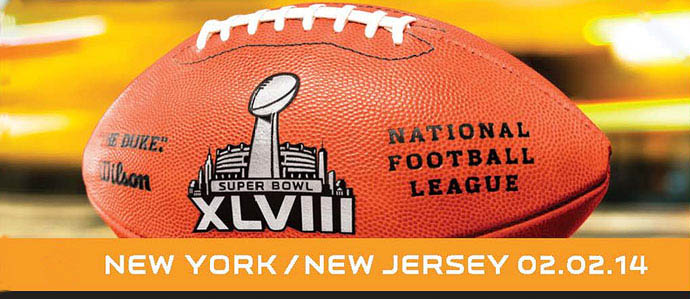 The Seattle Seahawks will square off with the Denver Broncos on Sunday, February 2 for Super Bowl XLVIII with kickoff at 6:30 PM. But don't let that stop you from making plans now for the big game. Whether you're in it for the sports, the ads or just the party atmosphere, check out these great specials all over Philadelphia. May the best team win, but more importantly, may the best drinks be yours! (Know a special we missed? We'll be updating throughout the week, so let us know.)
2nd Street Brew House: Two-Street's best craft beer joint will have the game on, and offer drink and food specials.
Abbaye: The game will be shown on both of this NoLibs bar's TVs, and unspecified drink and food specials will be offered.
Adobe Cafe: The Tex-Mex and Southwest bar and restaurant on South Philly's East Passyunk Avenue will run a special $40 open bar deal with appetizers while showing the game on its eight 50-inch TVs.
Bainbridge Street Barrel House: Throughout the big game, the Queen Village craft beer and whiskey bar will be offering guests 1/2 price pints and 50-cent wings.
Brauhaus Schmitz: Keep up with all the action on the bar's five TVs, or go big in the backroom where it will projected larger-than-life on a gigantic screen.
BRU Craft & Wurst: All 10 TVs will be tuned to the big game, and there will be drink and food specials offered while it's on.
Cavanaugh's Rittenhouse: For its Super Bowl bash, the Center City hotspot is offering $3.50 Miller Lite and $4 Yards drafts. If you are in the market for some chicken wings to bring with you to a house party, Cav's has them for just 75 cents a piece when you order 50 or more. Go ahead and order them in advance from the bar's website.
Cuba Libre: TVs at both bars will have the game on, but no audio.
City Tap House: A super day calls for a super breakfast, so the Tap Houe is starting off Super Sunday with a Founders Beer Brunch, and will have specials on the Michigan brewer's beers all day and night while the game plays on all nine TVs.
Devil's Alley: During the game the Center City spot will offer football fans specially priced $6 nachos, $6 pizza, $5 wings, $5 pork sliders, $3 lager, $9 pitchers of Lager.
Field House: The bar will show the game and offer a $35 craft beer and wings package.
Lounge at Four Seasons: The swanky bar and lounge is bringing in extra TVs so guests won't miss a single play. For food and drink, they are offering Yuengling and Miller Lite for $5; warm philly pretzel bites with spicy beer mustard for $6, pomme frites with "crab salt" and American Whiz for $8; eight-hour pulled pork sliders, slaw, Joe's famous BBQ sauce for $10; half-dozen Sriracha glazed wings with blue cheese and celery for $10; and more.
Franklin's Pub & Grill: The East Falls spot is offering multiple food and drink packages for groups, but lone drinkers are just as welcome.
Gojjo Bar: West Philly's go-to for Ethiopian cuisine will offer $1 Miller Lites and $3 wings and fries plates.
Jon's Bar & Grille: The South Street institution is offering discounts on beers, cocktails and select wines, plus $8 mussels and $5 wings.
Kennett: For Super Bowl Sunday the cozy Queen Village spot is offering all draft beer and selected wines for $4, and $3 off all pizzas at the bar.
Kildare's Irish Pub: As if nine TVs tuned to the game weren't enough to get you off the couch, the 35 cent wings should.
Lemon Hill: At the bar, Lemon Hill's staff will be mixing $7 old fashioneds and pouring Pabst Blue Ribbon and Old Grand Dad specials for $5, and for the first time in the bar's history, offering Miller Lite on draft for $2. A special menu of delectable bar snacks, including Rotel cheese dip, pretzels, chips and carrots; split and grilled Hebrew National hot dogs with assorted toppings; three different types of wings; and flatbread, will be available all night.
M Restaurant: The cozy Wash West hideaway will have the big game on.
McGillin's Olde Ale House: Multiple TVs and large projection screens on both floors means guests won't miss a single play no matter where they are seated. Those with 2013-3014 season Super Mugs can enjoy $1 Bud Light refills, and those without them can enjoy wings and $7 Yuengling Light pitchers all night.
North Bowl: Throughout the game, the NoLibs bowling alley and bar will offer guests Philadelphia Brewing Co. pints and shots of Tullamore Dew for $7.
Perch Pub: The cozy pub perched atop the intersection of Broad and Locust streets will be showing the big game this year on a colossal six-foot HD projection screen and all of its flat screens. Throughout the game the bar will offer $15 buckets of domestic bottles; $4 pints of Elysian Immortal IPA from Seattle and Oskar Blues Dale's Pale Ale from Denver; $3 Jäger shots and $5 Jameson shots; pub snacks priced between $2.75 and $5.50; and half-priced craft drafts from 8 - 10 PM. Jumbo-sized Buffalo, and tamer "naked" wings will be available for 50 cents a piece (must be ordered in multiples of eight). Fans who best represent their team's colors will be awarded prizes, and whoever guesses the final score (or comes closest) will win big prizes at the end of the game. Call 215-546-4090 to reserve a table.
Sto's Bar: Catch the game here while enjoying $8 pilsner pitchers or $10 Walt Wit pitchers alongside plenty of wings.
Tap Room on 19th: Watch the game here surrounded by plenty of drink and food specials. $3 Miller High Life, Miller Lite, Yuengling Lager cans, and Lord Chesterfield drafts; $5 City Wides, Jameson shots and Fireball shots; Italian pigs in a blanket, fried pizza, meat loaf sandwiches, and kielbasa and sauerkraut hoagies.
Varga Bar: All three of the bar's TVs will be tuned to the game, while SuperFowl IV finals simultaneously take place.
Photo: Flickr user MTAPhotos
Tags:
Beer
,
Cocktails
,
Food
,
Parties
,
Spirits
,
Sports
,
Whiskey
,
Wine
Recent Articles

Feedback
How are we doing? Tell us what you like or don't like and how we can improve. We would love to hear your thoughts!