Where to Celebrate 4th of July at the NJ Shore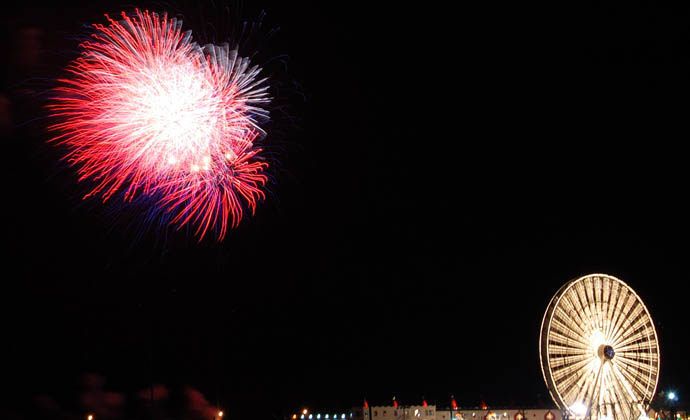 Sure, fireworks are fun and the ocean's been warmer than usual, but when the sun goes down this Fourth of July that's when the holiday weekend really starts to heat up.
With a three days off from work to celebrate our country's birthday, we took to the shore to find the parties. There's plenty of live entertainment running all weekend, as well as drink specials, happy hours and more to keep you entertained this Independence Day. Check out these events when planning your weekend, and don't forget your red, white and blue.
July 4

Dinner & Fireworks by the Cape May MAC
The Cape May Mid-Atlantic Center for the Arts and Humanities takes dinner and a show to new heights with their brand-new event. Start the evening at 6:15 PM with a trolley ride to Cape May's Red Store, where Chef Lucas Manteca will create a five-course dinner that would pair perfectly with some locally-made wines. Then, hop the trolley again to the Cape May Lighthouse, where you will watch the Fourth of July fireworks from the top, and get the best view possible in the process. (Cape May MAC, Cape May; 609-884-5404)
Fourth of July on the Ketch Deck
Take in fireworks right off the bay while enjoying a night full of good deals, live music and great drinks. When the night rolls around, DJ Friendly Greg stops by to keep everyone dancing. Meanwhile, Friday fish bowl deals mean discount cocktails by the bowl for a night's worth of sipping. (The Ketch Deck, 529 Dock Road, Beach Haven; 609-492-3000)
Congress Hall's July Fourth Celebration
While the adults relax on Congress Hall's lawn with a lobster bake, the Atlantic City Jazz Band and an "All-American Picnic," kids can create their own fun with games running all evening, face painting and a balloon artist. It's a win for everyone, and a sure-fire way to make memories on the Fourth. (Congress Hall, 200 Congress Place, Cape May; 609-884-8421)
Lifespeed at The Princeton
Lifespeed, the well-known cover band, stops by The Princeton to celebrate our nation's independence. Once the family fun and fireworks come to an end, hop on the 7 Mile Jitney and head over to catch the band rock well into the night. (The Princeton, 2008 Dune Drive, Avalon; 609-967-3456)
The Nerds at Joe Pops
Rock and comedy create an all-day long performance that aims to please. The drinks and food flow all day long as The Nerds rock out with their pocket protectors and thick-rimmed glasses. (Joe Pops, 2002 Long Beach Boulevard, Ship Bottom; 609-494-0558)
Joey Denoble and Modern Bliss at Cabanas
The music runs all day on the beach strip. Cabanas kicks opens it windows and blasts the entertainment all evening. It starts with mellow, acoustic sounds from Joey Denoble, then kicks into high gear with Modern Bliss until the doors close. (Cabanas, 429 Beach Avenue, Cape May; 609-884-4800)
Fourth of July Party at La Costa
You can hear the party from down the street at La Costa, and it only gets bigger and wilder during Independence Day Weekend. Step outside onto the deck to check out The Insiders until 9 p.m., then head inside to check out Split Decision. There's plenty of room for dancing, and two giant bars so you'll never be seen empty handed. (La Costa, 4000 Landis Avenue, Sea Isle City; 609-263-3611)
Under Pressure at Jimmy Buffett's Margaritaville
Running both July 4 and 5, Under Pressure stops by the Atlantic City boardwalk and brings their hit covers with them. The beach party goes all the way to the beach, so you can hang out and watch A.C.'s fireworks with a margarita in hand. (Jimmy Buffett's Margaritaville, 1133 Boardwalk, Atlantic CIty; 609-431-4101)
Cape May Brewing Company Guided Tours
Cape May Brewing is celebrating the Fourth by staying open from noon to 6 p.m., with two guided tours, growler fills and tastings of all their more than a dozen brews. Come in for a pint and check out what they're showing on their projector screen that day. (Cape May Brewing Company, 1288 Hornet Road, Rio Grande; 609-849-9933)
Bare Bonz at The Boiler Room
Musician Don Shaw and his band play the favorites from the 70's to today all night long on the Boiler Lounge's stage. Hit the dance floor or escape to the bar and enjoy some seasonal food and drink specials, or drinks made only from top shelf liquors. (200 Congress Place, Cape May; 609-884-6553)
The Mike Dalton Band at Farrell's
Along with live music from the Mike Dalton Band all night you can enjoy $3 Budweisers and $3 vodka drinks from 8-10 p.m. Both of Farrell's upstairs and downstairs bars will be pouring the specials and music goes until they close up shop. (Farrell's Stout & Steak, 401 Broadway, Point Pleasant; 732-892-2090)
July 5

Tiki Topz Pool Party
Grab your swimsuit and an iced drink and get ready to party while you tan at Flip Flopz upstairs bar and pool area. When it gets too cold for a dip, head back downstairs to Flip Flopz main bar and check out Don't Call Me Francis, performing at 9 p.m.
2 p.m. (Flip Flopz Bar and Grill, Spruce and Old New Jersey Avenues, North Wildwood; 609-522-3350)
A Minor Error at Dogtooth Bar and Grill
A Minor Error mixes original tracks with your favorite covers for a show that's sure to keep your Fourth of July weekend going strong into Sunday. Events run all weekend at Dogtooth- including a Name That Tune contest with drink specials on Friday. (Dogtooth Bar & Grill, 100 E. Taylor Ave., Wildwood; 609-522-8383)
Jody Joseph at Buckelew's Restaurant
Entertainment runs all night at Buckelew's, starting at 5 p.m. with pianist Earl Sutton. But the real party starts at 9:30, when rocker Jody Joseph takes the stage with her original music that draws crowds from all across the Jersey Shore. (Buckelew's Restaurant, 101 N. Bay Ave., Beach Haven; 609-492-1065)
Matt Quinton at the Circle Tavern
Spend that day at The Princeton's Circle Tavern taking in live music from sun up to sun down. The music of Matt Quinton runs all morning into the early evening, followed by a weekend-long happy hour until 6 p.m. featuring The Princeton's DJ. (The Princeton, 2008 Dune Drive, Avalon; 609-967-3456)
Edgardo Citron and Friends
Latin flair heats up the night, as Edgardo Citron plays hits from today's Latin, pop and R&B genre. You can esape to the Rusty Nail's fire pit outside on their own mini-beach, and enjoy the music as you take in the cool night and some fireworks. (The Rusty Nail, 205 Beach Ave., Cape May; 609-884-0017)
Flying Mueller Brothers and Shorty Long at Beachcomber Bar
Beachcomber's upstairs deck and stage are always ready to party. Flying Mueller gets the bar going in the afternoon, followed by Shorty Long at 10 p.m. to round out an evening of rock and roll. (Beachcomber Bar & Grill, 100 Ocean Terrance, Seaside Heights; 732-793-0526)
Frisky at Cattle 'n Clover
Kick off Saturday night with Frisky hitting Cattle 'n Clover's stage and keeping the party going well into Sunday morning. Alongside the music you'll find Fourth of July weekend drink specials, served up at their bar along with their Irish whiskeys and scotches. (Cattle 'n Clover, 3817 Pacific Ave., Wildwood; 609-522-3800)
July 6

The Chatterband at Flip Flopz Bar and Grill
This nine-piece band keeps it classic with music from the '50's to the 80's, and some pop hits from today peppered in for good measure. It's a great way to end the weekend, and has a song for every type of fan to dance to. (Flip Flopz Bar and Grill, Spruce and Old New Jersey Avenues, North Wildwood; 609-522-3350)
Uno Duo and Benderz Duo at Cabanas
The weekend may be winding down for some, but not for Cabanas. Their weekend of partying wraps up with Uno Duo and the Benderz Duo alongside their impressive tap list, featuring plenty of craft beers on draft to try. (Cabanas, 429 Beach Ave., Cape May; 609-884-4800)

Photo: Flickr user kjarrett
Tags:
Beer
,
Cocktails
,
Food
,
Holiday
,
Music
,
Outdoor Seating
,
Parties
,
Spirits
,
Wine
Recent Articles

Feedback
How are we doing? Tell us what you like or don't like and how we can improve. We would love to hear your thoughts!