Happy Hour Crawl: Main Street Manayunk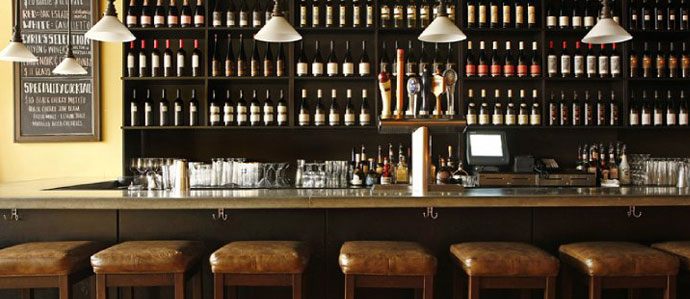 Local legend says that Manayunk is a Lenape word that means, "where we go drink." Whether that's true or not, Main Street in Manayunk is a prime spot for a happy hour crawl.
"But it's so far away!" we hear you say. Not true! Manayunk is more accessible than you might think. There's a Regional Rail stop in the center of the action on Main Street, or you can hop on the 9 bus from Old City, the 27 from South Philly, or the 61 or 62 from Center City (though be prepared to walk a few blocks from the 9 and 27).
Once you get here, you'll enjoy the easiest-to-navigate bar crawl ever: it's a straight shot down Main Street from one end to the other (as long as you can still walk in a straight line by the end, that is!).
Manayunk Brewing Company: What better way to kick off the night than with some local brews? Manayunk Brewery features their own brews on tap, which they rotate seasonally. Their currently featured Summer Paradise is perfect for sipping on their outdoor deck looking over the Schuylkill.
They've got a spacious bar area for you and your group of friends, and they serve up free popcorn doused in Old Bay seasoning. If you want something more substantial but not too filling, hit up their sushi bar for a fresh hand roll. Specials include $1 off all drinks, $5 wings, $5 california rolls, and $6 quesadillas. (4120 Main St.; 215-482-8220; Happy Hour 5–7 PM, Monday–Friday)
The Goat's Beard: Head up Main Street to the corner of Main and Pensdale and stop inside The Goat's Beard, a newly opened whiskey bar and tapas restaurant. Their claim to fame is having the most extensive selection of domestic whiskey and bourbon in the state of PA. Sip your poison of choice on the rocks or try one of their handcrafted whiskey cocktails (which are only $5 on Thursdays!).
You'll find a classy, intimate vibe here that's also light and airy thanks to the massive windows everywhere. As far as specials go, The Goat's Beard has $2 off all draft beers, $3.50 premium well cocktails and $5 glasses of wine. Stop in on a Tuesday for their $10 domestic whiskey flight, on a Wednesday for their $15 burger, bourbon and beer special, or on a Thursday for $5 handcrafted cocktails. (4201 Main St.; 267-323-2495; Happy Hour 5:30–7 PM, Monday–Friday)
Taqueria Feliz: If the name sounds vaguely familiar, that's because this restaurant is owned by the same guys who opened La Calaca Feliz in Fairmount and Cantina Feliz in Ft. Washington. Taqueria Feliz is a Mexican place with a vibrant and hip industrial feel. They're all about fresh, delicious, flavorful food at prices that keep your wallet happy – everything on the menu is under $20.
Their happy hour specials feature a $5 food menu with tacos, nachos, carnitas and more, plus $3 draft beers, $5.50 margaritas, $4 house wines and sangrias and $2 off their specialty cocktails. Leave some room in your stomach, though. We've still got two more stops, and you'll want to save your appetite for the last one (trust us!). (4410 Main St.; 267-331-5874; Happy Hour 4:30–6:30 PM, Monday–Friday)
Jake's and Cooper's Wine Bar: We've done beer, we've done whiskey, we've done margaritas. Now it's time for wine. Jake's and Cooper's Wine Bar has been a Manayunk restaurant staple for 25 years, now. They're especially known for their brick oven pizzas and, of course, their wines.
Their house wines are known as "Cheap" red or white wine, and come in a $12 half carafe or $20 bottle. But take note: "cheap" doesn't mean "tastes cheap" here. During happy hour, their "cheap" wine is $4 a glass. They also feature $3 local beer and $5 specialty cocktails. (4365 Main Street; 215-483-0444; Happy Hour 5–7 PM, Monday–Sunday)
Lucky's Last Chance: This is the place you've been saving your appetite for. Lucky's is a vintage-inspired bar with an impressive menu of craft beers and ciders, vintage cocktails (Aviation, anyone?) and some of the best burgers you'll ever shove in your mouth. Their PB & Bacon burger won the People's Choice award in the 2013 Philadelphia Burger Brawl. That's right. It's a burger with bacon, peanut butter and jelly. You have to try it to fully understand it.
Their specials change daily and frequently feature $2 off a select burger, plus beer and cocktail specials. Their Facebook page is updated daily with the featured special. Lucky's makes a good late-night hangout too, with their upstairs open after 10 PM with more beer and drink specials that run until midnight. (4421 Main Street; 215-509-6005; Happy Hour 5–7 PM, Monday–Friday)
Photo via Jake's & Cooper's Wine Bar
Tags:
Bar Crawl
,
Beer
,
Dinner
,
Food
,
Spirits
,
Whiskey
,
Wine
Recent Articles

Feedback
How are we doing? Tell us what you like or don't like and how we can improve. We would love to hear your thoughts!