Sampan. Enough Stuff
Bar Review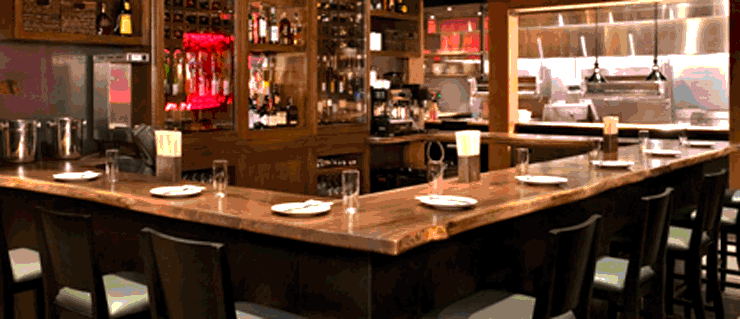 The place was called "Sampan" and it recently opened. The sign said happy hour was 5 to 7, so we walked in. When you first walk in there are brightly colored paisley curtains, and I fell in love with the place immediately. The restaurant itself was beautiful and very contemporary. Happy hour only takes place at the bar and at the chef's table, not at any of the regular dining tables. We chose to sit at the chef's table because the bar was mobbed.
The waitress brought over the full menu and the happy hour menu. There is a $4 specialty cocktail that changes every day, and cocktails are $1 to $2 off their regular price. Beer is also listed on the happy hour menu, but they are not discounted during happy hour. You also get $2 - $3 off wines during happy hour. I ordered the specialty cocktail, which was an Arnold Palmer with vodka, very refreshing. I then ordered the Yuzu Sake Martini for $8 (originally $9) and it was, without a doubt, the best martini I've ever tasted… and I've tasted many. It was made with gin, elderflower, and lemongrass. Just thinking about it makes me want another.
Now, the best part about the happy hour? The appetizers are ONLY TWO DOLLARS! You can get a high-class full meal during happy hour at Sampan for the cheap price of $6. It's amazing. We ordered Korean BBQ, lamb chops, Kobe beef, scallops, Kobe sliders, and Kobe hotdogs with mustard. Whoa. That was enough for the two of us to be full. Everything tasted exquisite. The Kobe sliders and hotdogs were the biggest portions. My favorites were the Korean BBQ and the lamb chops, the Korean BBQ had an amazing sauce and the lamb chops were made with panko ginger! Everything is so affordable that you can pick what you like and continue to order more of it. I was not disappointed in anything I ate that night.
After getting the check, which by the way comes on a very heavy metal plate so be sure to work out before you pick it up, I went to the bathroom. As you walk towards the back near the bathroom there is a very large mural of a man who welcomes you to pee. You have your own individual stall with your own individual sink with the best smelling soap ever. The weirdest part though was the recording of people talking while you go. It was a little odd and eclectic, not gonna lie. It was like nothing I've ever seen before.
As I sit here and write this review I realize how good Sampan is and how I want to go back. Who's coming with me?

08.30.10
Recent Articles

Feedback
How are we doing? Tell us what you like or don't like and how we can improve. We would love to hear your thoughts!