Dock Street Brewing Company's New Sonically Infused Saison Proves, Once Again, That Its Brewers Are Nothing to Funk With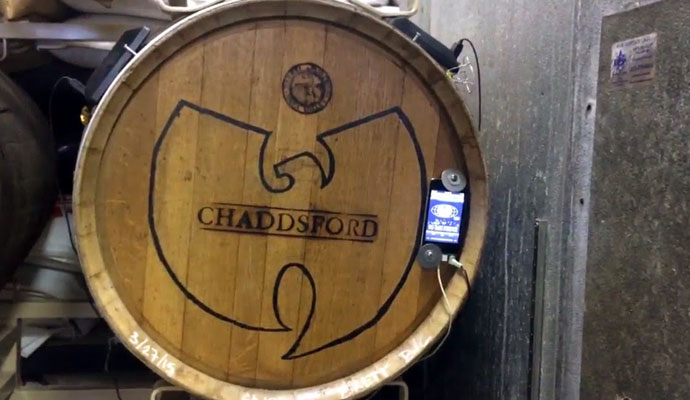 Dock Street Brewing Company is no stranger to fearless experimentation. Take, for example, their brain-based brew, Walker. The brewery's latest endeavor, however, shifts its focus from the brain to the ears.
Music and beer have always gone together, from ancient nordic drinking songs to more modern interpretations like Sublime's "40 Oz. to Freedom". Dock Street is taking that pairing into new territory with a Golden Saison, dubbed "Dock Street Beer Ain't Nothing to Funk With", in a nod to the Wu-Tang Clan song of a similar but decidedly less family-friendly name. The beer is currently aging in a red wine barrel from a local winery, where it will remain until September.
So, a barrel-aged beer with a clever name: nice, but nothing to write home about, right? Not so. This is where things get interesting: the beer, while aging in the red wine barrel, is simultaneously being sonically infused with the smooth tunes and elegant rhymes of its namesake, the Wu-Tang Clan.
Having hatched his plan, Head Brewer Vince Desrosiers enlisted the help of fellow Dock Street brewer, Sasha Certo-Ware, who engineered a rig that pumps Wu-Tang into the aging barrel 24/7. Certo-Ware says that although they have incorporated select solo tracks and albums by individual members of the Clan into the playlist, it remains predominantly Wu-Tang, because, after all, the parts make up the whole.
Dock Street acknowledges that many first reactions to their experiment will be incredulous or dismissive, saying that "this is, in a word, silly." However, they've got science to back up their introduction of Wu-Tang into the beer, a sentence that the author would never have dreamed he'd write. For this brew, Dock Street is using an in-house saison yeast, and two different strains of Brettanomyces, a yeast commonly used for souring beers. Desrosiers explains: "When yeast grows it produces flavor compounds. Vibrations are proven to cause yeast to grow more, which results in more flavor. We wondered if the bass would cause enough vibration to move the yeast around and create some different flavors during fermentation."
Dock Street expects to render four kegs and a handful of bottles from the Wu-Tang barrel, and Certo-Ware says "bottle #001 is taking a ride down to the McDonald's at 29th and Gray's Ferry so we can pay our respects." Stay posted for details regarding the pouring out ceremony at the site of Wu-Tang member Ol' Dirty Bastard's infamous final arrest.

In addition to the Wu-Tang brew, Dock Street will be rolling out a barrel program, a sour beer roster, and BerlinerVice, a German-style wheat beer flavored with lime zest and Vicio Mezcal produced by their sister distillery, Dock Street Spirits. Given these recent developments, Dock Street might consider changing their motto to "Craft rules everything around me, C.R.E.A.M. Get the barley, all about the grains, y'all." But that's just one humble reporter's opinion.
Photo via Dock Street Brewing Company
Tags:
Beer
,
Music
Recent Articles

Feedback
How are we doing? Tell us what you like or don't like and how we can improve. We would love to hear your thoughts!