Where to Celebrate Bastille Day 2015 in Philadelphia
Let them eat Tastykake!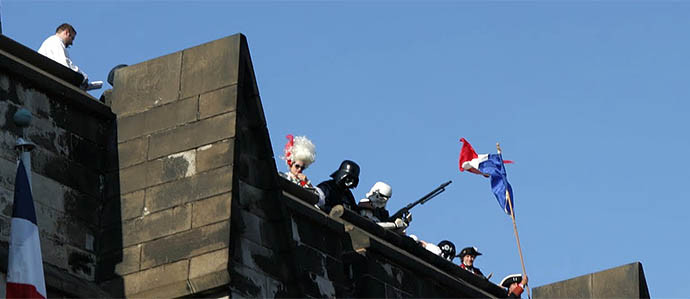 France and America have a long history together, from their lovely gift that has come to symbolize our nation, to their assistance in helping the United States become a nation in the first place. Bastille Day aims to celebrate our fromage loving friends, and, if you still need convincing, is a great excuse for another long weekend in the name of independence.
Thursday, July 9
Fairmount French Fling Bar Crawl, 6 PM
The festivities kick off at London Grill in, you guessed it, the Fairmount neighborhood. Owner Terry Berch McNally and Chef Michael McNally will be there to hand out bar maps for the crawl, which is sponsored by Kronenbourg 1664, the famous French brewery.
Friday, July 10
French Trivia, 7 PM–2 AM
London Grill will be hosting a French trivia party at the bar, testing your knowledge of French Revolutionary and Fairmount history. Winners take home special prizes, but a good time will be had by all.

Saturday, July 11
10 AM – The kitchen at London Grill will start serving a special French menu, which will be available until midnight.
2–4:30 PM – A family-friendly pre-party will take place with face painting, a photo booth, and crafts for the kids.
5:30 PM – Rain or shine, Terry Berch McNally will play Marie Antoinette for the "Storming of the Bastille" performance featuring appearances by The Bearded Ladies' John Jarboe as Edith Piaf, Eastern State as The Bastille and Tastykake as themselves. Berch McNally will carry on her 21-year tradition, crying "Let them eat Tastykake!" and throwing handfuls of the confections from the walls of Eastern State Penitentiary before she is ceremoniously "beheaded" to the delight of the crowd. Costumes and water guns are strongly encouraged. The "Storming of the Bastille" is free and open to the public as per tradition, but for a $40 donation, VIPs can enjoy reserved seating, complimentary Kronenbourg 1664, bottled water, and a French revolution swag bag.
6:30 PM–12 AM
– The performance will be followed by a lively after-party; once the "guillotine" has fallen, London Grill will host dancing in the street with
The West Philadelphia Orchestra
, plus French libations and street food.
7–10 PM
At Paris Wine Bar, the intimate 50-seat venue next door to London Grill, live jazz and a special French dinner menu will offer a quieter alternative to the block party celebration.
Sunday, July 12
Bloody Marie Brunch, 10 AM–2:30 PM
Enjoy London Grill's famous "Bloody 'Marie' " Brunch, featuring build-your-own bloodys, until 2:30 PM
Marie Antoinette's Boudoir Pop-Up, 1 PM
Paris Wine Bar (2301 Fairmount Ave.; 215-978-4545)
End the weekend in Marie Antoinette's Boudoir, a pastry pop-up featuring a wealth of traditional French sweets such as madeleines, macaroons, cakes, and tarts, all presented in shades of pink fit for a queen. Tickets are $35 for adults and $20 for children and include all you can eat sweets, plus pink champagne for the adults.
Tags:
Beer
,
Cocktails
,
Food
,
Games
,
Music
,
Outdoor Seating
,
Parties
,
Spirits
,
Wine
Recent Articles

Feedback
How are we doing? Tell us what you like or don't like and how we can improve. We would love to hear your thoughts!