MillerCoors Acquires Majority Stake in San Diago-Based Brewery Saint Archer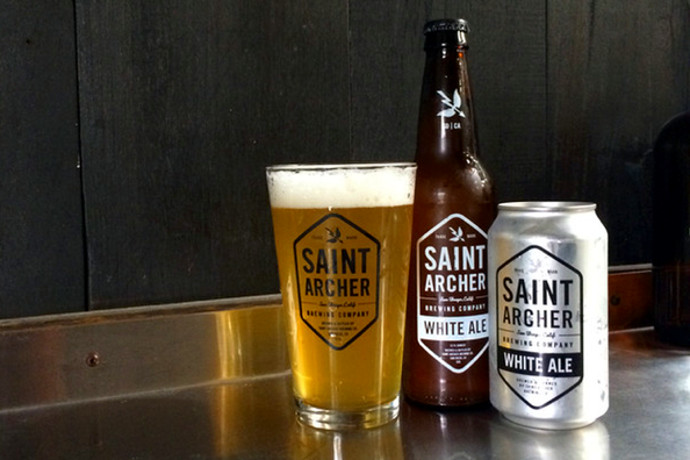 That's right, craft beer diehards: Another one bites the dust. MillerCoors, the second-largest brewer in the U.S. after Anheuser-Busch InBev, announced last Thursday its plans to buy a majority share in
Saint Archer
, a small San Diego-based brewing company.
It's the second time in one week that a global beer giant has cut a deal for a small California brewery, and yet another case in a larger trend of Big Beer devouring small craft brewers.
Many will recognize Saint Archer as the humble newcomer that scored two gold medals at the 2014 San Diego International Beer Festival and another gold at the 2014 Great American Beer Festival. Founded in 2013 by a group of artists, surfers, and skateboarders, their award-winning range of ales includes Blonde Ale, IPA, White Ale, and Pale Ale.
In the press release, MillerCoors said that Saint Archer would be joining their craft division, Tenth and Blake, which includes products such as Blue Moon and Crispin Cider. As usual, the terms of the transaction were not disclosed, although the sale is expected to close within 30 days.
For MillerCoors, the deal was a no-brainer. "Saint Archer is consistent with our strategy of building our high-end portfolio while driving top-line growth," said Scott Whitley, president and CEO of Tenth and Blake. But in fact, top-line growth more often than not equals second-rate beer. Sure, Tenth and Blake boasts some respectable products — but do we trust a company that's also associated with Keystone Light?
By now you're probably ready for the silver lining — and luckily, there is one. It's said that Saint Archer will continue to brew, package, ship, and sell their current portfolio of high-quality craft brews, at least for the time being.
"We've always wanted to get great beer into more people's hands," said Saint Archer co-founder and president Josh Landan. "Joining Tenth and Blake allows us to keep doing what we love right here in San Diego, but now with more resources to innovate and grow. With Tenth and Blake's help, we hope to one day be a national brand."
But whether Saint Archer needs a helping hand in meeting their expansion goals remains uncertain — a question that stirs even more curiosity as to the price of the sale. Landan has said that he anticipates the brewery will sell 35,000 barrels of beer in 2015 — up more than 100 percent over 2014, making Saint Archer one of the fastest-growing breweries in California.
When it comes to the question of recognition and expansion, the better strategy might be to stay the course, and to let the beers speak for themselves. In the desperate scramble to maintain consumer interest, Big Beer is losing — and they know it. It appears their only defense is their checkbook.
Tags:
Beer
Recent Articles

Feedback
How are we doing? Tell us what you like or don't like and how we can improve. We would love to hear your thoughts!