Best Bars for Wings in Philadelphia 2016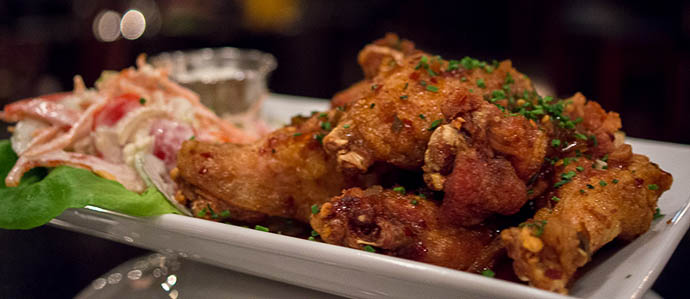 Hot, sticky, spicy or sweet, there's hardly any better bar food than juicy, finger-licking wings. There are many great places to get your wing fix in Philly. Check out the best bars for wings in Philadelphia, just in time for Super Bowl 50 happening Sunday, February 7.
Center City
Cavanaugh's Rittenhouse and Cavanaugh's Headhouse
Choose mild, hot, third degree, or a special house sauce for the killer wings at this Rittenhouse or Headhouse Square sports bar. Place orders for 25, 50, 100, or more wings via Cav's website.
City Tap House
If you prefer wings that aren't fried, try the ten spice wings served with house blue cheese at this Logan Square taproom.
Fergie's
Deep-fried and seasoned chicken wings with mild, spicy, the face-melting Limerick house sauce, or Pete's spicy with coffee and brown sugar will satisfy at this Midtown Village hang. Vegetarian wings are also available with your choice of sauce.
Good Dog Bar
This 15th Street pub's burger is legendary, but the wings are pretty darn good too. Enjoy an order of jumbo wings smothered in Korean BBQ sauce.
Jose Pistolas
Known for their excellent tacos and beer list, this Center City cantina didn't neglect wings either. Try the large wings hot, smoked, or BBQ.
McGillin's Olde Ale House
This pub has been slinging brews and wings since what seems like the dawn of time. Try the blistering classic wings, Old Bay wings, sweet and sassy Thai wings, or the southern wings.
Moriarty's
It's classic bar style for the wings at this Wash West Irish pub. Buffalo sauce, celery, blue cheese, it's all there in a satisfyingly big portion.
Perch Pub
High above the Avenue of the Arts, Perch Pub serves up a tasty rendition on classic buffalo but with a bodacious jumbo-sized wing.
Pub & Kitchen
Find seriously fingerlickin' smoked chili vinegar wings made with organic chicken at 20th and Lombard.
Tria Taproom
Though the Tria cafes are usually known for wine and cheese, try the green chili wings with a pint at the Taproom location.
Varga Bar
Don't miss these duck confit wings with pomegranate-molasses-bourbon-chili sauce at this Wash West tavern. These are some of the most succulent, fall off the bone wings that you'll ever eat.
Fairmount/Art Museum
Alla Spina
According to Food & Wine, this North Broad gastropub has some of the best wings in the country. These wings landed a spot on the magazine's Best Chicken Wings in the U.S. list. The lemon and parmesan wings are sold by the piece here.
Kelliann's Bar and Grill
If you're looking for good, cheap wings, check out the buffalo wings at Kellian's in Fairmount.
McCrossen's Tavern
Get the regular, habanero, or chipotle version of meaty wings at this Fairmount gastropub.
Fishtown/Port Richmond
Byrne's Tavern
Head up to Port Richmond's Byrne's Tavern for some great wings that are available in quantities of 12 to 100. Sauce is available on the wings or on the side.
Interstate Drafthouse
Chicken and seitan wings are both available in the sweet and spicy ancho honey sauce at this Fishtown bar.
Memphis Taproom
Out in Kensignton, find pilsner-brined hot wings served with blue cheese, carrots, and celery.
Sancho Pistola's
From their website: "Pistola's Wings: and they will hold you up, on chicken's wings (JOHN 3:16) served HOT or SMOKED"
Northeast
Grey Lodge Pub
This NE pub is known for its crazy events, like Friday the Firkinteenth, Festivus, and Groundhog Day, also has some crazy wings. Choose between buffalo, cajun, atomic, Korean BBQ, mango-kimchi, or Thai red curry sauces.
Northern Liberties
The Abbaye
In addition to its one-of-a-kind Smoky Chimay Wings, the NoLibs watering hole offers one of the city's best meatless and completely vegan options with its crispy seitan "wings" tossed in a secret spicy sauce.
El Camino Real
This Northern Liberties Mexican cantina is one of the few places to offer a vegetarian option along with regular smoked chicken wings and pig wings.
North Third
Get 'em by the pound at this NoLibs bar in the house famous sauce or Thai chili glazed with peanuts.
Old City
Bierstube
The Sweet Heat Wings at this Old City bar have a nice sweet heat from Asian chili hot sauce and are served with blue cheese and celery stalks.
Irish Pol
Forget everything you know about Buffalo-style, the hot mustard wings at this Old City bar are smokin'.
Khyber Pass Pub
The Old City beer bar serves three types of grilled chicken wings; Buffalo, chiptole-bourbon BBQ, and honey habanero. You also have the option to sample all three, and you should go for it.
National Mechanics
The wings here are naked, grilled, and served with house blue cheese, celery, and carrots. Choose to dress them with honey BBQ, mild, or spicy buffalo sauce.
Queen Village/South Street
Bainbridge Street Barrel House
The Queen Village craft beer and whiskey bar serves its wings in four styles: traditional buffalo, grilled honey BBQ, bourbon chipotle, or thai basil chili.
Ela
Once again Top Chef contestant Jason Cichonski is offering a crazy assortment of wings for take-out at his Queen Village spot, Ela. Wings must be ordered in advance, and picked up before 5 PM on Super Bowl Sunday. They're being offered in five different sauce variations, including chipotle tamarind, honey mustard miso, smoked sriracha, balsamic maple, and thai ginger. Pre-order them by the pound by calling 267-687- 8512.
O'Neals Pub
It's classic buffalo, BBQ, or a mix of both at this South Street staple.
South Philly
The Industry
Try the General's Wings at this Pennsport spot, which are a pound of jumbo chicken wings with General Tso's sauce.
P.O.P.E
Munch on either mild, habanero mole, or honey BBQ wings accompanied by blue cheese, celery, and carrots at this East Passyunk Avenue staple.
Royal Tavern
You can sample buffalo, chipotle BBQ, mango habanero, or all three at this Bella Vista pub, served with pickled daikon, carrots, and Gorgonzola ranch.
South Philadelphia Tap Room
The South Philly gastropub keeps it spicy with Southern style hot wings.
Taproom on 19th
The wings at this South Philly bar are available in buffalo or Korean. Korean wings are accompanied by cashews, ginger, and sesame, while the buffalo wings are accompanied by the traditional celery and blue cheese.
University City/West Philly
City Tap House
Same wings as the Logan Square location. Ten spice wings served with house blue cheese.
Manayunk/East Falls
The Goat's Beard
Buttermilk Fried Wings: 24-hour brine, chipotle honey, blue cheese, celery.
Manayunk Tavern
Wings by the pound. Buffalo style or thai sweet chili.
Murphy's Irish Saloon
Looking for something a little different? Try the pig wings at this East Falls pub. And you thought pigs couldn't fly.
Old Eagle Tavern
Choice of Buffalo, Korean Hot, or BBQ Sauce, with Bleu Cheese Dressing.
Union Tap House
You have plenty of options here. Choice of Mild, Medium Hot, Suicide, Apple Honey BBQ, Bourbon Molasses, BBQ, Cajun, Habanero, Honey Caribbean, Salmon Pepper, Mexi-Jalapeno, Raspberry Jalapeno, Southern Country, Tex Mex, or Thai Hot.
Photo by Danya Henninger
Tags:
Food
Recent Articles

Feedback
How are we doing? Tell us what you like or don't like and how we can improve. We would love to hear your thoughts!