Where to Find Pliny the Younger in Philadelphia (2016 Edition)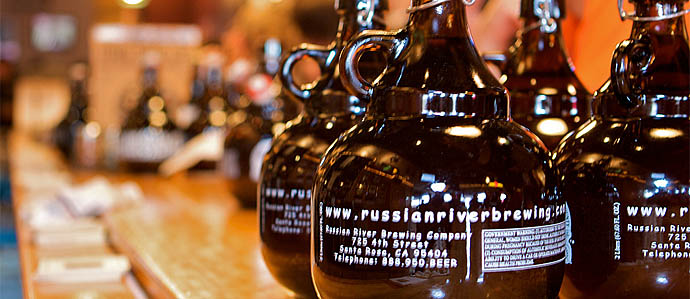 Good news, Pliny the Younger has arrived in Philadelphia once again! Every March, local beer nerds play the game of tracking down the ultra-rare triple-hopped, triple IPA from Russian River Brewing Company. The Santa Rosa, CA-based craft brewer unleashed Younger on February 6, making it available to visitors at its brewpub through February 19 by only tapping a small amount each day. This marks the 12th year for a Younger release.
Pliny the Younger is one of the highest-rated beers in the world, and also one of the most sought-after. This is partially because of the beer's well-balanced flavor and body — extra impressive for a 10.25% ABV triple-hopped brew — but also because distribution is extremely limited. Outside of California, Russian River is distributed to a just few states: Oregon, Colorado, and Pennsylvania (Philadelphia-area only). When select bars do get their allotment of the special beer, they usually field lines of beer geeks eager to pay upwards of $12 for a small pour. We'll be tracking news of PTY and will post updates on where to find it here, so bookmark this page and check back often.
The Drink Nation's man in Denver reports this year's batch of Younger, like every other year, is well worth the hype, as well as the wait to get a glass.
For an idea of what to expect, check out our Pliny the Younger list from last year. Let us know if you see it around with a post on Twitter or Facebook.
Thurs., Feb. 25
Eulogy Belgian Tavern
Get to Old City early for this 11 AM tapping of Younger. Beer will be served on a first come, first served basis. There is a one 10 oz. pour limit per guest. Each pour will be $10 and cash only. $1 from each Pliny pour will go to the School District of Philadelphia. (136 Chestnut St.; 215-413-1918)
Mon., Feb. 29
Brü Craft & Wurst
Celebrate Leap Day with some amazing IPAs from around the country. Brü will have over 15 amazing IPAs on tap, including the coveted Pliny the Younger. Tickets for Younger will be handed out to people seated at tables, with the remaining tickets going to people in line at the Chestnut Street door starting at 4 PM. The keg will be tapped at 5 PM and a one 6oz pour per person limit will be enforced. Other IPAs on tap for Leap Day include Bell's Hopslam, Cigar City Jai Alai, Knee Deep Lupulin River, Pizza Boy Citrus Flip, Hill Farmstead Susan, and plenty other hoppy brews. (1316 Chestnut St.; 215-800-1079)

Mon., Feb. 29
Memphis Taproom
Memphis Taproom's email announcing Pliny's arrival has been sent out and the lucky 50 who were the first to reply will get in at 11 AM. Doors open to the public at 11:30 AM. (2331 E Cumberland St.; 215-425-4460)

Mon., Feb. 29
Race Street Cafe
Tickets for this tapping will go on sale at 4 PM. The keg of Pliny will be tapped at 5 PM and those with tickets can redeem them anytime after the keg is tapped. Russian River's Supplication will also be on tap. (208 Race St.; 215-627-6181)
Thurs., March 3
South Philadelphia Tap Room
Things are first come, first served at the South Philly Tap Room. Doors open at 11 AM, and the keg will be tapped at 1 PM. There will also be plenty of other amazing beers on tap for Younger seekers to enjoy. (1509 Mifflin St.; 215-271-7787)
Sat., March 5
Iron Abbey Gastropub
Head a little north of the city to be part of this Younger tapping. Tickets will be sold for $5 each for a 5 oz. pour, and the keg will be tapped at 12 PM. (680 Easton Rd.; 215-956-9600)
Mon., March 7
Starting at 12 PM, Monk's Cafe will open its doors to the public for its now annual Pliny the Younger Fundraising event. In addition to PTY, Monk's will also have other incredible beers on tap. A raffle will be held featuring a few special beers. Bar and raffle tickets are cash only and 100% of the proceeds go to Alex's Lemonade Stand. This amazing beer/charity event has raised over $20,000 in the past. (264 S 16th St.; 215-545-7005)
Sun., March 13
City Tap House Universtiy City
Looking to sample a few other amazing IPAs while sipping your PtY? City Tap House will tap PtY at
11 AM
and it will be served on a first come, first served basis. Also on tap will be Hopslam and Fat Heads JuJu.
(3925 Walnut St.; 215-662-0105)
Photo by Drink Philly
Tags:
Beer
Recent Articles

Feedback
How are we doing? Tell us what you like or don't like and how we can improve. We would love to hear your thoughts!