Where to Watch the Eagles in Super Bowl LII, February 4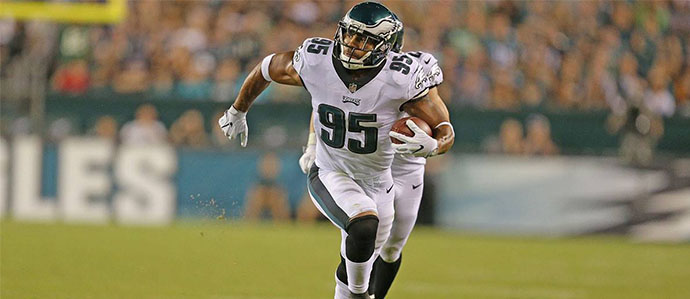 Watch the game with sound on the large projection wall or on one of the flat screens at both of these bars. Food specials will include nachos, cheesesteaks and wings and $5 select pints at Bru.
Enjoy all day specials like $2.50 Yuengling and Kronenbourg, $4 Landmark fries, $7 cheesesteak egg rolls, $6 soft pretzel sticks, $6 nachos, $9 combo plate, $7 guacamole, and $6 wings or tenders. They will also raffle off a Carson Wentz jersey after the game.
Watch the game with sound on upstairs at this Old City bar. Specials include $3 Lager, $6 BBQ chicken sliders, $6 dry rub wings, and $5 southern poutine.
Philadelphia's apocalypse themed bar will have the game on with sound along with $3 drafts, free Mad Rex IPA with any burger purchase, free orders of fries (one per party), 10 free minutes of VR including an NFL experience, and flaming Eagles shots every time the birds score.
Cheer on Foles at Philly's oldest tavern with green beer, which they have been serving for the first time ever not on St.Patrick's Day! Sunday specials include $2 PBRs, $7 Yuengling pitchers, $6.50 PBR pitchers, and $9 Bud Light, Coors Light and Yuengling Light pitchers. There will be a $5 cover starting at 11 AM.
Nick's will have the game on with sound along with $5 roast pork and roast beef sandwiches, $2 tacos, $8 nachos, $10 Miller Lite buckets and $3 domestic drafts.
Kick off Super Bowl Sunday at O'Neals, which will be opening early at 9 AM. Specials for pregamers from 9 AM-6:30 PM include breakfast sandwiches served until 3 PM and $3.50 Bloody Mary's and Mimosas. The New Orleans jam band, Wild Bohemians will play live in the afternoon as well with $5 hurricane specials. During the game and until close specials include $.50 wings, $3.50 Guinness and Stella drafts, and $3.50 Heineken and Heineken Light bottles. All day specials include $3 Miller Lite drafts, $4 22oz Miller Lite drafts, and $9 Miller Lite pitchers. And of course the game will be on with sound on all 22+ of their TVs.
Game will be on with sound and 1/2 priced wings, $4 Founders drafts and $2.50 Miller High Life's and Lite's.
This South Philly pub serving Italian food will show the game with sound and have $1 hotdogs, a slice of pizza and a beer for $5, Miller Lite specials and $2 off craft drafts for the night.
Recent Articles

Feedback
How are we doing? Tell us what you like or don't like and how we can improve. We would love to hear your thoughts!