Behind the Spirit: Max Pfeffer, Head Distiller of Manatawny Still Works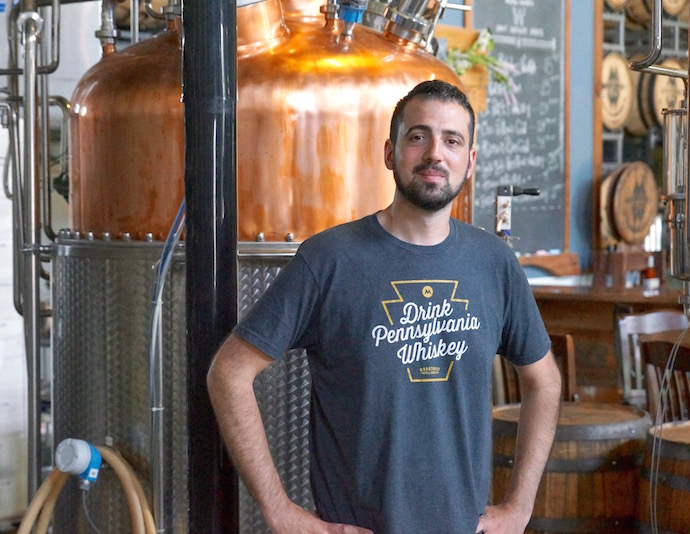 In this installment of
Behind the Spirit
, we spoke to
Max Pfeffer,
the head distiller at
Manatawny Still Works
in Pottstown. A native of the Philly suburbs, Pfeffer has a degree in chemical engineering from Penn State and now lives in West Chester, and we chatted about how he got his start, his rescue dog, and his grandfather's history in the industry.
Drink Philly (DP): Tell me about Manatawny Still Works.
Max Pfeffer (MP): Manatawny Still Works opened in 2014, and my goal then (and now) was and is to make craft whiskey. Our inaugural product was probably the vodka, which is sourced and doesn't have our name on it, but our first craft product was the J. Potts White Whiskey, about two weeks after we opened. We are a craft distillery focusing on craft whiskey, though we make a variety of products, and we want to expand the idea of what whiskey can be. When you go into a liquor store and look at the whiskey selection, there are few choices when it comes to styles — bourbon, rye, scotch, Canadian, Irish, Japanese — and we want to explore what whiskey can be.We're not just trying to emulate what the big guys are doing, but rather, make our own craft whiskey.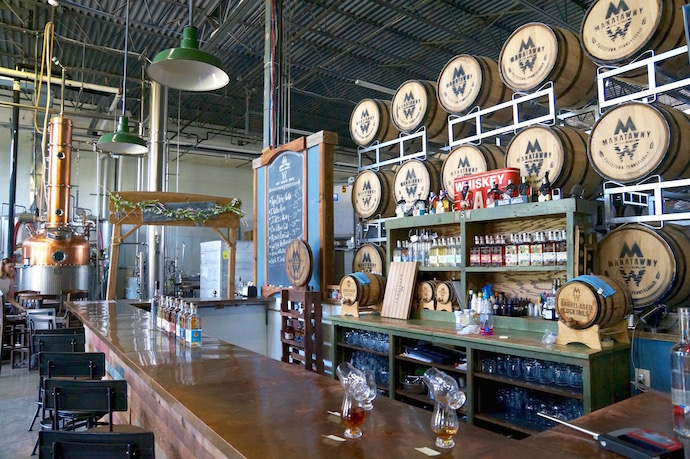 DP: Where did you work before this, and how did you get into distilling?
MP: After college, I went to UC Davis and did their master brewer's program, after which I worked at Victory for three years and Sly Fox for three years. One day I was brewing, and John Giannopoulos, the owner of Sly Fox and one of our three original founding partners, called me into his office and told me he was starting a distillery and wanted me to do it for him. I told him I didn't know how to distill, and he said, "you'll learn."
DP: Describe a typical workday for you.
MP: A lot of planning. Everything in this business happens slowly, so you have to attempt to be out in front of it as much as possible, because a decision you make today could affect you down the road. We make a lot of whiskey, let it sit, and work hard to do all the other parts of the business to ensure that someone will buy it in a couple of years.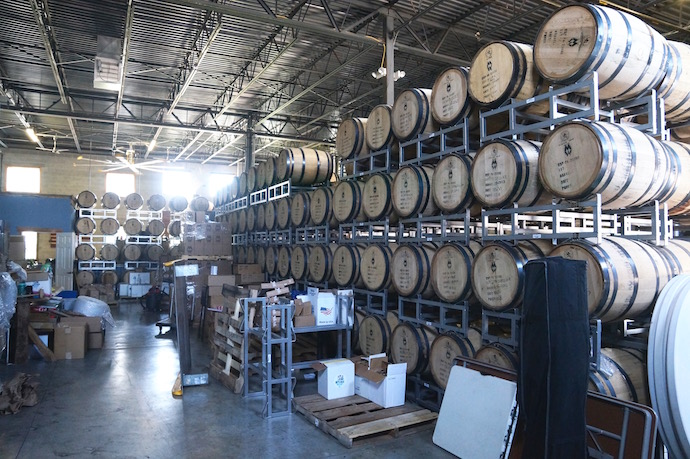 DP: What's trendy in spirits right now?
MP: What you can't get — the Pappy van Winkles of the world, and so on — basically, getting that perfect, unattainable whiskey that you can brag about.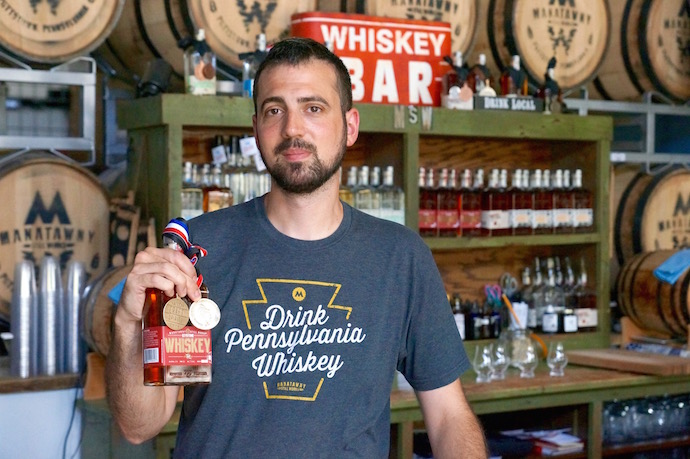 DP: What's a trend in spirits that you wish would die?
MP: The lack of transparency. The major players in the spirits world are made up of a handful of large conglomerates, which makes it hard for consumers to understand what they are drinking. Is it "small batch" if you can buy it at every liquor store?
DP: Any predictions about where the craft spirits industry might go next?
MP: Good places. There's been so much initial growth in such a short period of time, but it takes time for everybody to refine the companies, the whiskey, and the entire operation. You can't just start a craft whiskey company and be perfect on day one. Over the next five to ten years, you'll see a lot more great plans come to fruition.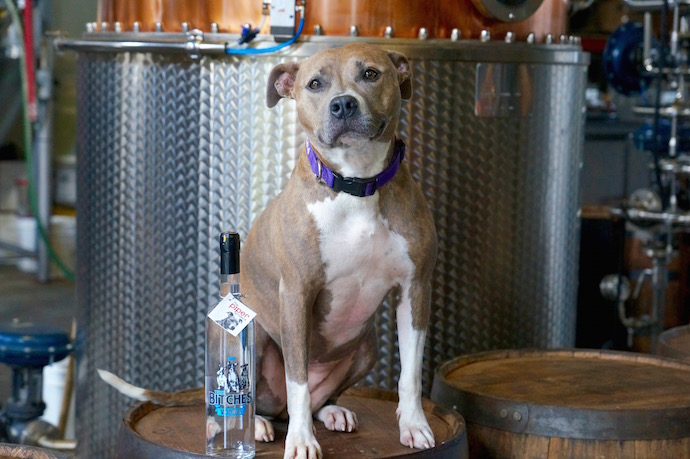 DP: One unexpected fact about you?
MP: I'm passionate about animal welfare and animal rescue. My rescue dog,
Piper
, is the face of our
Piper Project
, and we donate proceeds and host rescue events at the distillery.
DP: Do you have a favorite Manatawny Still Works product?
MP: The Keystone Whiskey is my baby. I've made some great batch whiskeys here and there, but on the average night, that's what I'm drinking.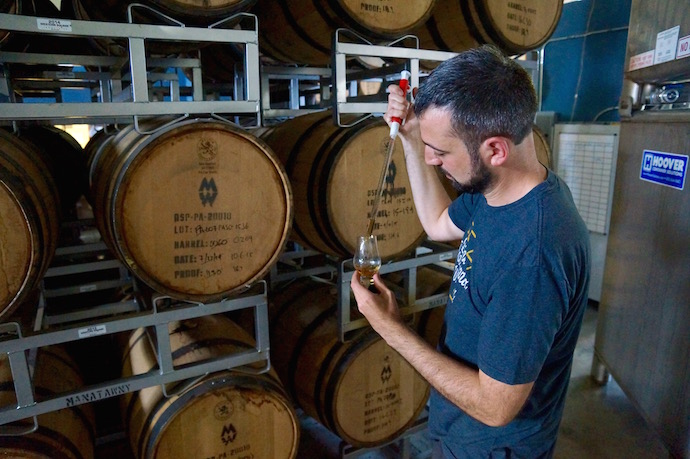 DP: What's your favorite beer?
MP: Cantillon Lou Pepe Gueuze.
DP: What's your favorite cocktail?
MP: A whiskey sour with egg white.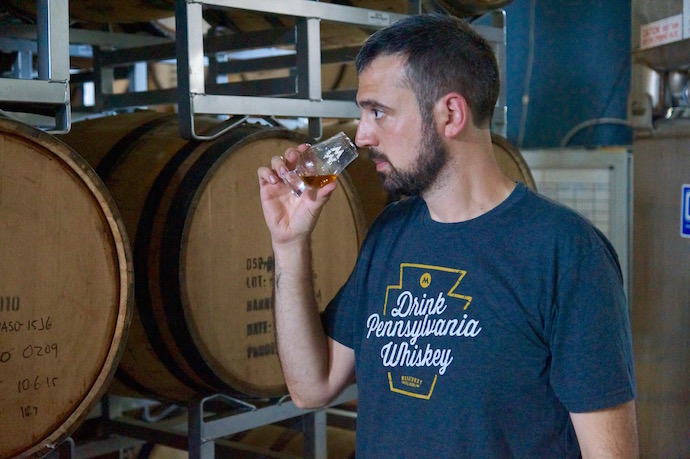 DP: What do you think the essentials are for a good home bar?
MP: Having a variety of spirits, but specifically, ones that are a good value. You don't need to spend $60 on a bottle of whiskey when there are ones for $40 that are just as good. Get good basics like bitters and good tonic, and keep it simple.
DP: Where do you go for a drink when you're not working?
MP: I love Teresa's in Wayne. Whether you want good food, a great beer, or a hard to find whiskey, you'll find it there.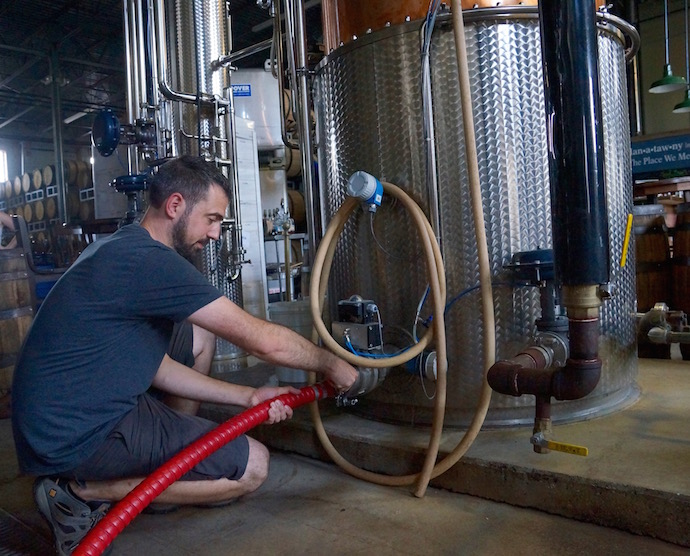 DP: Are there any distillers and distillieries in Philadelphia you're a fan of?
MP: I'm a fan of the juice that Andrew Martin at Thistlefinch is producing. Their straight rye is great.
DP: What advice would you give to someone who wants to become a distiller?
It is not nearly as sexy as you think it's going to be. It is a lot of hard work and cleaning, and you better have patience.
DP: If you could have a drink with any famous person, living or dead, who would it be and what would you drink?
MP: My grandfather used to make wine presses back in the day, and he actually owned the distribution rights to Piels Beer in New York City (which no longer exists). I think he was a Four Roses drinker, so I think he'd really love what I'm doing here.
Photos via Drink Philly
Tags:
Behind the Spirit
Recent Articles

Feedback
How are we doing? Tell us what you like or don't like and how we can improve. We would love to hear your thoughts!