Best Bars for Outdoor Drinking in Philadelphia, 2019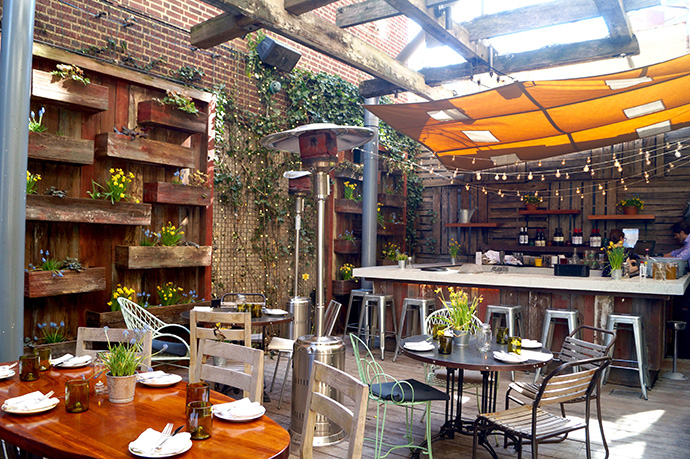 Photo by Drink Philly
Whether it's to enjoy the first warm breezes of spring or the unexpected sunshine of a crisp day in fall, Philadelphia is full of great places to drink in the great outdoors. We've rounded up our top picks for outdoor bars, sidewalk seating, beer gardens and restaurant patios in the city. Click through to check them out, and bookmark this page so you can be ready whenever the great weather hits.

These are our top picks, but if you think we should add something, hit us up on
Facebook
or
Twitter
.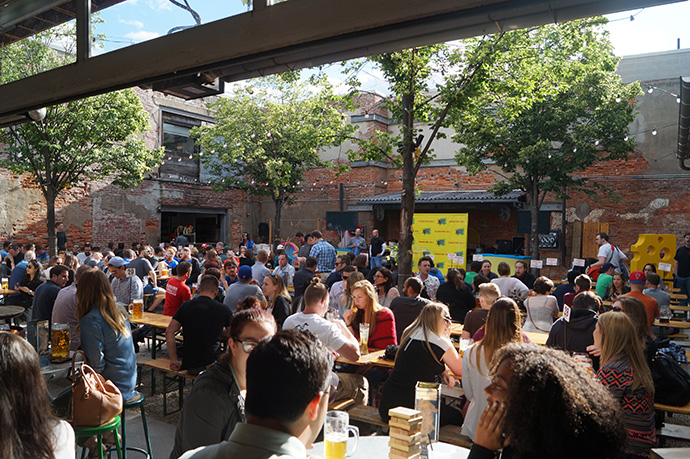 The huge, open-air courtyard at Stephen Starr's Fishtown beer hall feels exactly like a traditional German biergarten, from strings of lights to gravel floors to picnic tables and Linden trees. Enjoy ping pong and fire pits as you sip on huge liter mugs of brew from Bavaria and beyond.
Photo by Drink Philly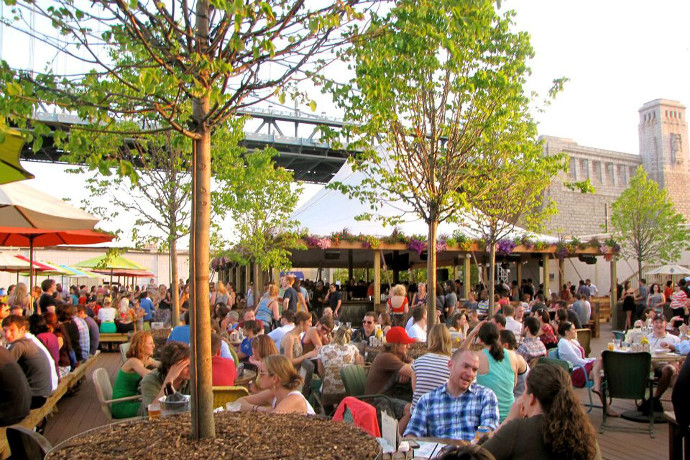 Open starting on April 19, this deck on the Delaware offers an unprecedented way to enjoy craft beer and killer cocktails by the water. Two bars and half a dozen seating areas are built right out over the river, and the view of the Ben Franklin Bridge towering overhead can't be matched.
Photo via Morgan's Pier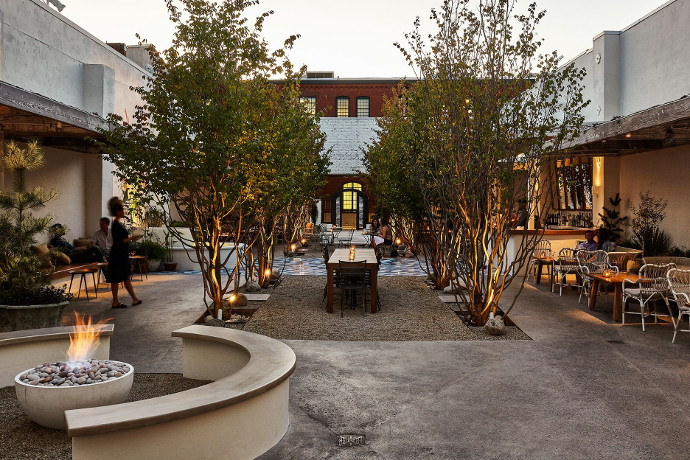 Suraya
One of the city's hottest restaurants, Fishtown's Lebanese spot, Suraya, has an expansive back patio that serves up cocktails and small plates during the warmer months — while you're surrounded with greenery and listening to the fountain, you'll forget you're in Fishtown.
Photo via Suraya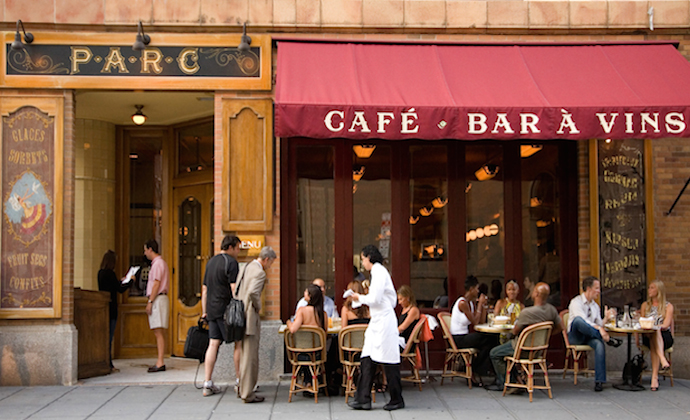 Sip in sophistication under awning-covered tables that wrap around this Rittenhouse Parisian bistro – ever since restauranteur Stephen Starr opened this bustling spot in 2008, it's been packed day and night, with diners vying for outside tables that overlook the park itself.
Photo by Parc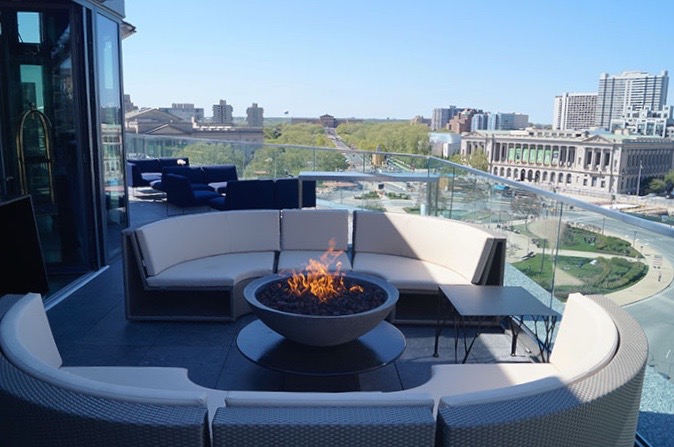 This rooftop bar, which is open now for the season, is nestled nine stories above the city and offers some of the greatest views of Logan Square and the Parkway. Sip on creative cocktails and enjoy shareable snacks while admiring how beautiful Philly can be.
Photo by Drink Philly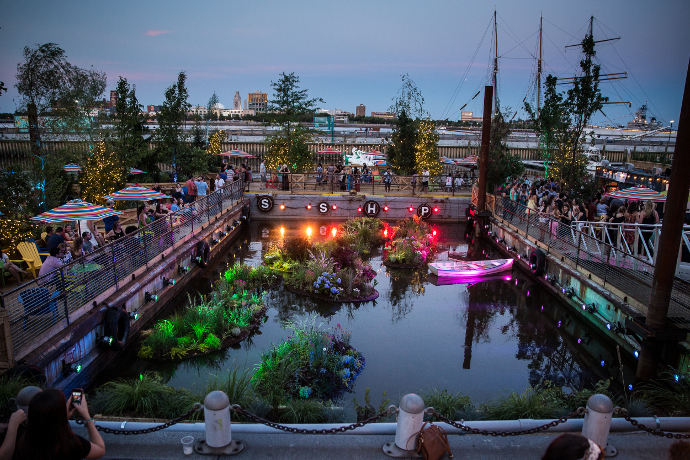 The incredibly ambitious Spruce Street Harbor Park will once again bring life to Penn's Landing. The block-and-a-half riverfront park features a bar, food, lily pad water gardens and nets that suspend visitors over the water built on a series of floating barges. SSHP is set to open May 11.
Photo by Spruce Street Harbor Park and Matt Stanley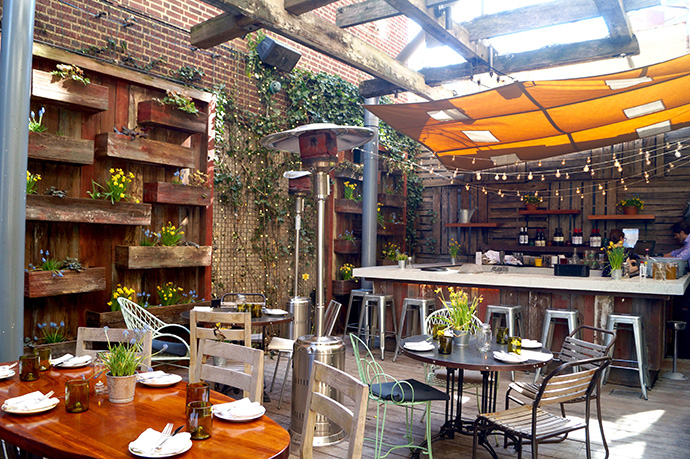 You'll think you've landed in a fairy tale when you take a seat at a table or the granite bar in the garden patio outside Aimee Olexy and Stephen Starr's Washington Square restaurant. Water drips daintily from vintage faucet fountains, vines wind up the walls, colorful flowers bloom, and the food and drink are good enough to keep pace with it all.
Photo by Drink Philly
The PHS Pop-Up Gardens are a staple of Philly's outdoor drinking scene, and they're expected to return sometime in April of 2019.
Photo via Visit Philadelphia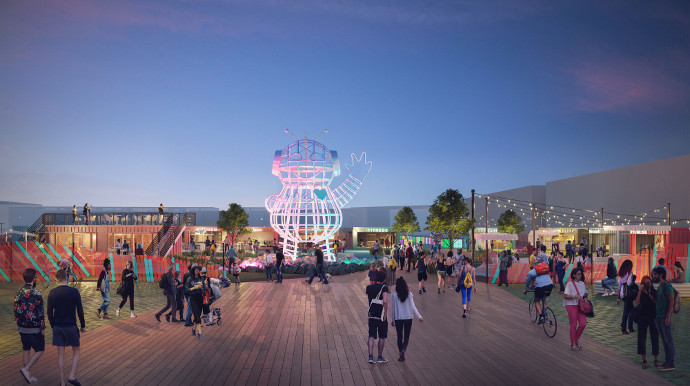 Piazza Pod Park
This new space across from the Piazza in Northern Liberties will feature plenty of pods offering beer, food, cocktails, crafts, and more, all in containers made of recycled material, all anchored by a giant robot statue. Look for it to open in 2019.
Concept Rendering via Aversa PR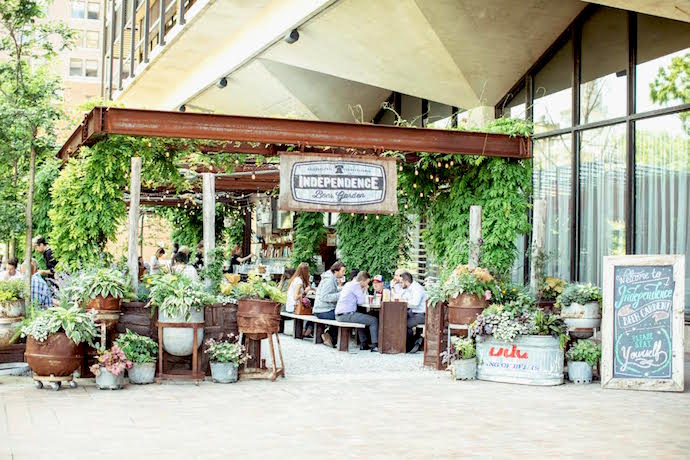 This Michael Schulson beer garden will be back for its fifth year across from the Liberty Bell and Independence Park. The garden features plenty of local, regional and national taps along with snacks, sandwiches and more to munch on while you sip. IBG is set to open April 25.
Photo by Neal Santos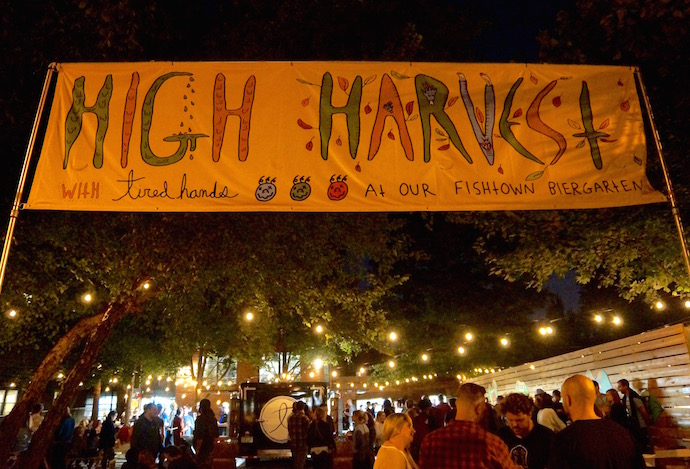 Tired Hands Beer Garden
This local brewery's first Philadelphia location debuted in the fall of 2018 and offered up Tired Hands on draft and by the can, and is now open.
Photo by Drink Philly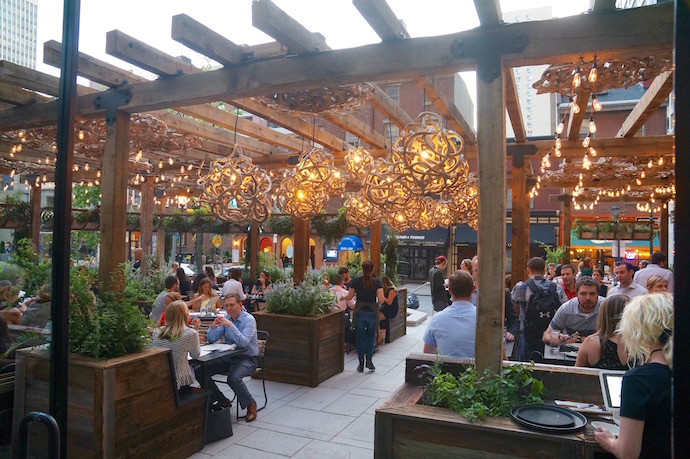 This urban oasis is filled with luscious greenery and fairy lights, so grab a table on a warm evening and enjoy this pastoral atmosphere in the heart of Philadelphia alongside craft cocktails, small plates, and more.
Photo via Drink Philly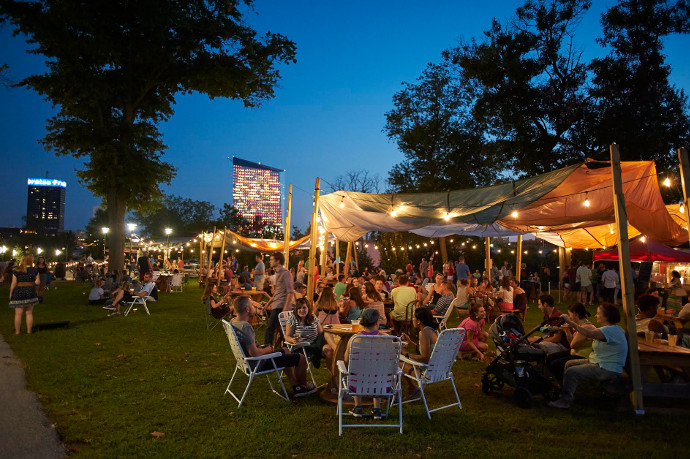 Philly's traveling charitable beer garden will return on Thursday, April 24, and this year's lineup includes stops in Azalea Garden, Columbus Square, the Schuylkill Banks, and more (
you can find the whole schedule here
). Bring the whole family and Fido, too — they're all family and dog friendly.
Photo via Parks on Tap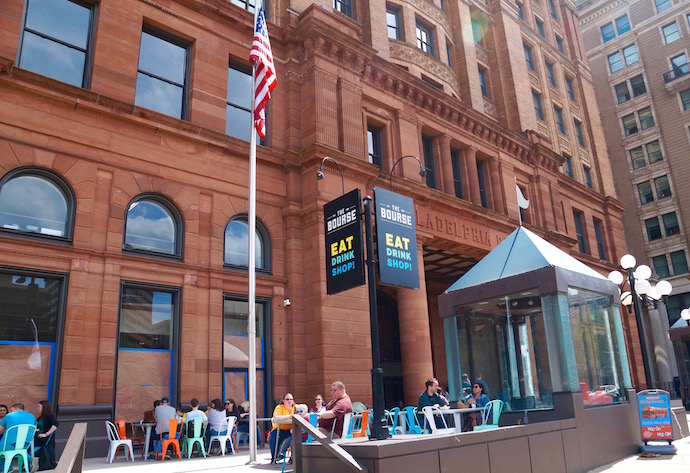 The Bourse

Pick up food and a drink from your favorite vendor in The Bourse, Old City's upscale food hall, and bring it outside to their patio space overlooking Independence Mall, which will open soon and be open all day.
Photo by Drink Philly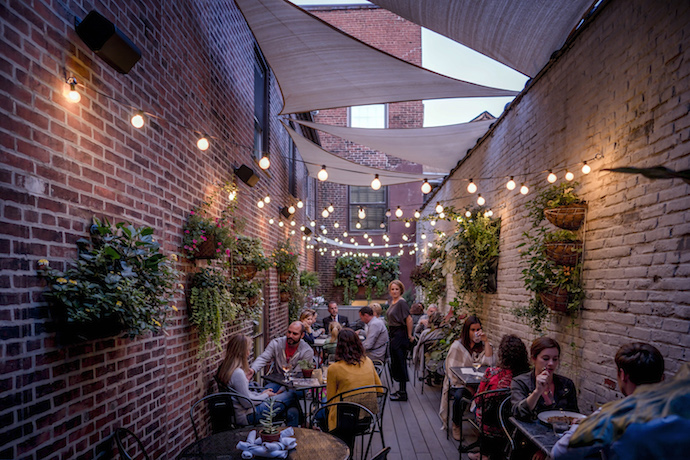 Royal Boucherie

Nick Elmi's Old City brasserie has a hidden outdoor space — head upstairs to their second floor and snag a table on their private patio, with exposed brick walls and overhead lighting, while you snack on fried olives and sip martinis.
Photo by J. Fusco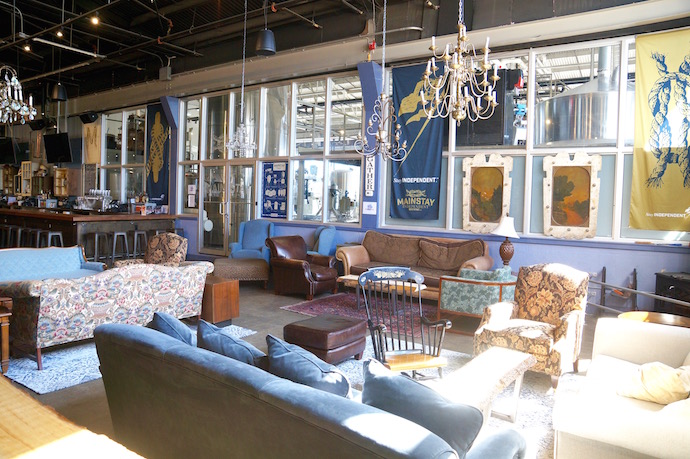 Craft Hall

The former Yards Brewing space has been transformed into a multi-concept space that includes a playground, its own brewery, and a full bakery, and they'll offer outdoor seating as well during the warmer months.
Photo by Drink Philly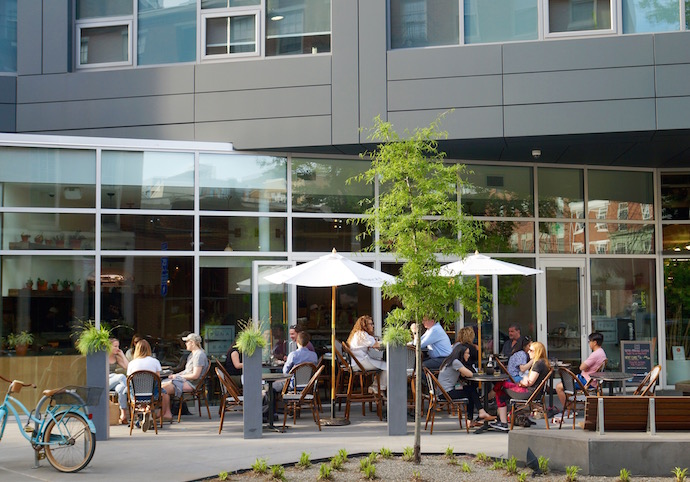 Tuna Bar

Old City's chic sushi bar opens its floor-to-ceiling windows on nice days, with ample outdoor seating along Race Street under the bridge.
Photo by Drink Philly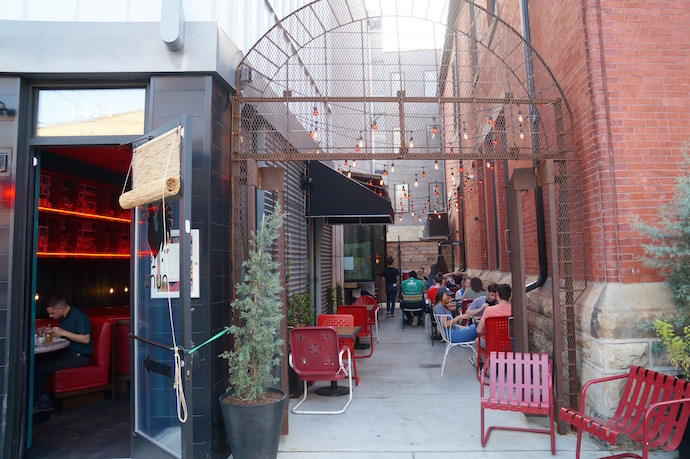 These unique spots, both from restauranteurs Shawn Darragh & Ben Puchowitz, offer similar yet different menus – Cheu serves up steaming bowls of inventive ramen in varieties like brisket and coconut curry, while Nunu, a twist on a Japanese izakaya, is equipped with a Toki highball machine, so you can try traditional Japanese highballs with your skewers or miso cheese toast. The two spots also share their outdoor seating; Cheu has the tables and Nunu has the bar seats, but either way, you'll love drinking and snacking outside in this tiny Fishtown oasis.
Photo by Drink Philly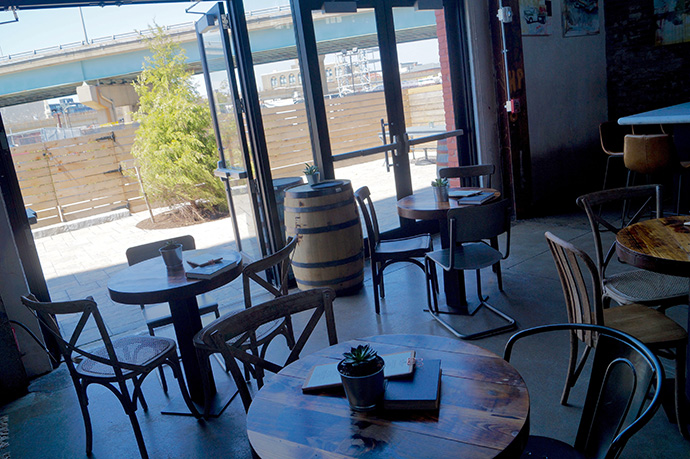 Philadelphia Distilling
Drink outdoors at the first distillery in Pennsylvania to open after Prohibition, where you can order everything from fresh seasonal cocktails to classic gin drinks where Bluecoat Gin itself is made – step out of the gorgeous tasting room and grab a seat on their sunny patio, complete with plenty of seating and outdoor games.
Photo via Drink Philly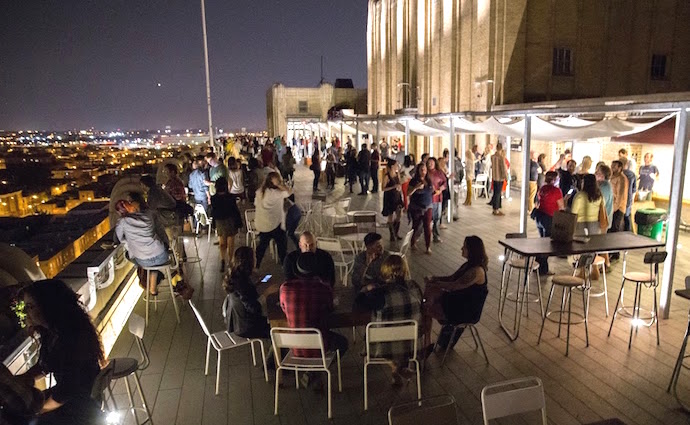 The roof of this former elementary school is now one of the city's hottest bars, and it will definitely return in 2019 — but in the meantime, you can head to its companion bar, Irwin's, which has its own deck and unbeatable views of the city.
Yards Brewing

Yards' spacious flagship spot at 5th and Spring Garden has an unexpected outdoor seating situation — when the weather gets warm, you can sit under the tanks out front, and even those at the bar will be able to enjoy the fresh air when the space opens its garage doors.
Photo by Drink Philly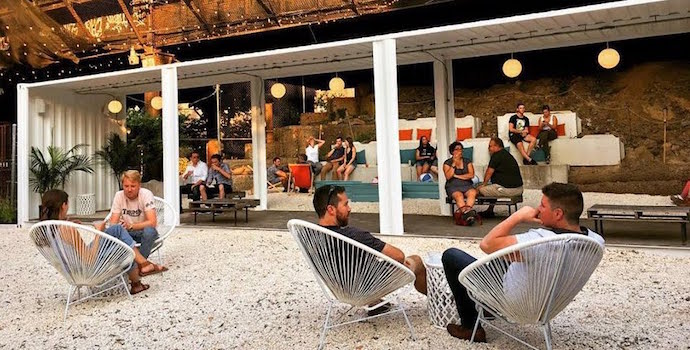 Across the street from Trestle Inn, they have a Miami-style beer garden with wire chairs, tiki torches, and more — it will reopen on May 17 and will be open from 6 PM - 11 PM on Fridays and Saturdays only. (It's cash only, but there's an ATM on site.)
Photo via The Patio at Spring Arts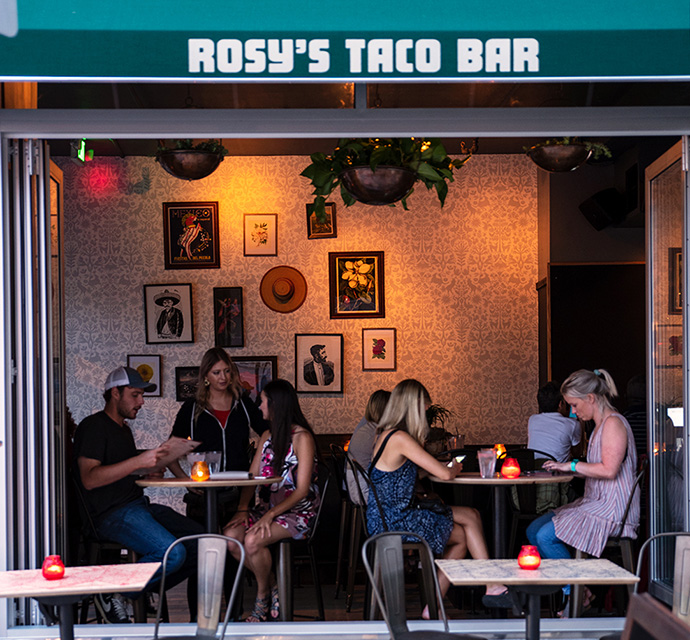 Rosy's Taco Bar

This elevated Mexican spot at 22nd and Walnut throws its windows open wide when it gets warm outside, and they've got outdoor seating as well, making sure everyone can enjoy the good weather.
Photo via Rosy's Taco Bar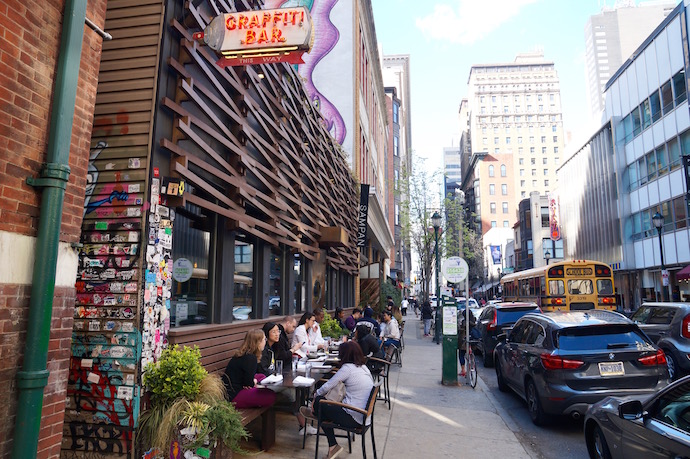 Along 13th Street in Midtown Village

The stretch of 13th Street from Chestnut to Locust offers some of the best outdoor seating in the city: grab wine and Italian fare at either
Zavino
or
Tredici Enoteca
; enjoy wood-fired pizzas at
Barbuzzo
, margaritas at
Lolita
, or a glass of sherry at
Jamonera
; snack on guac at
El Vez
; grab a glass of wine at
Vintage
; stop by one of Michael Schulson's perfectly atmospheric spots like
Sampan
or its backyard bar,
Graffiti Bar
; try a fun tropical cocktail on
Tiki
's rooftop; head south to Walnut to sit underneath
Maison 208
's retractable roof; or make your way to Locust and score a table in
Little Nonna
's intimate backyard setting.
Photo by Drink Philly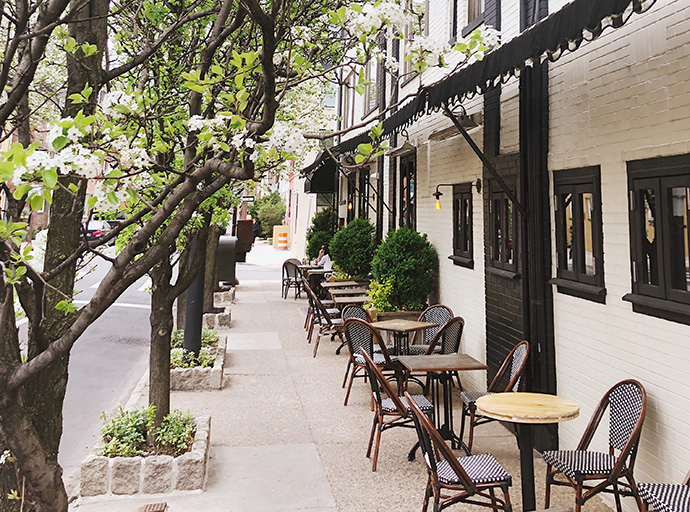 Pub & Kitchen

This classic gastropub right at the corner of 20th and Lombard has a gorgeous stretch of outdoor seating along 20th Street, so choose something from their excellent whiskey list and enjoy sipping it under the trees.
Photo by Pub & Kitchen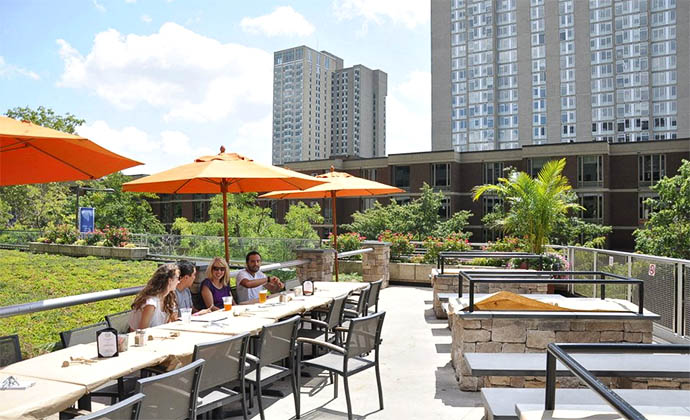 Grand fire pits line one side of the concrete deck at this 60-tap University City tavern, spread out over the second floor of the Radian Building on Walnut. Join the college and beer geek crowd and enjoy a pint and a burger in the fresh air.
Photo via City Tap House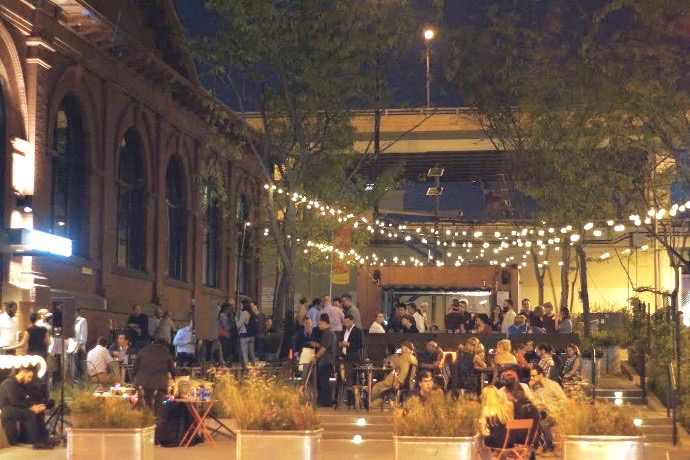 The La Peg Beer Garden offers a more grown up alternative to some of the other Delaware Waterfront options. The outdoor bar and food truck officially opens for the summer season, but anyone who wants to sit outside before then is free to do so if they order from the indoor bar. It opens to the public May 5.
Photo by Drink Philly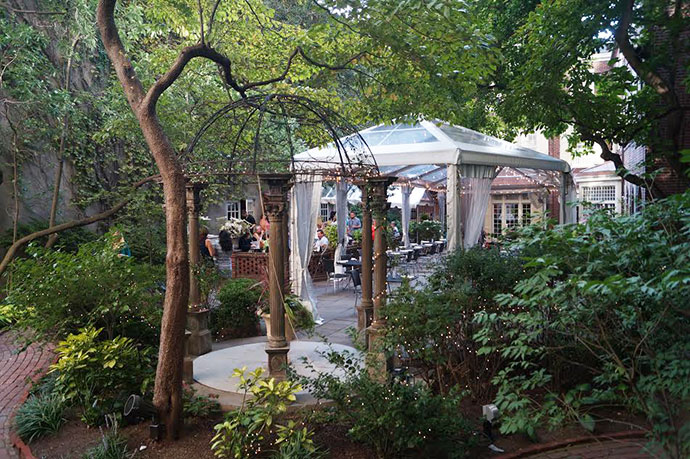 This Chicago-baaed brewery opened its first brewpub in Philadelphia in 2018, and their patio is open now, so go ahead and enjoy one of their signature beers on a sunny day.
Tags:
Outdoor Seating
Recent Articles

Feedback
How are we doing? Tell us what you like or don't like and how we can improve. We would love to hear your thoughts!