Caribbean Week with Brugal Rum: Feb 22-26
Rum Drink Specials All Week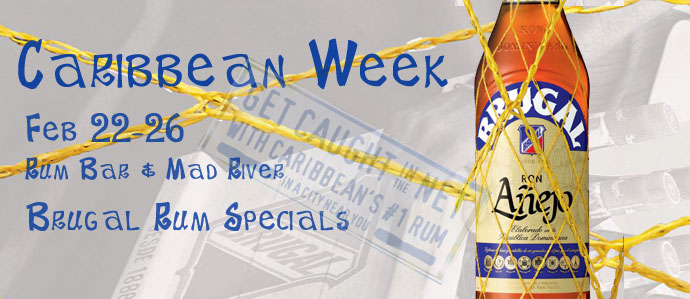 On February 22nd, Brugal Rum – the #1 Rum in the Caribbean - will be launching a weeklong set of awesome specials here in Philadelphia. Specials on cocktails and Brugal giveaways will be featured at select bars throughout the city.

Giveaways include everything from beach gear to muddlers – everything you'd need to have a Brugal Day at the beach!
RSVP on Facebook

Here's a quick rundown of some of the participating bars, and what you can find throughout the week.

Rum Bar
2005 Walnut St.
Tuesday, February 22nd through Saturday, February 26th.
10pm-Midnight

Rum Bar is home to one of the best selections of rum and rum-based cocktails in Philadelphia. In addition to their usual selection of amazing mojitos and daiquiris, they'll be serving some great drink specials featuring Brugal Rum.

Banana Nut Bay
Brugal Anejo, Creme de Banana, Castries Peanut Rum Crème, Cream of Coconut, Pineapple Juice
B&B (Brugal and Barritt's)
Brugal Anejo, Barritt's Ginger Beer, Squeeze of Lime

Dominican Rum Punch
Brugal Anejo, Brugal Extra Viejo, Fresh Lime Juice, Punch Mix (Hibiscus Syrup, Cranberry Juice, Orange Juice, Falernum, and Vanilla)
Anejo Splash
Brugal Anejo & Sprite
Papa Doble
Brugal Extra Viejo, Fresh Lime Juice, Fresh Grapefruit Juice, Simple Syrup, Dash of Grapefruit Bitters



Mad River Manayunk
4100 Main St.
Wednesday, February 23rd through Saturday, February 26th
10pm-Midnight

One of Manayunk's most popular hotspots will be hosting drink specials and giveaways throughout the week. Friday night will feature the band Mr. Greengenes as well, so you can rock out while sipping on some great cocktails. There will be a $5 cover charge on that evening.

Brugal Hurricanes
Brugal Extra Viejo, Brugal Anejo, Orange Juice, Grenadine, Pineapple, Simple Syrup

Brugal and Ginger Ale
Served with Lemon Wedge

Santo Libre
Brugal Anejo, Sprite, Lime Juice

Brugal Bay Breeze
Brugal Anejo, Cranberry Juice, Pineapple Juice

Brugal Bahama Mama
Brugal Anejo, Grenadine, Pineapple Juice, Orange Juice

Related Stories:
Brugal Battle Cocktail Competition: Video
Be the Bartender: Vena Edmonds - How To Make a Mojito at Rum Bar: Video
Recent Articles

Feedback
How are we doing? Tell us what you like or don't like and how we can improve. We would love to hear your thoughts!