Tria, Madeira, and Wines That Could Be Your Grandpa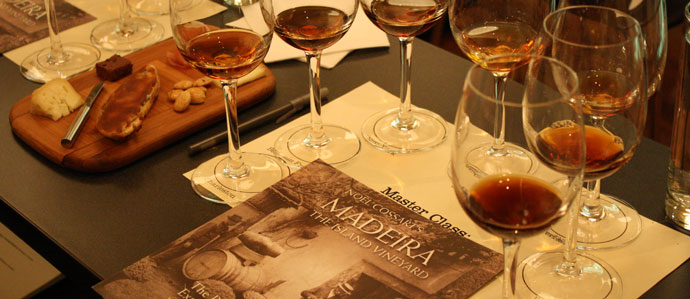 Tria's Fermentation School, which is renowned for offering guests rare beers and wines with a top-notch education to boot, recently held a class revolving around Madeira wines, featuring Manie Berk, the founder of the Rare Wine Company. As an added bonus, guests were invited to sample a wine that had been cellared since 1907.
Until the 20th Century, Madeira was the chief wine of the USA, and despite its production 300 miles off the coast of Africa, it was thought of primarily as an American Wine. Madeira wines are fortified with Brandy, and offer a wide range of flavors and styles. What makes the wine truly unique was its voyage, which followed the Atlantic currents south from Africa, across to the Caribbean, then up to the states and beyond. During this trip, the heat would condition the wine. Unlike traditional wines, Madeiras do not suffer from oxidation issues. One can open a bottle and enjoy it for several years without sacrificing flavor.
Tria presented seven Madeira wines for the evening, but real treasure was the Malvazia Madeira, "Reserva", D'Oliveiras, 1907.
Contrary to the popular misconception that time will continue to improve the wine, most wines have hit or passed their peak at 20 years. The legendary Madeira shelf life proved to be a true exception to this. On the nose, it had a deep and complex aroma filled with oak, walnuts and preserved fruit. In the glass it had a dark brown color with quite a bit of haziness toward the middle. On the palate it was very thick and rich, dry and complex. At the front, it teemed with notes of raisins, dried cherries and jam. It had a long finish with notes of vanilla and nutmeg. It was in a single word, opulent.
At the end of the night, my appreciation for Medeira had been completely transformed. I will be seeking it out as soon as I can. I just hope that such a delicious 100-year old wine hasn't spoiled me.
--
Images for mobile
--
Other wines served that evening included:
Charleston Special Reserve
Benjamin Franklin Special Reserve
New York Special Reserve
Frasqueira, Barbeito, 1988
Reserva, D'Oliveiras, 1988
Boal Madeira "Reserva," D'Oliveiras 1968
For more information on Tria or their Fermentation School, visit here.
Related Articles:
Relax on the Left Bank with Biba
5 for 5 Happy Hour or: How I Learned to Stop Worrying, and Love Living Across the Street From Tria
Recent Articles

Feedback
How are we doing? Tell us what you like or don't like and how we can improve. We would love to hear your thoughts!