March 12th: Erin Express, Craft Beer Express and Running of the Micks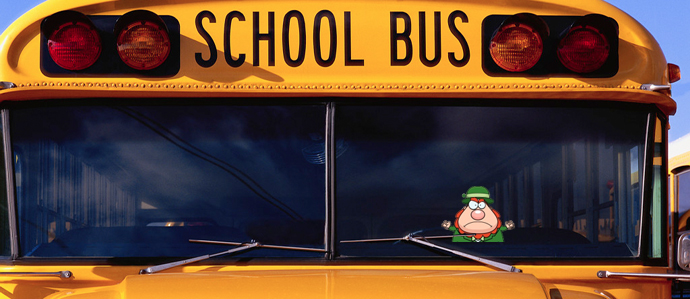 March 12th in Philadelphia has become known to some as St. Practice Day. This is the weekend before St. Patrick's Day and when many prepare for one of the most popular drinking holidays of the year. Don't let the name fool you; in this case the word practice shouldn't be taken lightly, as many people take this time to celebrate St. Patrick's Day in full force.

This day also boasts three of the biggest annual pub-crawls in Philadelphia, with enough Guinness Pints and Irish Car Bombs to see you through 'til St. Patrick's Day.

There are buses running at all three areas - Center City, North East and University City - to shuttle patrons between participating bars.

Running of the Micks - Center City
Bus tickets are available until March 11th. $10 for general admission and $20 for VIP access.
General Admission: Entrance to all the bars on the crawl, unlimited bus transportation, featured beer and drink specials.
VIP Admission: 2 hour open beer bar at Finnigan's Wake from 3-5pm, VIP line access, unlimited bus transportation, entrance to all bars, featured beer and drink specials.

The bar crawl starts at 11am at Finnigan's Wake where you pick up your wristbands. The crawl itself starts at 1pm and transports you to area bars ending with a run up the Art Museum steps at 10pm.

Participating bars: Finnigan's Wake: Start. Live music from 3-7pm, $3 Miller Lites, $4 Smirnoffs and $5 bombs. Dublin Square and P.J. Whelihan's: Start for Jersey folk. Field House, Urban Saloon, JD McGillicuddy's, Paddy Whack's; Specials with ROM wristband from 1-10pm. $3 Miller Lite Pints, $4 Smirnoff drinks and $5 Smirnoff Bombs, Club Risque.

More information and ticket sales available here: http://www.erinexpress.com/
Bus tickets are $10, and then it's pay-as-you-go with drink specials all day. Pick one of the bars on their list, and head there first at 11am to pick up your wristband.
Kraftwork: THE BELLA VISTA EXPERIENCE. (Handpicked varieties from around the world)

Johnny Brenda's: THE 3RD ANNUAL STOUT BRUNCH & SMORGASBORD

Standard Tap: BIG WOOD WEEKEND (All things Wood, Smoked & Barrel Aged)

The Institute: THE BEAST OF TIMES THE WURST OF TIMES (2ND Annual Barleywine)

Bishop's Collar: UNIBROUE TAP TAKE OVER AT THE COLLAR
Kite & Key: BARRELS OF BELL'S BREWING (HOP SLAM & 2009 FIRKIN OF EXPEDITION STOUT ANCHORING THE LINEUP)

Jose Pistolas: SOUTHERN TIER BREWING & LIVE MUSIC

Sidecar: ANNUAL IPA'S GREATEST HITS. The top 30 ipa's available in the commonwealth

P.O.P.E: "GIRLS DAY OUT" Suzy from Sly Fox, Wendy from Dogfish Head & Megan from Ommegang

Devils Den: WEST COAST EXTRAVAGANZA, feat. Russian River, Stone, Lagunitas, Lost Abbey & Port

Brauhaus Schmitz: BRAUHAUS WILL FEATURE THE BEST GERMAN BEERS THAT ARE NOT FROM GERMANY

Race Street Cafe: GREAT LAKES BREWING featuring Great Lakes Beers on Draft, giveaways and live music.
Erin Express - North East
Tickets for this event are $20 per rider and all proceeds go to benefit F.O.P lodge #5, Survivors Fund. Your bracelet gets you access to the bars, a free shirt, souvenir cup, one beer, access to bus shuttles and drink specials, which are $3 drafts, $4 Jamesons and $3.50 McSorley's.

Bracelets are available before hand at Paddy Whacks.

Participating Bars: Paddy Whacks (Welsch Road), Paddy Whacks (Comly Road), Out of Whack Jacks, General Grants, Caspers Bar, Leneghan's Pub, Lenghans Crusader Inn, Reedy's Irish Pub and Maggie's Waterfront Café.

Erin Express - University City
There is no cost, tickets, reservations, bracelets or cover charge for this pub-crawl while the buses are running. There are 10 buses that run in a loop from 12-5:30pm. Drink and food specials, including live music are available at many of the bars.

Participating Bars: The Blockley, Mill Creek Tavern, Smokey Joe's, The Blarney Stone, New Deck Tavern, Cavanaugh's University City, Slainte, Mace's Crossing, Green Room, Kelliann's, Gallagher's on the Parkway, Drinkers West, T.A. Flannery's, Bonner's Irish Pub, Callahan's Grille, Westy's, Cavanaugh's Rittenhouse.

More information is available here.

We'd like to urge people to take advantage of the bus shuttles available for each crawl, there's no reason to be stupid or unsafe!
Don't forget to order your Drink Philly St. Pats Shirt!
Related articles:
St. Patrick's Day Events - 2011
Recent Articles

Feedback
How are we doing? Tell us what you like or don't like and how we can improve. We would love to hear your thoughts!