Gin Symposium 2011: Photos & Recipes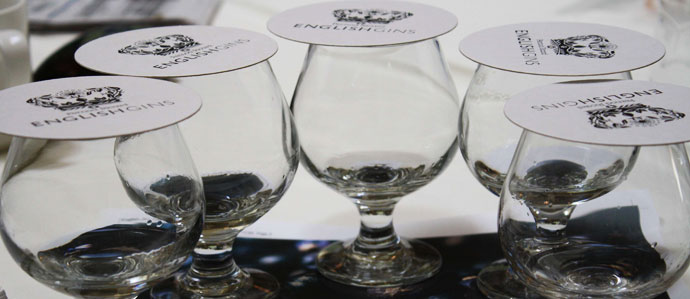 This past Monday, Drink Philly was graced with the honor of attending the Philadelphia Gin Symposium. This seven-hour seminar featured not only some of the best bartenders in the city, but also the master distillers of both Beefeater and Plymouth GIn.
The day began with a history of Gin, as well as the histories of both Beefeater and Plymouth Gin. Desmond Payne, Master Distiller of Beefeater, insisted that "where most liquors are about a single element, gin is one of the only spirits that revolves around a number of botanicals, as well as juniper." He also discussed that Prohibition was in fact quite good for gin - it could be produced fairly quickly and brought straight to market, allowing for a quick turnover during those dry times.
Several speakers followed, including Sean Harrison, Master Distiller of Pymouth, and many bartenders from Philadelphia and beyond. We got to taste ten different gins, and then sampled a number of Beefeater-based cocktails. All in all, we'd say it was a pretty successful day!
The event focused heavily on "picking the right gin for the job," and proper tasting. We really hope this won't be the last Gin Symposium, because this was arguably one of the best educational seminars we've ever attended.
As an added bonus, we'd like to include some recipes for the cocktails created by the bartenders for the event!
---

Ravenmaster Punch Royal
Nick van Tiel
33oz. Beefeater
10oz. Canton Liqueur
10 dash Regan's Orange Bitters
2 cups unfiltered apple juice
2 cups chilled, filtered water
1 bottle Perriet Jouet
1pt. Oleo-Saccharin Shrub **
**To make the Shrub:
10 unwaxed lemons, peeled & juiced
10 oz. Honey
1 cup sugar

Add lemon rinds to bowl. Add 14oz. Lemon juice. Add 1 cup of sugar, and muddle. Set for 30 minutes. Add honey and stir. Strain Shrub into punch bowl.
To punch bowl, add:
10oz. Canton.
33oz. (one bottle) of Beefeater
Add ten dashes of Bitters
Add 2 cups of water.
Add 2 cups of cloudy apple juice.
Add bottle of Champagne.
Set a large block of ice in the bowl (if your ice block weighs less than ~3-5 lbs., you're doing it wrong). Garnish with lemon wheels, cloves, and garnish with freshly grated nutmeg.

---
Keith Raimondi, Village Whiskey
1oz. Beefeater Gin
1oz. Laird's Apple Brandy
.75oz. Maple Syrup (the real stuff!)
.75 Lemon juice
1 dash Fee's Aromatic Bitters
In a shaker, add all the ingredients and ice. Shake, and double-strain into a Coupe.
---
English Breakfast Cocktail
Dan Warner, Global Brand Ambassador
2oz. Tea-Infused Beefeater 24
1oz. Lemon Juice
.5 oz. Sugar Syrup
1 egg white
1 Barspoon marmalade
Infuse the Beefeater with the tea for about 1 minute. In a glass, add Beefeater, egg-white, lemon-juice, marmalade. Add sugar. Add ice & shake.
Strain into a glass, and garnish with orange zest.
---
Que Vera Vera
Preston Eckman, Opa
1.75oz. Beefeater 24
.75oz. Rinquinquin
.75oz. Aloe Juice (gel removed for texture)
5 dash orange flower water
Add all ingredients, and stir with ice until chilled. Strain into a glass and serve neat. Add kumquat for garnish.
---
The Skeleton Key
Colin Shearn, Franklin Mortgage & Investment Co.
2oz. Plymouth Gin
1oz. Ramazzott (replacing vermouth)
.25oz. Maraschino Liqueuer (use Luxardo if available)
2 dashes of Pernod Absinthe
2 dashes of Angostura Bitters
Add all ingredients, and stir with ice until chilled. Strain into Coupe.
---
Broken Halo
Erick Castro, San Francisco
1oz. Plymouth
1.5oz Dry Sack 12yr. Olorosso
.25 Maraschino Liqueur (use Luxardo if available)
Stir all ingredients with ice until chilled. Strain into an ice-filled rocks glass. Add orange twist for garnish.
Images for mobile
Recent Articles

Feedback
How are we doing? Tell us what you like or don't like and how we can improve. We would love to hear your thoughts!