5/14: Washington Crossing Brewfest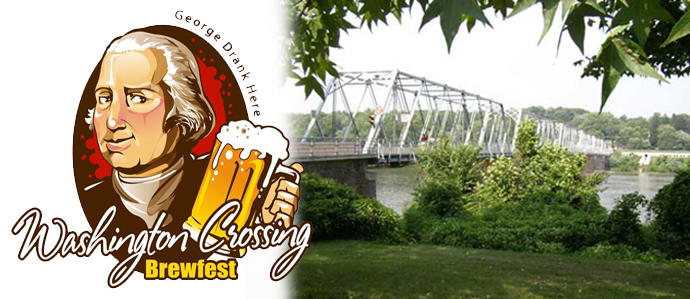 We're just a few days away from the Washington Crossing Brewfest!
This Saturday, May 14th from 12:30-4:30pm, the Brewfest featuring dozens of breweries, live music, great food and more will make its appearance in the Washington Crossing Historic Park.
Breweries such as Arcadia, BrewDog, Cigar City, Founders, Flying Fish, Yards, Victory and many more will be available for tasting. Tickets are $40 apiece, with $10 tickets available for designated drivers.
The Brewfest will be held rain or shine, so keep your eyes on weather.com so you can be dressed accordingly!
Brewery List
Allagash Brewing Co (Portland, ME)
Appalachian Brewing(Gettysburg, PA)
Arcadia Ales (Battle Creek, MI)
Avery Brewing (Boulder, CO)
Ballast Point (San Diego, CA)
Bear Republic (Cloverdale, CA)
Bells Brewery (Kalamazoo, MI)
Boulder Beer (Boulder, CO)
BrewDog (Fraserburgh, UK)
Brooklyn Brewery (NYC)
Central Waters Brewing (Amherst, WI)
Cigar City (Tampa, FL)
Climax Brewing (Roselle Park, NJ)
Coronado Brewing (Coronado, CA)
Cricket Hill Brewing (Fairfield, NJ)
Dark Horse Brewing (Marshall, MI)
Dock Street (PA)
Elysian Brewing (Seattle, WA)
Firestone Walker (Paso Robles, CA)
Flying Dog (Frederick, MD)
Flying Fish (Cherry Hill, NJ)
Founders Brewing (Grand Rapids, MI)
Franziskaner Weissbier (Munich)
Great Divide Brewing (Denver, CO)
Great Lakes Brewing (Cleveland, OH)
Gritty McDuff's (Portland, ME)
Harpoon Brewery (Boston, MA)
Lagunitas (Petaluma, CA)
Left Hand (Longmont, CO)
Lindeman's (Belgium)
Long Trail (Bridgewater Corners, VT)
Nebraska Brewing (Papillion, NE)
Otter Creek Brewing (Middlebury, VT)
PBC (Philly)
Riverhorse (Lambertville, NJ)
Sam Adams (Boston, MA)
Sam Smith (Tukwila, WA)
Sierra Nevada (Chico, CA)
Six Point (NYC)
Sly Fox (Royersford, PA)
Smuttynose (Portsmouth, NH)
Southern Tier (Lakewood, NY)
Spaten (Munich)
Sprecher Brewing (Glendale, WI)
Stone Brewing (San Diego, CA)
Strongbow (London)
Terrapin (Athens, GA)
Triumph (Princeton, NJ)
Troegs Brewing (Harrisburg, PA)
21st Amendment (San Francisco, CA)
Victory Brewing (Downingtown, PA)
Weyerbacher Brewing (Easton, PA)
Wolavers (Middlebury, VT)
Woodchuck Cider (Middlebury, VT)
Yards Brewing (Philly)
Yuengling (Pottsville, PA)


For directions and ticket information, check their main website here.
Related Articles:
Recent Articles

Feedback
How are we doing? Tell us what you like or don't like and how we can improve. We would love to hear your thoughts!